Kylie Jenner Fans Think Her Sisters and Friends Were Jealous of Jordyn Woods
With Tristan Thompson being welcomed back into the KarJenner fold, fans are once again directing their attention to Jordyn Woods, Kylie Jenner's former best friend. The pair were inseparable for years and Woods even lived with the billionaire in her Hidden Hills mansion prior to their fallout. Jenner's Kardashian sisters have even declared that they thought of the model as a part of the family, like another little sister, but fans are calling bs on that claim.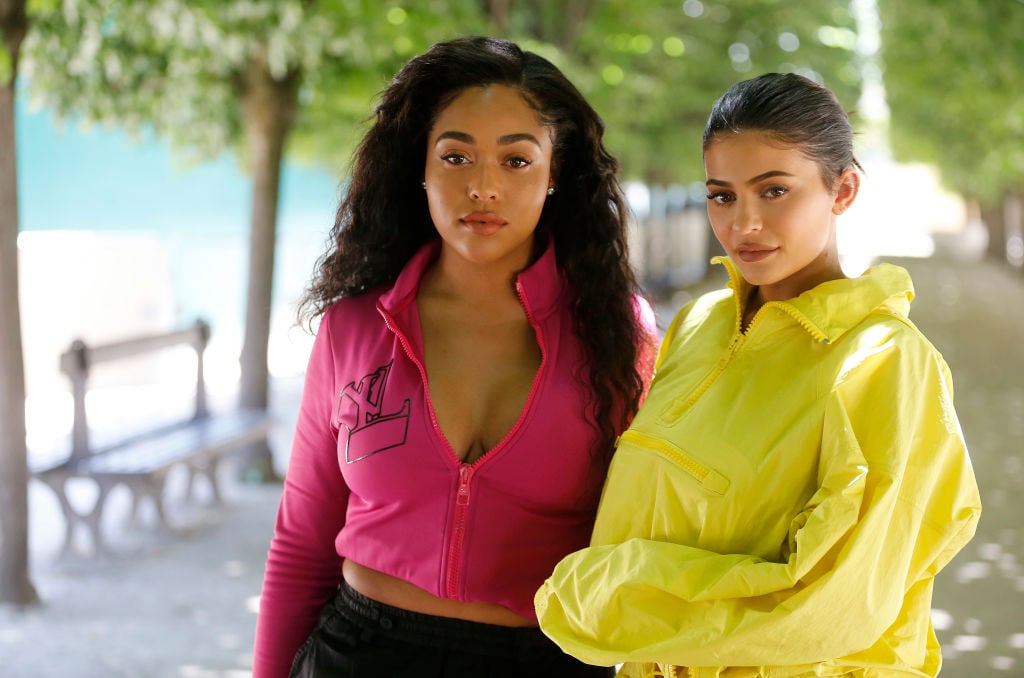 Wood's rift with the KarJenner clan has only helped her career. Though she dealt with some truly heinous bullying for several months (and still copes with hateful comments to date) she is thriving without Jenner by her side. Her social media following has substantially increased, she's gotten more modeling gigs, and even launched a career in singing and acting. It's clear that Woods is doing just fine without the Kylie Cosmetics owner and her family. But, that doesn't mean fans of Keeping Up with the Kardashians (KUWTK) don't miss Woods' presence.
'KUWTK' fans are mad the KarJenners haven't forgiven Jordyn Woods
In a recent clip from KUWTK, Khloé Kardashian is speaking to her rumored boyfriend and baby daddy, Thompson. The pair discuss making embryos for possible future use if the Good American owner decides that she would like more kids. Seeing this clip, fans began pointing out the injustice of the Kardashian/Jenner family forgiving Thompson while still keeping Woods on the outs.
"I'm still mad they sacrificed Jordan for a storyline," one person wrote on Instagram. "I agree but Jordan's glow up is awesome to see. She's so beautiful and talented but we would never know if they didn't try to destroy her. Won't he do it?" another person cosigned, stating that Woods is doing just fine even though the KarJenners had all but launched a smear campaign against her.
Were Kylie Jenner's sisters and friends jealous of Woods?
Other people had a different perspective and believed that Woods was in on the scandal and everything was a mutually beneficial publicity stunt. "She clearly was in on it so why be mad?" one person questioned matter-of-factly. "Jordyn was in on it, 😂" another one of Jenner's fans stated.
However, others seemed to think the scandal was real. They argued that Jenner's sisters and her other friends, like Anastasia Karanikolaou, were jealous of the close relationship that Woods have with Jenner. They believe that the reason the Kardashians and Jenner's other friends were so quick to throw Woods under the bus was that they wanted to be Woods' replacement.
Will Woods and Jenner ever be friends again?
"Kylie liked her or having someone around. The others were jealous of their relationship and the gifts Kylie gave her. They (sisters) spoke about her throwing her friends parties and not them," one of Jenner's fans wrote, citing an instance of the Kardashians' jealousy. "Agree, they had to have secretly not liked her the way they threw her under the bus. And all the K's and friends starting bullying her the next day," another person chimed in. Clearly, Woods is still a part of the KarJenner conversation even though she's on the outs with the family. Only time will tell if that will change.