Kylie Jenner's Daughter, Stormi, Just Started Calling Kylie 'Mommy Goose'
Kylie Jenner and her daughter, Stormi, have been spending plenty of time together these days. The one silver lining to this quarantine for Jenner is that she hasn't been working as much, which means she can spend even more time at home with her little girl. And now, Stormi has the cutest new nickname for her mother.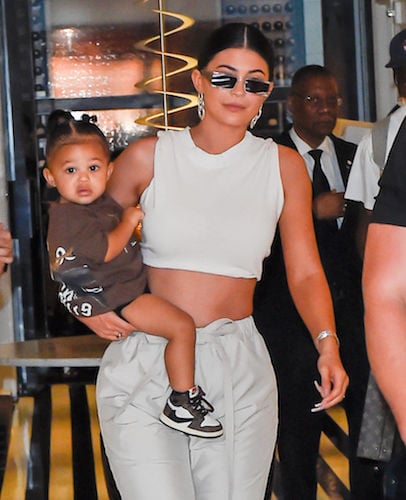 Kylie Jenner and Stormi have had plenty of downtime together
When the quarantine first started, Jenner was excited to have even more quality time with her daughter. Since Jenner runs Kylie Cosmetics and Kylie Skin, she's busy all the time. She does bring Stormi to work with her, though she probably doesn't hang out with her too much while she's doing business.
Jenner posted to her Instagram story a couple weeks ago that she and Stormi had been watching movies every day. She's also posted photos and videos by her pool, and though her quarantine situation is definitely a bit easier than most people's (Jenner lives in a $12 million mansion), she's still trying to make the best of being stuck at home like the rest of us.
Jenner loves posting her daughter to Instagram
Stormi was the best thing to ever happen to Jenner. Although she and rapper Travis Scott had only been dating for a few months before they learned they were expecting, it's clear that Stormi coming into their lives changed both of them for the better.
Jenner always shows off her daughter on social media, and fans love to see it. Stormi is the most stylish kid around, sporting Birkin and Louis Vuitton bags like they're nothing. Jenner often posts funny videos of her daughter to Instagram too, such as when she demanded her mom play "daddy's" music.
Stormi just starting calling her mother "Mommy Goose"
Stormi and Jenner have clearly been spending a lot of time cooped up in the house. Jenner recently posted videos to her Instagram story of Stormi showing her mom lots of love and giving her plenty of kisses. Stormi then starting calling her mom "Mommy Goose," and Jenner added that to her Instagram story, too.
Jenner didn't provide any kind of explanation for how the nickname came up, but it sounds like a variation of "silly goose." Jenner might have called Stormi a "silly goose" for some reason, and Stormi then played off the name and created a new nickname for her mom. Jenner always said that Stormi was quite smart.
Jenner has also been showing off her cooking skills during quarantine
Besides spending time with her daughter, Jenner has also been showing off her cooking skills in quarantine. She's tried plenty of new meals, including banana pancakes, lemon cake, and avocado toast with honey.
All of us are dealing with quarantine in our own way, but Jenner seems to be making the most of it. She's also encouraged all of her fans to stay home amidst the pandemic, and she and her sisters haven't seen each other in weeks. It's good to know that even the most famous celebrities don't think they're above staying home in a crisis.