Kylie Jenner and Stormi's Matching Vacation Outfits Are Mother-Daughter Goals
Kylie Jenner and her daughter, Stormi, are the best of friends. Despite Jenner's crazy busy schedule, she seems to always make time for her daughter. Jenner loves posting photos of Stormi and showing off the time the two spend together. And the mother-daughter duo just wore the most adorable matching outfits on their tropical vacation.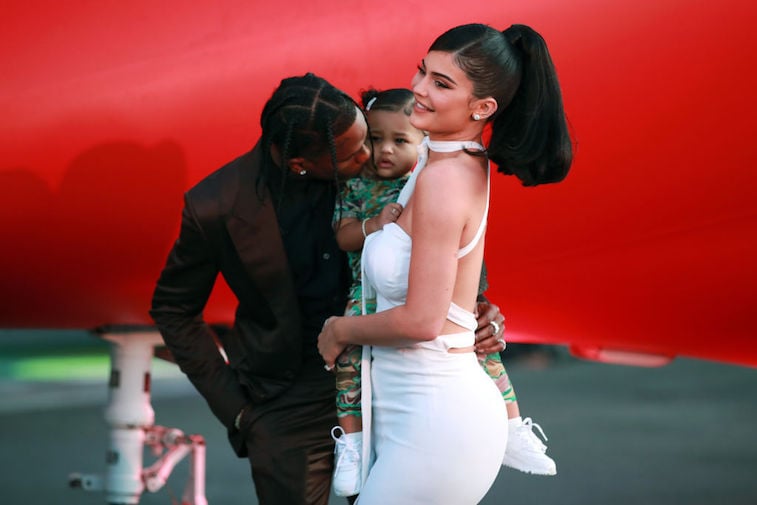 It's clear that Stormi is the best person in Kylie Jenner's life 
Jenner has the world at her fingertips. She's incredibly famous and owns a company worth more than $1 billion — and she's only 22. But it isn't the money or fame that she loves so much; it's her daughter, Stormi. Jenner posts a lot of photos to Instagram, many of which are pictures of her. But she also loves showing off the adorable relationship she and Stormi have.
Jenner posts photos and videos of Stormi all the time, and fans love the little girl's personality. She already has an infamous duck-lip pout in pictures, and Jenner has posted hilarious videos of her daughter being sassy, such as when she started calling her mom "Kylie" and refused to give back her engraved hoop earrings.
Jenner recently took a quick vacation to an undisclosed place
At 22 years old, Jenner is running a massive company. And with that, she definitely needs a little downtime every once in a while. The Kylie Cosmetics founder recently took a quick vacation (though she didn't say where), and she relaxed with her daughter and some friends. Though Jenner didn't reveal where she was, she rented a home right on the beach in a setting that appeared to be somewhere in the caribbean.
While there, she posted photos alongside friends, but she made it clear that she was spending most of her time with Stormi. Jenner posted a candid image of her holding Stormi's hand while the two were at the beach.
She posted a photo of her and Stormi wearing amazing matching outfits
The beauty mogul might focus on makeup, but she also loves fashion. And she and Stormi rocked the cutest matching outfits on the trip. Jenner posted a photo alongside her daughter; both were wearing the same pink and white Dior dress. "I hope she wants to match with me forever," the caption read.
Fans and friends were obsessed with the mother-daughter look. "Cutiesss," Natalie Halcro wrote. "Beautiful!!!!!!" Khloé Kardashian commented. The comments section was filled with "Awwww" and "so cute" and "cuties" — to fans, Jenner never posts a bad photo if its with Stormi.
Kris Jenner thinks Kylie could be next to announce a pregnancy
Kris Jenner recently appeared on Ellen, and Ellen DeGeneres asked her which daughter she thought would become pregnant next. Jenner gave three answers: Kourtney, Kylie, or Kendall. Kylie Jenner also said on a recent Q&A with older sister Kim Kardashian West that she could definitely see herself having at least four kids.
There have been rumors that Jenner and ex Travis Scott are back together, and Jenner fed into those rumors when she recently posted photos of the two on her Instagram story with the caption "it's a mood." It's unclear if the two have actually worked everything out, though fans are still hoping they'll rekindle their romance.