Kylie Jenner Thinks Her Daughter, Stormi, Looks Just Like Her — and It's the Sweetest
Kylie Jenner has the sweetest bond with her daughter, Stormi. The mother-daughter duo loves taking trips together and spending as much time as they can together. But it turns out they're totally cut from the same cloth, too — in more ways than one. Stormi might already share her mom's love for fashion, but she also looks just like Jenner. Jenner recently reposted photos showing the pair's resemblance.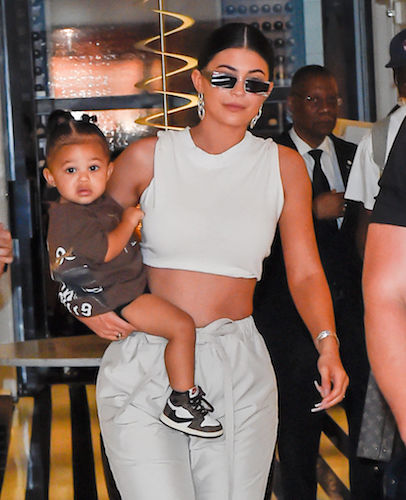 Jenner makes as much time for her daughter as she can
It's no secret that Kylie Jenner has an extremely busy schedule. The Kylie Cosmetics founder owns a billion-dollar business, and on top of that, she's one of the most famous women in the world. These days, Jenner is constantly working on new product launches and building her brand even more all while balancing life as a mom. But she still tries to spend as much time with Stormi as she can.
Jenner gave birth to Stormi in 2018; she learned she was pregnant only about two months after she started dating Stormi's father, Travis Scott. Now, Jenner has an entire nursery dedicated to Stormi at her job and loves bringing her daughter on vacation with her.
Jenner loves wearing matching outfits with her little girl
At Christmas time, Jenner posted the cutest photo wearing matching Christmas pajamas with her daughter. And that's not the only time the two have coordinated outfits. Jenner recently took an exotic vacation to a beach (she did not reveal where she went) with friends, and she brought Stormi along with her. On the trip, Jenner posted photos of the two wearing matching pink and white Dior dresses. "I hope she wants to match [with] me forever," Jenner wrote in the caption.
Jenner recently posted photos of the two's resemblance
Jenner took to her Instagram story to share some photos that she came across on another Kylie Jenner fanpage. The photos put a picture of Stormi and a picture of a young Jenner side by side to compare the resemblance between the two, and it was pretty clear that they look alike.
Jenner and Stormi have similar face shapes in the photo, and their mouths are almost identical. Their features were proportionate in the same way, and there was no denying that Stormi is Jenner's daughter. Even their ears looked the same. Jenner posted hearts alongside the photos, suggesting she loves how much of her is in her daughter.
Jenner has supposedly rekindled things with Stormi's father, Travis Scott
Stormi's parents have also reportedly rekindled their flame. Jenner made it clear a few weeks back with an Instagram story slideshow of her and Scott, which seemingly confirmed the two were back together. She hasn't posted any photos of him to her Instagram feed since the news broke, but he was included in the photos she posted of Stormi's second birthday party, and the two looked super close. It's the reunion everybody wanted, so hopefully these three can now be one happy family.