Kylie Jenner Fans Joke That Stormi Filmed Her Latest TikTok Videos
With all the additional time that quarantine has provided Kylie Jenner with, she seems to have decided to conquer a new app. TikTok is the latest app that celebrities have decided to give their attention to. While it was originally thought of as a strictly Gen Z (which actually includes Jenner) app, it has seen increased popularity in the past couple of months.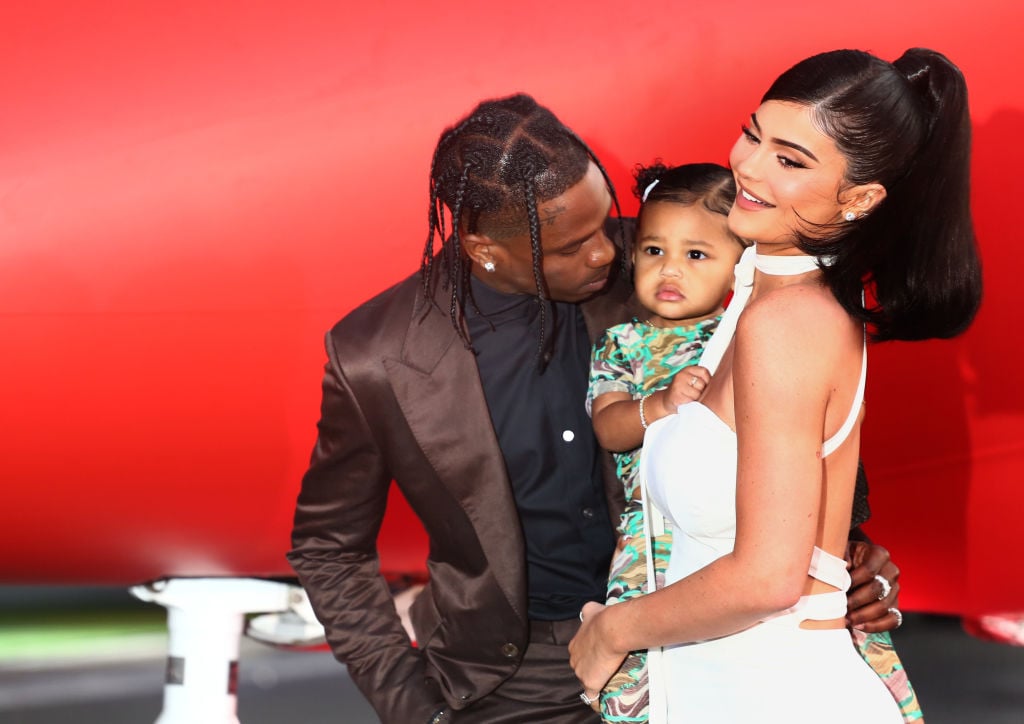 Jenner first joined TikTok back in November of 2019. It was no surprise that her first post was an advertisement for her 2019 Holiday Collection for Kylie Cosmetics. Since then, Jenner hasn't been nearly as active on TikTok as she has on Instagram. Since she joined the app, she has only made 40 posts. And while a following of 7.5 million followers is nothing to sneeze at, it pales in comparison to the 172 million followers Jenner boasts on Instagram.
Kylie Jenner is remaking 'KUWTK' on TikTok
This month, however, Jenner has been far more active on TikTok. She's made videos with her mother, Kris Jenner, daughter, Stormi Webster, and best friend, Anastasia Karanikolaou. The videos of Jenner dubbing over famous clips from her family's hit reality show, Keeping Up with the Kardashians, have certainly been the most popular. But, Jenner has also posted videos of her and Karanikolaou trying popular TikTok dances and twerking.
Jenner's activity on social media had died down for a time. But, after some paparazzi pictures of her surfaced with no makeup, she's been all but spamming her fans with content. After buying a new mansion Los Angeles mansion for a cool 36.5 million, Jenner has plenty of new backdrops to keep her fans entertained.
Jenner is posting photos and videos from her new house
Jenner has been using the change of venue as an opportunity to shoot new photos and videos for TikTok and Instagram and fans are absolutely loving it. "Okay…this is amazing. You can tell how much time and effort they put into this. I don't know if Kylie and Stassie realize how good this is, but if she keeps making Tiktok's like this she will be the most followed person on Tiktok, just putting that out there😂" one super fan wrote on Instagram.
But, one thing that has fans stumped is not knowing who is recording all the new videos and taking all the new pictures. "I wonder who's filming. 🤔" one person asked about the 22-year-old's most recent TikTok. Some suggested that Jenner had kept her photographers on-site, despite not being essential workers. However, others argued that wasn't the case.
Fans speculate that Travis Scott is filming the videos
"Nah bro they're at home. Her photographer said she missed work meaning she's not with Kylie she's quarantining. It's probs just Travis or something," one person added, suggesting that Jenner's ex-boyfriend could be the working the camera for Jenner's TikTok videos.
Others joke that Stormi is behind the camera
Other fans joked that two-year-old Stormi was the mastermind behind the camera and began to praise her for her cinematography skills. "Stormi did an amazing job recording all these clips, 👏🏽" one person wrote. Let's thank the talented princess Stormi for this TikTok content," another fan chimed in. "Stormi filming, 🎥" yet another person declared. Honestly, we haven't the foggiest idea who's behind the camera. But, with Jenner's infinite wealth and resources, it's anyone's guess.
Read More Like This: Here Are the Middle Names of Every Kardashian/Jenner and Their Kids