Kylie Jenner Seems to Be Taking Sides Amidst Her Sisters' Feud
Kylie Jenner seems to have an opinion about her sisters fighting. Fans on Twitter believe the makeup mogul is taking sides.
Kylie Jenner may have been absent during the season 18 premiere of Keeping Up with the Kardashians, but that doesn't mean she doesn't have thoughts about it. For the show's most episode, which aired on April 2, 2020, Jenner even gave her fans a special treat by live-tweeting the show on Twitter. After posting a video of her two-year-old daughter, Stormi, tuning into the reality TV show to Instagram, she announced that she would be live-tweeting the show via Twitter.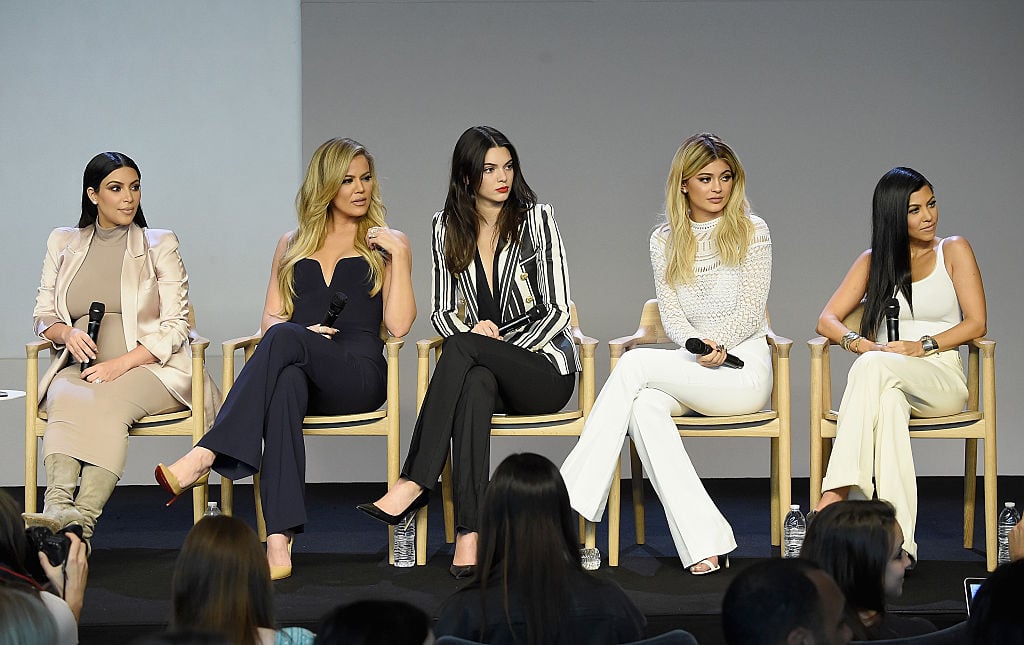 Of course, Jenner was tuning into the aftermath of the fight between Kim Kardashian West and Kourtney Kardashian. The pair were, once again, fighting over the eldest KarJenner's sense of work ethic. Over the past year, Kardashian has made it abundantly clear via the show and Twitter than she no longer enjoys filming for the show for hours and hours. Instead, she wants to focus more energy on spending time with her kids and her wellness website, Poosh.
The root of the 'KUWTK' season 18 fight
This has been a huge point of contention between the Kardashian sisters. While the KKW Fragrance owner is sympathetic to her elder sister wanting to spend more time with her kids, she doesn't like the idea of picking up her slack. As Khloé Kardashian shared on Twitter, she and her Kardashian sisters (unlike her Jenner sisters) have equal contracts. Equal contracts likely mean they are making the same amounts of money regardless of how the work is being divided.
When Kourtney Kardashian doesn't show up to film, it directly affects her Kardashian sisters as they then have to film more to compensate for the 40-year-old's actions. "All of the days that Kourtney isn't filming, Khloé and I are picking up the slack and having to share more. Because if we're not sharing our lives, then what is the show?" Kardashian questioned on Twitter.
Kylie Jenner live-tweets the show from her house
Fans weren't surprised that the work ethic argument finally erupted into a full-blown fight. And while the youngest Jenner wasn't there to witness it, she still has plenty of opinions about it. In fact, it seems to fans as if Jenner might be taking sides. The 22-year-old's activity on Twitter appears to support Kardashian West and Khloé Kardashian over Kourtney Kardashian.
"Kourtney is just straight unapologetic lol #kuwtk," Jenner tweeted. Of course, that tweet could have been taken either way. But, Jenner also reshared something Khloé Kardashian posted to her own Twitter feed."I would demolish Kourt's a*s lol don't play. I'm 5'10". She's 5 feet on a good day #KUWTK," the tweet read. Jenner then reshared it with a crying laughing emoji.
Fans on Twitter react to Jenner's tweets
Fans on Twitter had mixed feelings about Jenner's tweets. Some thought the tweets were humorous. Others urged Jenner to not take sides and to stay out of the drama. "Don't laugh at that tweet, Kylie you know they can be mean. You even had to tell them to stop bullying Jordan," one person reminded Jenner about her former best friend. "No, it's not funny, that's still your sister," another added. Clearly, Jenner is less fazed by her sisters fighting than most of her fans. After all, she's dealt with it her entire life.