Kylie Jenner's Recent Photos of Stormi Are Giving Everyone Baby Fever: 'She's so precious'
Kylie Jenner is obsessed with her daughter, Stormi, and she loves showing her off on social media. The Kylie Cosmetics founder considers Stormi her best friend, and the two do everything together. Jenner occasionally posts photo shoots to Instagram of her daughter, and her most recent ones had everyone obsessing.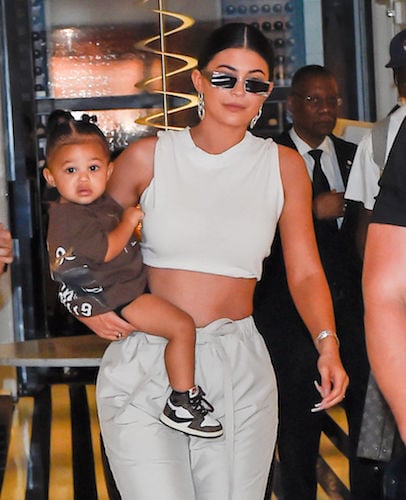 Kylie Jenner and ex Travis Scott welcomed Stormi in February 2018
When Jenner and her ex, Travis Scott, started dating, things seemed super casual. Jenner had just gotten out of a relationship with rapper Tyga, and she didn't seem to be looking for anything serious. About two months into their relationship, though, Jenner and Scott learned they were having a baby.
Stormi Webster was born in February 2018, and Jenner introduced her to the world on Super Bowl Sunday of that year. Though Jenner and Scott ended their relationship in October 2019 (after about two and a half years), they continue to co-parent their daughter extremely well.
Jenner loves posting hilarious photos and videos of her daughter
From the moment Stormi was born, Jenner has loved showing her off. The two clearly have an incredible bond, and as a mother, Jenner certainly loves taking pictures of her little girl. She often posts hilarious photos and videos of Stormi, such as when the little girl was calling her "Kylie" instead of "Mommy" and when Stormi refused to take off the gold hoop earrings Jenner had purchased for her.
Stormi is clearly a ball of energy with a big personality, and Jenner seems to love that her daughter always gives her a run for her money.
Her recent photoshoot of Stormi had fans obsessed
Jenner occasionally posts photo shoots of her daughter to Instagram. In mid-February, Jenner posted a compilation of photos of her daughter, and Stormi was wearing gold hoop earrings with her name engraved in them. Jenner's friends loved the photos, though some were concerned with Jenner's parenting and whether it was appropriate to let a two-year-old wear hoops.
Jenner recently posted another photoshoot of Stormi on the front steps of her home. The toddler was seen wearing Nike shoes and carrying a $700 Alexander Wang rhinestone handbag. "This face!!!" Kim Kardashian West commented. "Stormi has the best style period," Alexis Jayde Burnett wrote. "She's so precious!!!" Johnny Cyrus added. "Hahahahaha her on the phone in the last photo," Khloé Kardashian wrote.
Stormi seems to keep Jenner grounded
Though some have given Jenner heat for having a baby so young, Stormi seems to be the best thing in her life. And having a toddler probably keeps Jenner grounded. It can be difficult to stay afloat when you're surrounded by fame and billions of dollars. But Stormi gives Jenner someone to build a future for rather than just herself.
The two clearly have an inseparable bond, and Jenner has said in the past that she loves the feeling of selflessness that comes with raising a child and having to put someone else first. (She also mentioned she loves changing Stormi's diapers.) Watching Stormi grow seems to be the one thing Jenner looks forward to most about the rest of adulthood.