La La Anthony or Carmelo Anthony: Who Has the Higher Net Worth?
La La and Carmelo Anthony seemed like a match made in New York heaven when they got engaged in 2004. However, after several accusations of infidelity, including one resulting in the birth of a child, the couple separated in 2017. After several loving social media posts they made about each other after their separation, fans thought the Anthonys fixed their issues.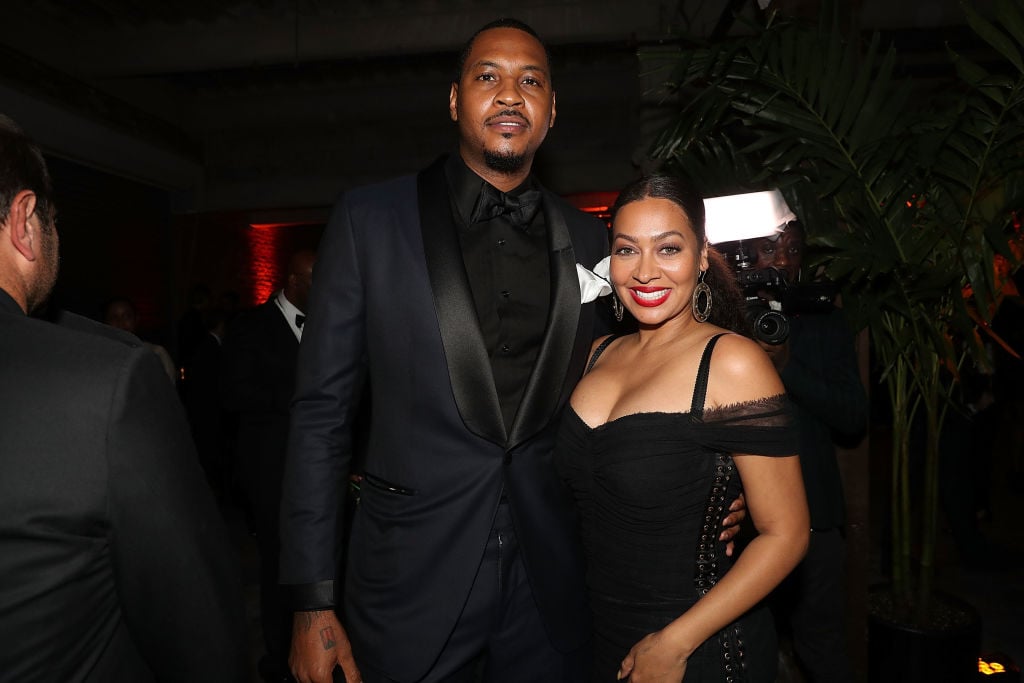 But, La La's rep stated that she is pursuing legal options in regards to "the next step in their relationship." How did the two meet and who has a higher net worth? Keep reading to find out!
La La and Carmelo Anthony's relationship
"New York's first couple" met through their mutual friend, DJ Clue. After having a memorable first date in Long Beach, California, Carmelo popped the question on Christmas of 2004. Four years later, on March 7, 2007, they welcomed their only child together into the world, Kiyan. The couple then officially tied the knot on July 10, 2010, at Cipriani's in New York. Two years later, the first accusations of infidelity came to light from a then 19-year-old woman.
She claimed she dated Carmelo for two months after he direct messaged her on Twitter. The following year, former NBA player Kevin Garnett told Carmelo that La La "tasted like Honey Nut Cheerios" in the middle of a basketball game. After this situation, sources began reporting the Anthonys were having issues in their marriage. The couple ended up living separately for two months.
Then, in 2015, a woman accused La La of cheating on Carmelo with her alleged boyfriend, rapper Maino. However, Maino and La La deny any inappropriate interactions. In 2017, Mia Angel Burks came forward claiming Carmelo is the father of her daughter Genesis, leading to the couple separating again in April of that year. The couple seemingly rekindled their romance the following year as they have posted pictures on social media and attended events together.
However, La La's rep told Entertainment Tonight in July 2019 that she "is proceeding with legal discussions as the next step in their relationship." Her rep continued that the couple had issues for a while, but the decision to split was "amicable" and the two "will remain loving and committed parents to their son."
La La Anthony's net worth
Alani Nicole Vazquez is from Brooklyn, New York, and studied communications at Howard University. At 15-years-old, she interned at a radio station in Georgia for a short time before the station gave her a show, alongside rapper Ludacris, while still in high school. The show, Future Flavas, became very popular and she received an offer from a Los Angeles radio station at 19-years-old.
In 2001, La La left the radio station to join MTV.  Even though she came from radio and had no prior television experience, La La quickly became one of MTV's most preferred hosts and went on to interview the biggest stars and host the most popular shows. Two years later, she left MTV to launch Krossover Productions, her production company.
She also acted in Think Like A Man, You Got Served, and other movies as well as produced five seasons of her show, VH1's La La's Full Court Wedding. In 2012, she launched a cosmetics line, MOTIVES, and the following year she created a clothing line, 5th and Mercer. La La also wrote two books, including The Love Playbook which hit number one on The New York Times Best Seller list in February 2014. La La Anthony's net worth is an estimated $9 million.
Carmelo Anthony's net worth
Born on May 29, 1984, in Red Hook, New York, he played basketball at Syracuse University for one year in 2002 before entering the NBA draft. The Denver Nuggets chose Carmelo in the first round, although he went third overall after LeBron James and Darko Milicic.
He spent the first seven years with the Denver Nuggets, then went to the New York Knicks from 2011 to 2017, played for the Oklahoma City Thunder from 2017 to 2018, and then the Houston Rockets from 2018-2019. After signing to the Chicago Bulls for one month, Carmelo is currently a free agent.
The basketball player was named an NBA All-star ten times and an All-NBA Team member six times. After leading Syracuse University to a 2003 national championship a freshman, the NCAA named Carmelo the tournament's Most Outstanding Player. He currently earns around $33 million in endorsements and, as of November 2018, received a whopping $246 million NBA salary. His net worth is an estimated $120 million.