'Labyrinth': David Bowie's 'Naughty' Costume Pants Made Jim Henson Happy: 'It's Terrifying to Teenage Girls'
June 27 marked the 35th anniversary of Labyrinth, Jim Henson's cult classic fantasy tale starring David Bowie and Jennifer Connelly. Goblins, fairies, Fireys, and other creatures came to life with the help of Brian Froud, turning the movie into a magical experience. But Bowie's charismatic performance as the Goblin King Jareth is also unforgettable, and an inspiration to cosplayers everywhere.
As fans look back, many remember the music, characters, famous quotes, and fantastic costumes that made Labyrinth stand out. Bowie's medieval-style trousers drew the eye to a certain area that still has people talking, and there's a funny Jim Henson story attached to that costume decision.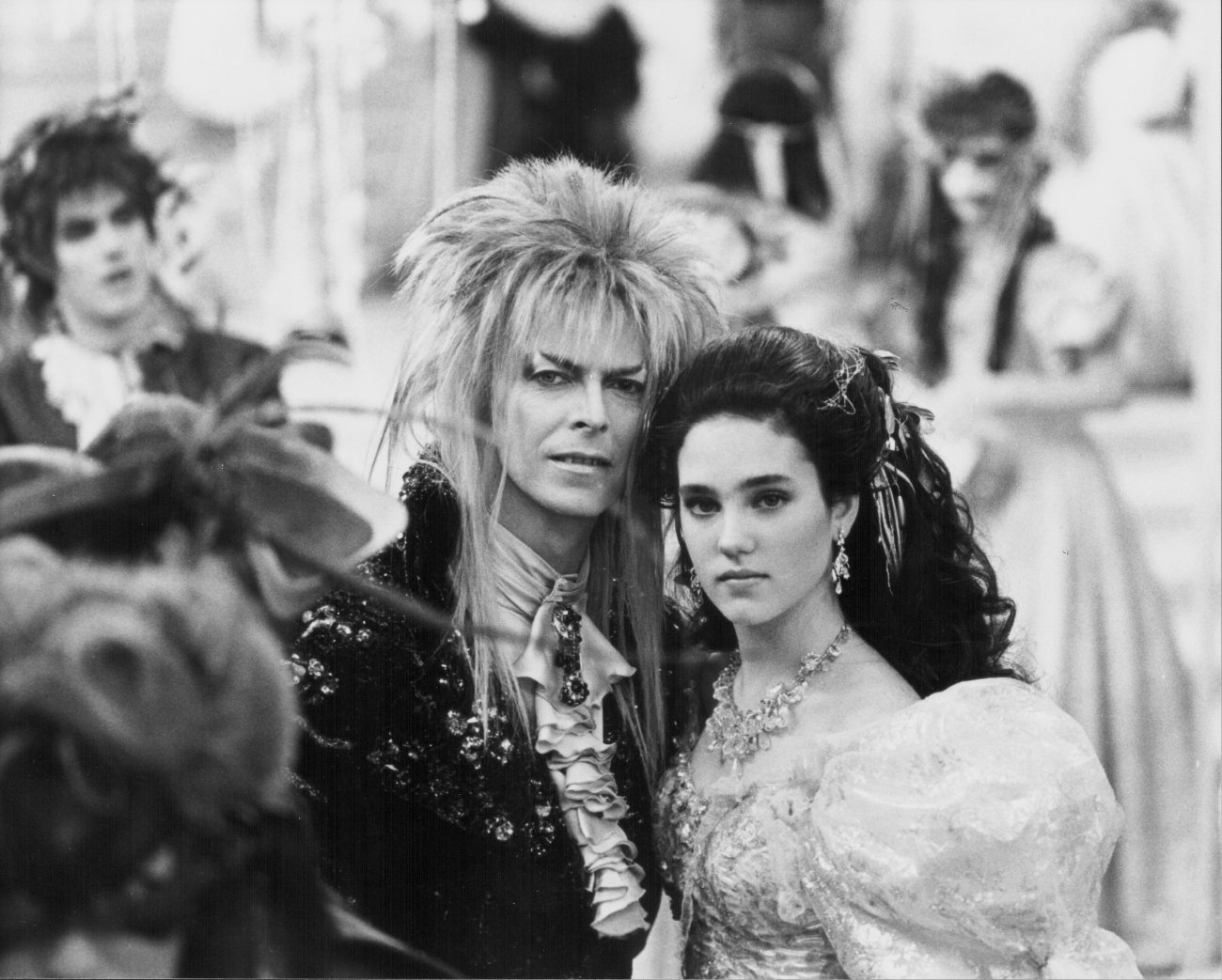 King Jareth's pants were deliberately tight in 'Labyrinth'
Let's address the elephant in the room and acknowledge the crotch area in Jareth's pants. Brian Froud once explained that he designed the character to be a combination of David Bowie's rock star and a "romantic hero" who dressed as a contemporary. He had leather, a scepter designed to look like a microphone, and armor. The codpiece is part of his armor.
"He's supposed to be a young girl's dream of a pop star. We got in a lot of trouble about maybe how tight his pants were, but that was deliberate. It's very eclectic," said Froud.
David Bowie didn't like the pants, but Jim Henson did
Word is that Bowie did not think his outfit was appropriate for a children's movie, but he donned the pants anyway. When Brian Henson, Jim Henson's son, appeared at a USC film panel in 2015, he said that Bowie brought a certain level of coolness and naughtiness to the film. That prompted the host to bring up the codpiece in Jareth's pants, which elicited giggles from the crowd.
Henson described Froud's original sketches for Jareth and said the "codpieces just kept getting bigger and bigger." But his father was on board. "And my dad was like, 'This is great! It's terrifying to a teenage girl!' He was like, 'This is what the movie's about. She's 15 and she wants to be treated like an adult, but whoa, that thing's scary!'" Henson mused.
Henson said the codpiece kept shrinking during filming
Bowie shot his first scene as Jareth when confronting Hoggle and Sarah in the tunnel. Disguised as a beggar, he dropped his cloak to scold Hoggle. Henson said the codpiece was at its largest in this scene, but when they sent off footage to the studio executives, things changed.
"The calls came back very quickly: 'You're absolutely nuts if you think David Bowie is going to keep wearing that thing.' So, it then got smaller and smaller and smaller during the movie," said Henson. He added that since his father preferred not to do reshoots, the gradual downsize stayed in the film.
Fortunately for Sarah, she didn't give in to the much older Jareth's wiles, instead focusing on her brother and telling the Goblin King, "You have no power over me." His magic, "swagger stick," and lofty promises didn't sway her. Fans can re-watch Labyrinth on HBO Max or Amazon Prime.