Did Lady Gaga Give a Speech at the Joe Biden Rally in Pennsylvania? She Sang Her Oscar-Winning Song 'Shallow'
Singer Lady Gaga took the stage at a different kind of concert on November 2, 2020. Rather than a sold-out crowd of pop fans, she played for the constituents of Pittsburgh, Pennsylvania, in a rally supporting U.S. presidential candidate Joe Biden. What did the artist perform for the audience, and did she make a speech at the event?
Lady Gaga campaigned for Joe Biden in 2020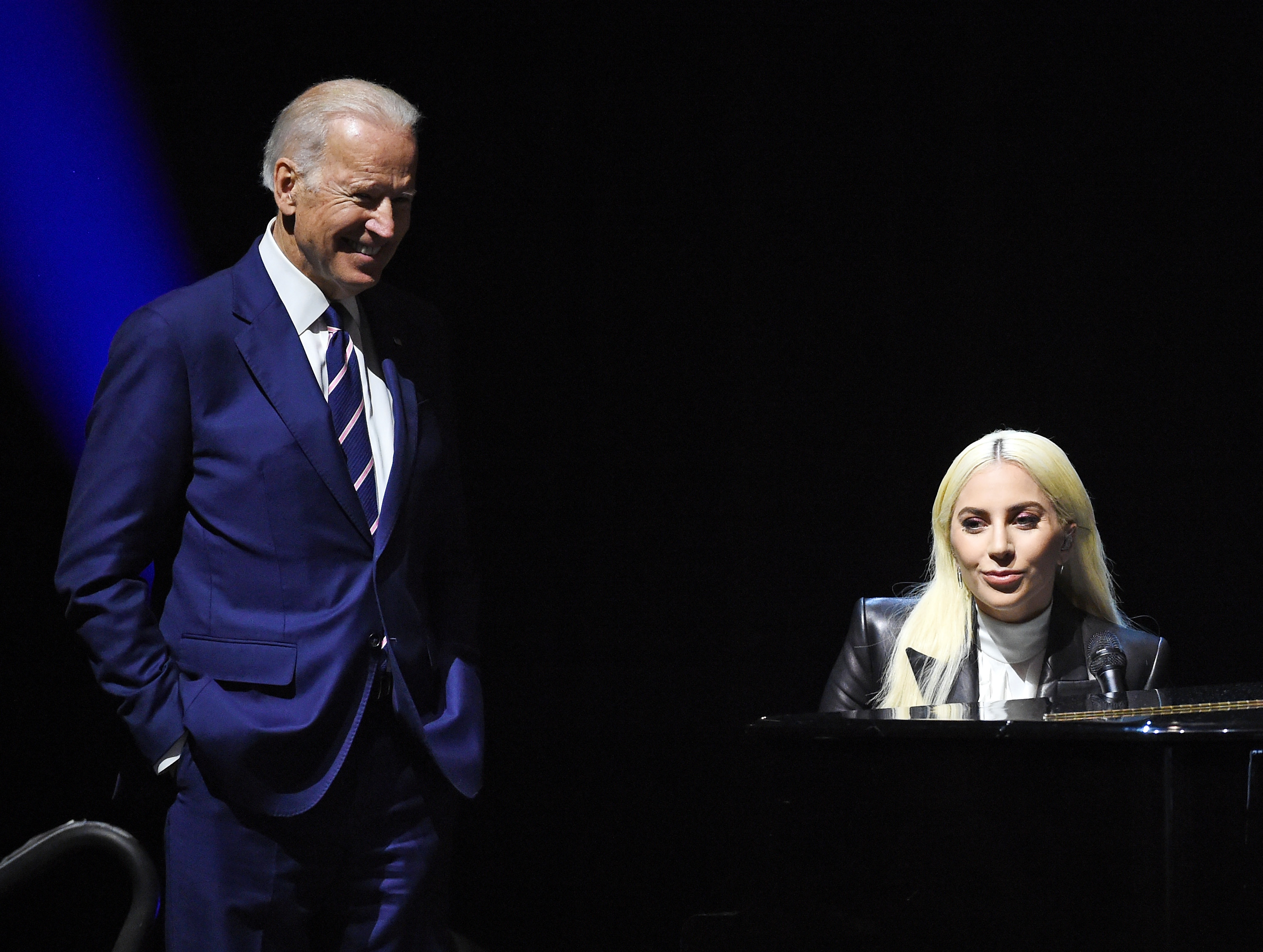 Like many celebrities, Gaga has come out in support of Biden ahead of the 2020 presidential election. In a post shared on Twitter in November 2020, she deemed the Democratic candidate "a good friend" and "the President this country needs to bring us back together."
How do Gaga and Biden know one another? In 2016, when he was vice president, she took part in an event at the University of Nevada, Las Vegas, for the It's On Us initiative to raise awareness of and to combat sexual assault on college campuses (above). They also worked on a PSA for the initiative in 2017.
She received criticism for her ad supporting him
As part of her showing of support, Gaga posted a video on Twitter. "Hey, this is Lady Gaga," she began. "I'm voting for America, which means I'm voting for Joe Biden." After citing numerous battleground states, she took a swig of a beer, crushing the can and saying, "Cheers to the 2020 election."
Her fans know that Gaga loves a good costume. In fact, another video encouraging people to vote featured her trying on past outfits. But this time, some were offended. "She's wearing camouflage next to a big truck drinking beer in a sad attempt to relate with conservatives to steer their votes blue," wrote one Twitter user. "This comes off fake and patronizing."
Donald Trump cited her views on fracking
Ahead of the rally, incumbent President Donald Trump tweeted about the singer putting her support behind Biden. "Just learned that Sleepy Joe Biden is campaigning in Pennsylvania with Lady Gaga, a proud member of 'Artists Against Fracking.' This is more proof that he would ban Fracking and skyrocket your energy prices," he wrote on Twitter.
Trump's communications director Tim Murtaugh then released a statement on the matter, stating that "Biden will always prioritize the desires of the liberal Hollywood elite." Gaga replied, "HEY TIM HEY @realDonaldTrump SO HAPPY IM GLAD TO BE LIVING RENT FREE in your HEAD."
Gaga sang 'Shallow' at a Pittsburgh rally for Biden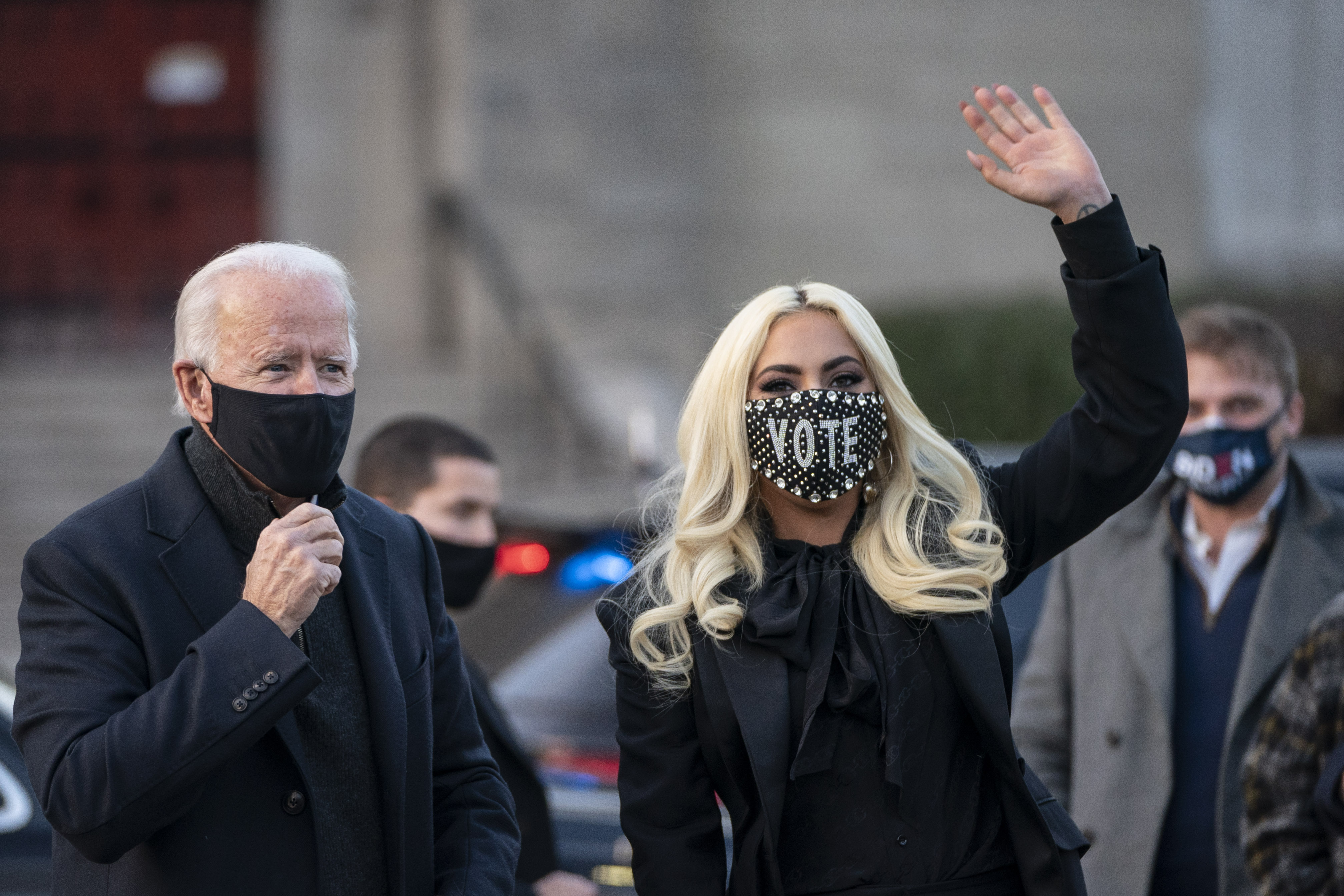 RELATED: Is 'Shallow' Lady Gaga's Best Song?
Related post url: 
Hours before the rally, Biden and Gaga spoke with reporters. "Lady Gaga's gonna be speaking tonight, I'm gonna be singing," the politician joked in a video shared on Twitter. As for the musician's song of choice, she performed "Shallow," from her film A Star Is Born. Gaga won the Academy Award for Best Original Song for the tune.
Before singing, Gaga addressed the crowd. "This is a big one Pennsylvania," she began. "Like me, you've experienced the last four years, and have all the evidence you need to look at this choice — to know in your heart that Joe Biden is the right choice." Gaga added, "Now is a time to show up and vote like this country depends on it. Because it does." She finished, "Vote for Joe, he's a good person."