Why Lady Gaga Fans Think Her Newest Tattoo Is About Bradley Cooper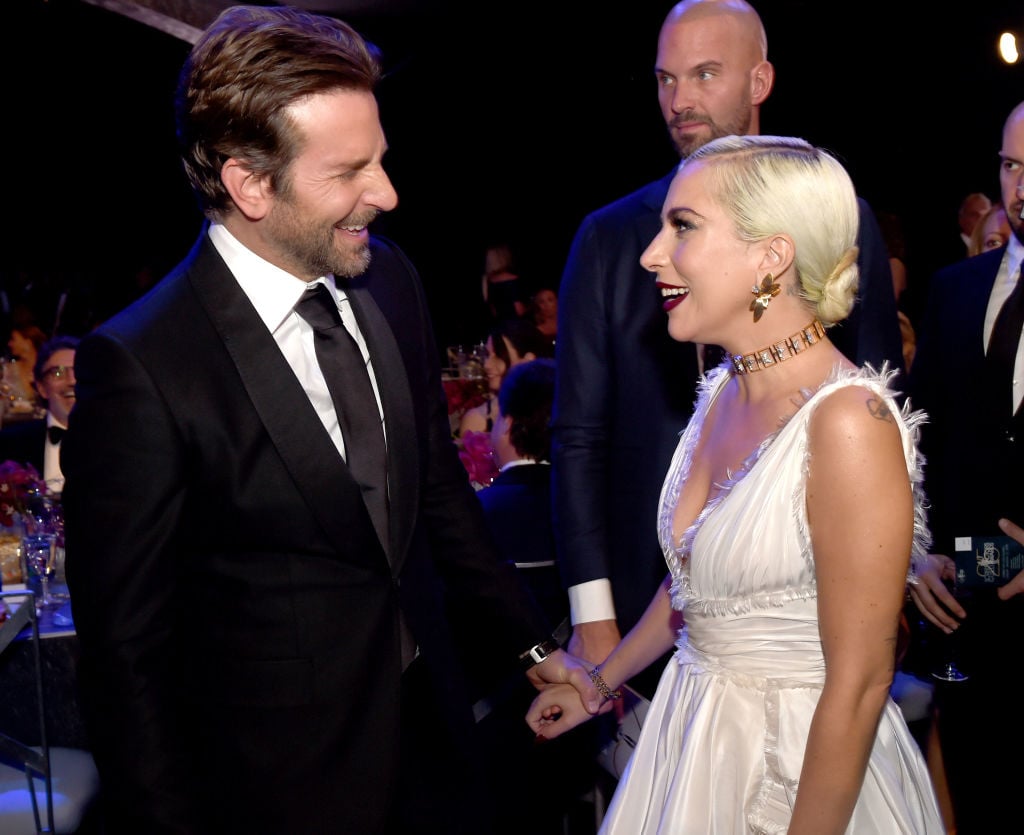 Ever since A Star is Born premiered in theaters, Gaga fans have been obsessed with the singer's relationship with her co-star, Bradley Cooper. The two had palpable chemistry in the film, and their relationship in real life is pretty intense, too.

Gaga wears her heart on her sleeve and feels every emotion with abandon. It's why her fanbase loves her so much. It's easy to understand, then, why her relationship with Cooper can come off sort of fervent. He gave her an incredible opportunity and the two got close during filming.

Is Lady Gaga's newest tattoo about Bradley Cooper?

Gaga recently posted a picture of her latest tattoo on Instagram. At first glance, the ink looks pretty standard for a musician: four notes tattooed on her arm.

But one fan pointed out a possible double meaning. Music readers will tell you that the notes read G-A-G-A in the treble clef, but that they also spell out B-C-B-C in bass clef.
The fan goes on to say that "if you play them together on the piano it's a perfect harmony."

It's almost too much for the Gaga fandom to handle.

This wouldn't be Lady Gaga's first tattoo related to Bradley Cooper

Just one day before she premiered her music notes tattoo on Instagram, she posted a photo of another new tattoo of a rose along her spine. On either side of the stem are the words "la vie en rose," the Édith Piaf song she sings in the first scene of A Star is Born.

Fun fact: "La Vie en Rose" is also the song she was singing at a 2016 cancer benefit at Napster cofounder Sean Parker's house when Bradley Cooper saw her and decided she'd make the perfect Ally, according to Vogue.

Are Gaga's tattoos declaring her love for Bradley Cooper or are they a promotional tool?

These tattoos premiered on Instagram suspiciously close to Oscar season (Gaga is nominated for Best Actress along with Glenn Close, Olivia Colman, Melissa McCarthy, and Yalitza Aparicio, and Best Song for "Shallow" along with Kendrick Lamar and SZA). Vogue thinks it's not by accident.

"As Gaga always says, there can be 100 Oscar nominees in a room and 99 of them don't get themed tattoos ahead of the big night, but all it takes is one," reads the publication.

Gaga's little monsters, on the other hand, want to believe the tattoos are more about Cooper than the singer's Oscar nominations. In reality, a tattoo can have several meanings. Knowing Gaga, who wears her heart (and now her notes) on her sleeve, these tattoos mean a lot. Yes, they may partially be in honor of Cooper, but that doesn't mean the two are romantically involved (as far as we know). Love manifests in different ways. Gaga certainly loves Cooper, and now she has the ink to prove it.
Read More: Is 'A Star Is Born' on Netflix? How to Watch the Hit Movie Before the Oscars

Follow The Cheat Sheet on Facebook!