Lady Gaga Admitted She Cried Watching 'The Bachelorette' Kaitlyn Bristowe's 'DWTS' Debut To Her Song
Even Lady Gaga cried when The Bachelorette alum Kaitlyn Bristowe finally made her Dancing With the Stars debut. Here's what the famed singer-songwriter had to say about the star's first performance after her years of yearning to be on the show.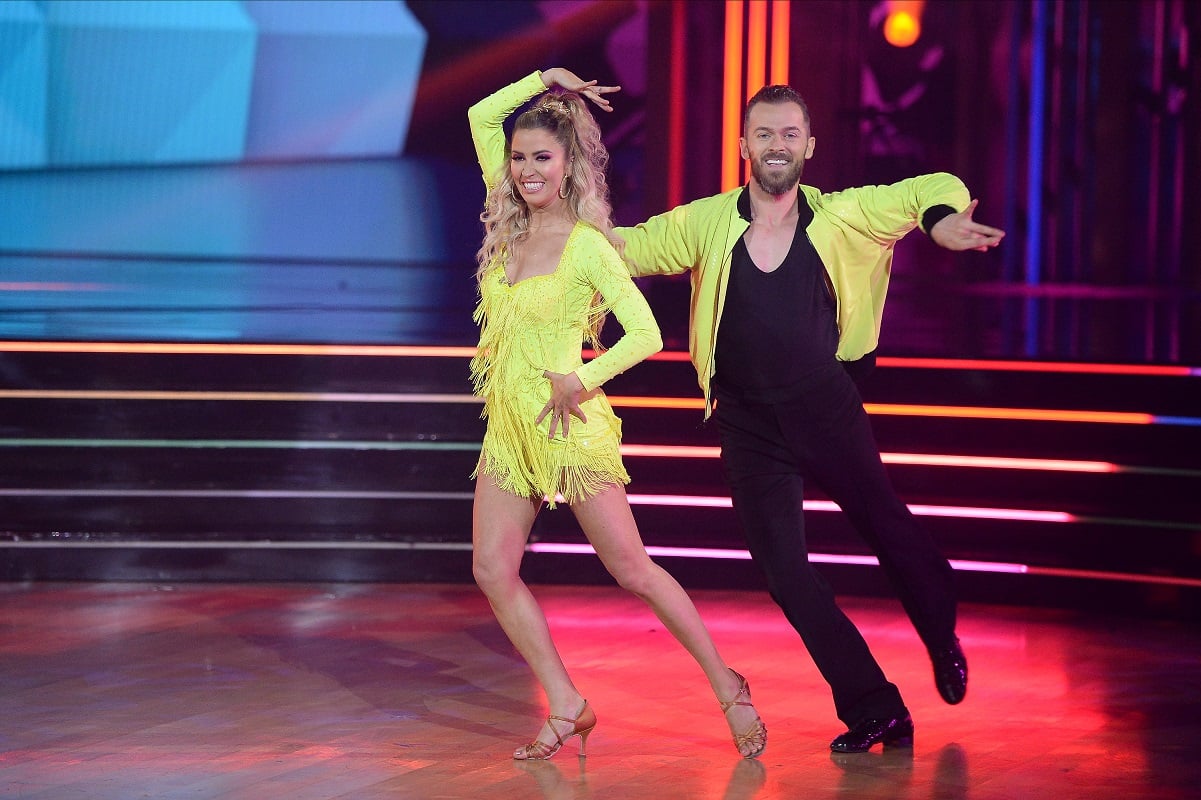 Was Kaitlyn Bristowe banned from 'Dancing With the Stars' in 2017?
Kaitlyn Bristowe was the lead on the eleventh season of The Bachelorette. The Bachelor's former stars were often asked to appear on the following season of Dancing With the Stars; however, Bristowe was never invited.
When it was announced that lead Nick Viall would appear on the show, the former spin class instructor voiced her opinion.
"Actually, I was offered it, had the contract & Mike Fliess told me I wasn't allowed," Bristowe responded when Whitney Bischoff asked why she didn't appear on the show. "He said he didn't want people wanting fame after his show."
However, Bustle reported that ABC declined to comment at the time. Things seem to have been worked out since Bristowe was finally invited to be DWTS for season 29.
What did the judges think of Kaitlyn Bristowe's first dance on 'DWTS'?
"I have been such a fan of Dancing With the Stars," Kaitlyn Bristowe explained before dancing. "As a little girl, it was always my dream to be a dancer, and now I get to be on the dance floor living out my dream."
She was paired with dancing pro — Artem Chigvintsev. The duo came out in bright yellow outfits and performed the Cha-Cha to Lady Gaga's "Stupid Love."
"What a Cha-Cha-Cha! The foot placement — you really got it going on the toe in week one," judge Bruno Tonioli praised Bristowe. "You could be a little bit of a sharper finish at times, but it was so good."
Judge Carrie Ann Inaba added that it was "a great first dance." However, she suggested working on "the timing of your feet."
"Great, great, great first dance. Beautiful Cha-Cha," the final judge Derek Hough remarked. "You have a lot of potential. The arms are beautiful but just placed, not hit. Everything was beautiful but just kind of safe. You don't want the energy to stop here. You want it to go through the camera to the people at home."
The judges gave Bristowe a total score of 20 out of 30 possible points. 
Lady Gaga cried while watching Bristowe's 'DWTS' debut
"Is it weird that this made me cry," Lady Gaga tweeted about Bristowe's dance to her song. "I love watching people happy and dancing."
Lady Gaga truly felt Bristowe's excitement and all she went through to make it on the show. The former Bachelorette's response was even more epic.
"Is it weird that you watching us dance to your song makes me SOB?" she asked. "But like a happy sob."
Bristowe was so emotional over Lady Gaga's response that she tweeted about it again.
"I'm never going to recover from Lady Gaga watching me dance to her song," the Bachelorette tweeted.
She was already emotional after the dance last night, but the comments from the creator of the song set her over the edge.
"This is like an out of body experience," she told host Tyra Banks after the dance. "I feel like it's not even real. It's a pinch-me moment, and I'm trying not to be emotional."