What Foreign Languages Does Meghan Markle Speak?
The royal family knows a thing or two about foreign language. From Queen Elizabeth to Prince George and Princess Charlotte, most royal family members can speak a foreign language — and some even have fluency in a few foreign languages. But, what about the Duchess of Sussex? What languages does Meghan Markle speak? Find out, ahead.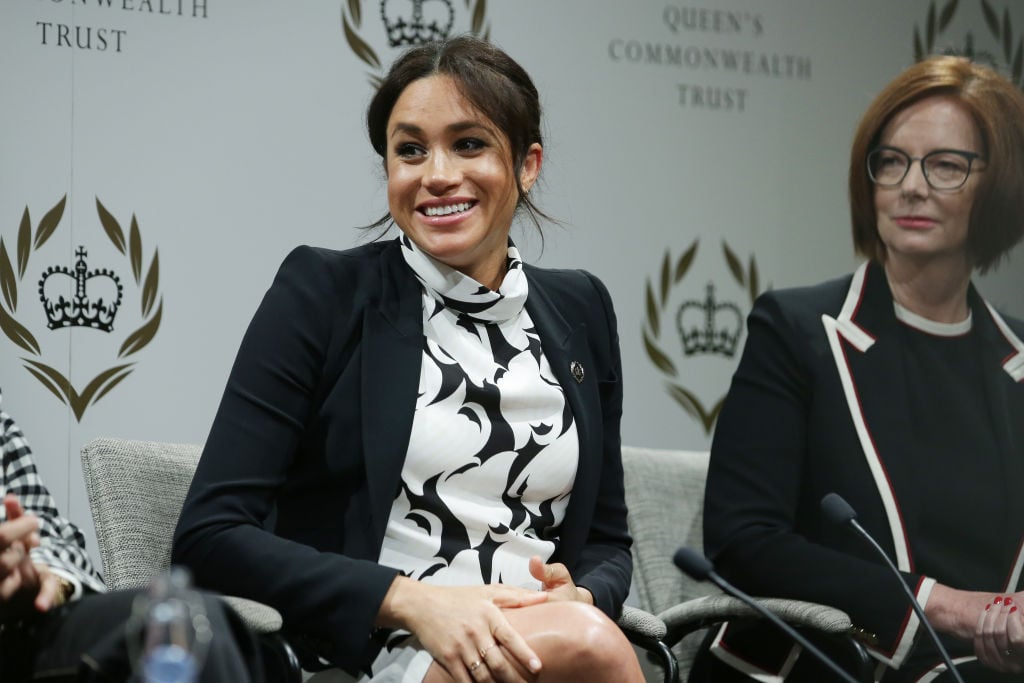 What languages does Meghan Markle speak?

Despite not growing up in the royal family, Meghan Markle still studied a foreign language in school. According to the royal family's website and the Duchess of Sussex's official biography, Her Royal Highness took French courses for six years. Prior to marrying into the royal family, she lived in Canada, which is a bilingual French and English-speaking country. Although the French spoken in Canada is different than that of France, the duchess certainly got some practice in.

In addition to studying French, Meghan Markle can also speak Spanish. The Duchess of Sussex learned the language while interning at the US Embassy in Buenos Aires, Argentina during her college years.

While visiting Edinburgh with Prince Harry, Meghan Markle showed off her linguistic skills when she said "Salamat Po," which means "thank you" in Tagalog, the language of the Philippines to a well-wisher. It's unclear how much Tagalog the Duchess of Sussex is familiar with, but it's normal for royal family members to have knowledge of simple phrases and words in foreign languages.

What languages does the royal family speak?

Meghan Markle might have a couple of foreign languages up her sleeve, but she's not the only one in the royal family who can speak a foreign language. Queen Elizabeth, Prince Philip, Prince Charles, Prince William, and many of her other in-laws speak and understand foreign languages from around the world.

French

Like the Duchess of Sussex, most members of the royal family have some understanding of French. Queen Elizabeth and Prince Philip are both fluent in the language, as are their children, Prince Charles, Princess Anne, Prince Andrew, and Prince Edward. Additionally, both Prince William and Kate Middleton can speak French. Prince Harry learned French in school, but he has admitted to not remembering much.

German

German is another language fluent in the royal family. Prince Philip grew up speaking German, English, and French in his family and is therefore fluent in the foreign language.

Spanish

Meghan Markle isn't alone in her knowledge of Spanish. Prince George and Princess Charlotte are reportedly learning to speak the language. Additionally, Prince William might know a little. Prince Harry wanted to learn Spanish in school, but his teacher allegedly discouraged him (as he revealed while on his royal tour of New Zealand).

Welsh

As the current and future Prince of Wales, Prince Charles and Prince William both speak Welsh. Prince William learned at a young age and allegedly continued his knowledge after he graduated from university. Prince Charles learned the language before being crowned Prince of Wales.

Gaelic

Prince Charles and Prince William apparently know a little Gaelic, too. However, it's unclear whether they are familiar with the Gaelic spoken in Scotland or Ireland (or both).

Swahili

Prince William knows a little Swahili, too. The future king taught himself pieces of the languages when he was in his early twenties and has used his knowledge while visiting African countries.

Russian

Some members of the royal family also speak a little Russian. According to reports, Prince Michael of Kent and his wife, Princess Michael of Kent speak the foreign language.

Arabic

Prince Harry might not confidently know a foreign language, but he certainly does try. With the help of some notes, the Duke of Sussex once delivered a speech in Arabic.

Check out The Cheat Sheet on Facebook!