Lark Voorhies Said it 'Hurt' When She Wasn't Invited Back for the 'Saved By the Bell' Revival
High school reunions sometimes aren't as fun as their organizers want them to be. Sometimes they can remind a person how they got excluded. Now Lark Voorhies is finding that out on a national scale, since she wasn't invited back for the Saved by the Bell reunion.
The reunion show is set to help launch the new streaming service Peacock, just as the Friends reunion show is set to launch HBO Max. While all the principals of Friends have been coaxed back, Varhooies wasn't even asked. And that's what hurts the most, she said. 
'Saved by the Bell' has a short but memorable run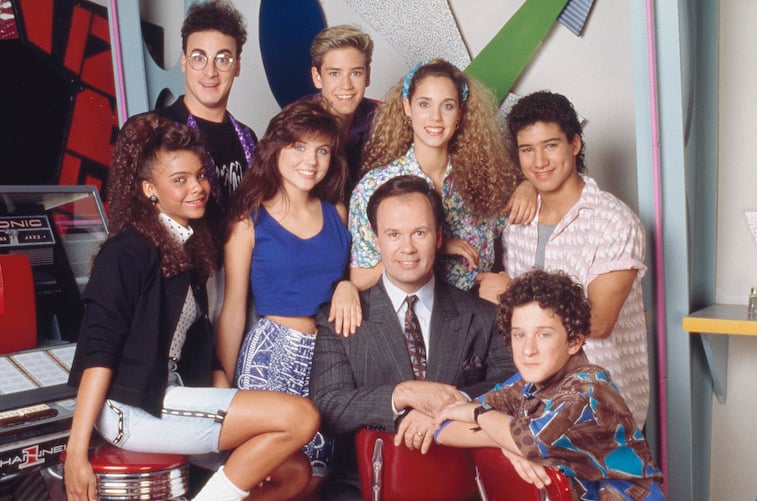 Considering how much hold Saved by the Bell still has on popular culture, it might surprise some to remember that the show only lasted for four seasons on NBC. The show was a reconfiguration of the Disney channel series called Good Morning Miss Bliss, about a group of high school friends.
The show made stars out of its cast, also including Mark-Paul Gosselaar, Dustin Diamond, Voorhies, Tiffani-Amber Thiessen, Elizabeth Berkley, and Mario Lopez. The show proved to be a launching pad for many careers, with Thiessen increasing her fame via Beverly Hills 90210, Lopez becoming a host on Extra, and Berkley being memorable for her turn on the love-it-or-hate it Showgirls.
Voorhies played Lisa Turtle, the "rich girl" of the bunch who was particularly known for her interactions with Screech. She was a secondary character at first, but her role became more prominent as the show went along, to the point that she did appear in spin-offs and TV movie sequels.
How Lark Voorhies reacted to the snub
Per Screen Rant, the actress said on The Doctor Oz Show that her exclusion from the reboot series was something she couldn't just take in stride.
"I have to admit I did feel a bit slighted and hurt when I was not invited to be part of the Saved by the Bell reunion, as well as other cast members events," she read from a statement. "Yet, of course, I also realized that having this puzzling disorder may have played a major part in that factual decision. With that in mind, I am truly thankful for having had the chance to work on a show that has been so successful."
The 'puzzling disorder' that Voorhies referred to was bipolar disorder. However, Voorhies is not the only one not participating in the show. According to CBS, neither Diamond nor Thiessen will be returning, although it's not clear if they were asked and declined.
Thiessen has been in some informal reunions, but Diamond and Voorhies remain conspicuously absent. 
What are the details of the reboot series?
In the reboot California's governor Zack Morris is under fire for closing too many low-income high schools. He suggests sending the affected students to the most successful schools in the state, and that includes Bayside High.
The show does not have a specific premiere date, although Peacock is expected to launch this coming July. This will be Universal's version of Disney+  and HBO Max. It will have a free tier with ads but reduced programming, or a paid tier of $5 a month, making it cheaper than either Disney+ or HBO Max.
In addition to the Saved by the Bell reboot, it will also feature episodes of The Office and Parks and Recreation, which has previously been on other streaming services. 
Although Voorhies is not sitting out the reunion by choice, she is focusing on her mental well being. Voorhies' mom Tricia told Dr. Oz, "Right now I feel really good, but I've struggled a lot. I've had many nights of crying and I was totally puzzled and perplexed." She also noted that doctors are helping mother and daughter cope with the disorder.