Larry David Curbs His Enthusiasm About Bumping Into Tom Brady at Kentucky Derby
Larry David's character on the venerable HBO series Curb Your Enthusiasm isn't much different from Larry David off-camera. So, it's not entirely surprising David experienced a moment in a manner uniquely his. Meeting a megastar athlete such as Tom Brady is often cause for even the most collected customers to get lost in nerves or giddiness.
But Larry David? Not so much with the giddy, as evidenced by an encounter at the Kentucky Derby earlier this month. Greeted by one of the most famous athletes in the world, David's understated response was quintessential Larry David.
It probably confused Brady a bit as well.
Two celebrities meet on an elevator
RELATED: 'Seinfeld' Co-Creator Larry David Was the First Actor to play Newman Before Wayne Knight
Charissa Thompson of FOX Sports shared a story from the Kentucky Derby on the Calm Down with Erin and Charissa podcast on Tuesday. Inside a crowded elevator, Thompson overheard Tom Brady offer a greeting.
"Hello, Larry," Brady said.
"Oh, Tom, hi," David said before resuming his straight-ahead gaze at the elevator door.
It might be the ultimate test of celebrity calm. If you can handle a chance meeting with a seven-time Super Bowl winner with all the shock and awe of ordering a hot dog, yeah, you're a pretty cool customer.
Larry David is what he is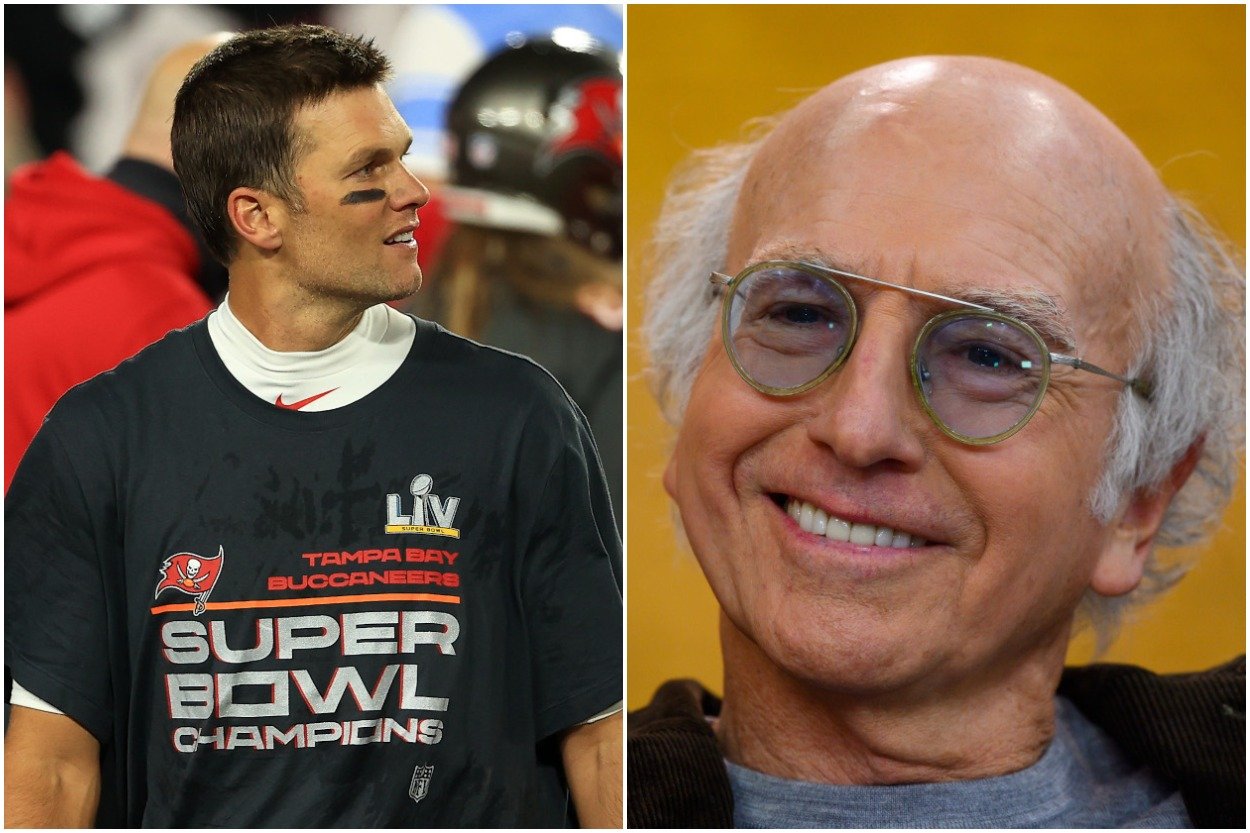 RELATED: 'Seinfeld': Larry David Framed George Costanza's Iconic Plotlin
In January 2020, Brett Martin of GQ profiled Larry David for the magazine and caught David being himself. Meeting at a coffee shop in LA, David had an ongoing back-and-forth with a young server over the temperature of the Americano David had ordered.
When it was over, the writer answered David's question by affirming that, no, most people wouldn't have said anything. David was having none of that.
"Even if he didn't know me, I would have said something. After all, what did I do? I pointed something out. I didn't insult him or anything."

Larry David
The rest of us could only hope to be as secure being inside our skin as does Larry David.
Then again, this is the performer who can still draw laughs from across a wide swath of society, despite its roots in behavior no longer as readily accepted. The angry white male persona has (rightfully so) taken some hits of late.
Celebrity circles nothing new for Tom Brady
Tom Brady has been a sports celebrity for a long time, bursting onto the national scene as an athlete by leading the New England Patriots to an unlikely Super Bowl victory after the 2001 season. He came from the bottom rungs of the NFL draft to superstardom and became a brand name in his own right.
There was the relationship with actor Bridget Moynihan, followed by his marriage to supermodel Gisele Bündchen in February 2009. Brady has several acting credits, almost all as himself, including appearances on both the series and motion picture versions of Entourage. Brady hosted Saturday Night Live in 2005, as well.
At age 43, Brady is the oldest quarterback — heck, the oldest player period — to start and win a Super Bowl, capturing his seventh championship last February. That broke a record he already held, by the way. Brady was 41 when leading the Patriots to a Super Bowl title in February 2019. He's the only member of the over-40 club on that list.
Maybe in a way, it was refreshing to say hello to someone who didn't fall all over themselves in response. But that's Larry David's way both on- and off-screen.
Like Showbiz Cheat Sheet on Facebook. Follow us on Twitter @cheatsheet.