Larry King and Katie Couric Disagreed About Their Awkward Date
Awkward dates happen to everyone. But Larry King had a very different version of the end of his date with a fellow talk show host. That was Katie Couric who told her story publicly, then let King tell his side of the story on her own show.
Kate Couric revealed she had a bad date with Larry King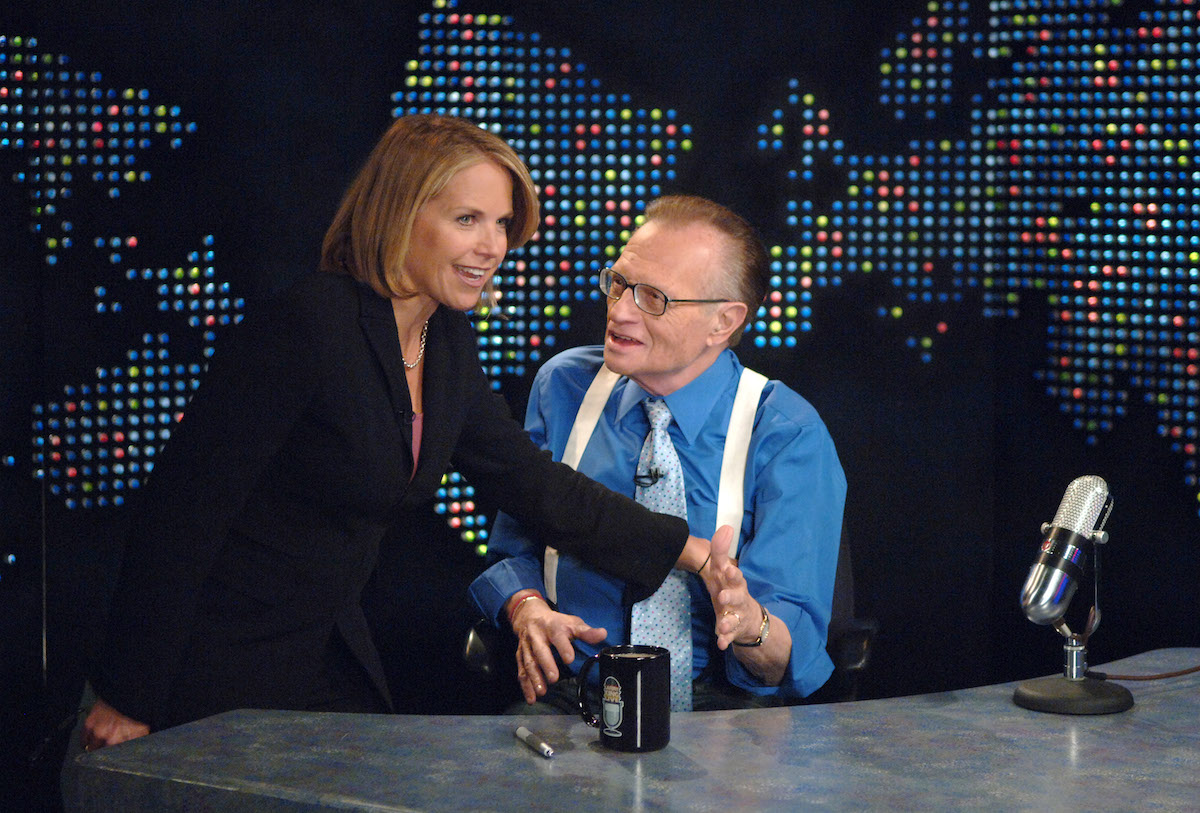 Couric went on Jimmy Kimmel Live! and told the story about the date she had with King in 2013. She said the date happened 26 years ago in Washington D.C.
They went to an Italian restaurant, but things got weird after dinner. She said King unexpectedly took her back to his place. It was "covered with proclamations [to] Larry King Day, keys to every city in the country," according to Vanity Fair.
She then said King tried to make a move on her but it didn't work. "I started laughing a little bit because the whole situation was like out of a bad Lifetime movie. . . . I said, 'Larry, you're such an interesting, nice man, but I would like to meet someone a little closer to my age,'" she said.
But King didn't agree with her version of this story. He later went on her show to talk about it.
They disagreed about their date
RELATED: Larry King's Favorite Impression of Himself Was on 'Saturday Night Live'
King later appeared on Couric's show to reveal that he has a different memory when it comes to their date. "The thing that hurt me was when you said 'I wanted to experience many people so I tried an older man,'" he told her. Couric denied saying this.
"I was in my early 30's and I hadn't met Jay [Monahan] yet and I really wanted to find a life partner," she explained. Couric decided she'll go out with everyone who'd ask her so that led to their date. King took offense to this given he thought they might be a good fit because they work in the same field.
"You said I drove you to my apartment. I have no memory of that," King revealed. Instead, he remembered they kissed and he took her home. He claimed he walked her to the door and he thought he would go inside.
King then said Couric told him she has a roommate so he couldn't come inside. But then he pointed out that she told Kimmel that she didn't have a roommate. It was then revealed that Couric didn't have a roommate so she lied.
It looks like King and Couric had a good sense of humor about the situation. The date didn't lead to romance, but they became good friends.
Couric shared a simple message after the news of his death
King died at 87 years old on Jan. 23, 2021. This was after he was hospitalized for COVID-19.
Couric shared a video reporting the news on Twitter with the simple message, "Rest in peace to a broadcasting legend. [heart emoji] #LarryKing." She also responded to his recent interview with DJ Khaled and tweeted, "This is so funny and so Larry…"