Larry King Interviewed Meghan Markle Before She Married Prince Harry and Told Her She Wasn't 'the Average American Woman'
Check out videos of past interviews the late Larry King did with Prince Harry's wife, Meghan Markle.
Once upon a time before Prince Harry wed Meghan, Duchess of Sussex she was a working Hollywood actress who would appear on talk and radio programs to promote her TV show and other projects.
One of the people who interviewed her was the late Larry King. Following his death, videos of those past interviews with Harry's wife are now making the rounds.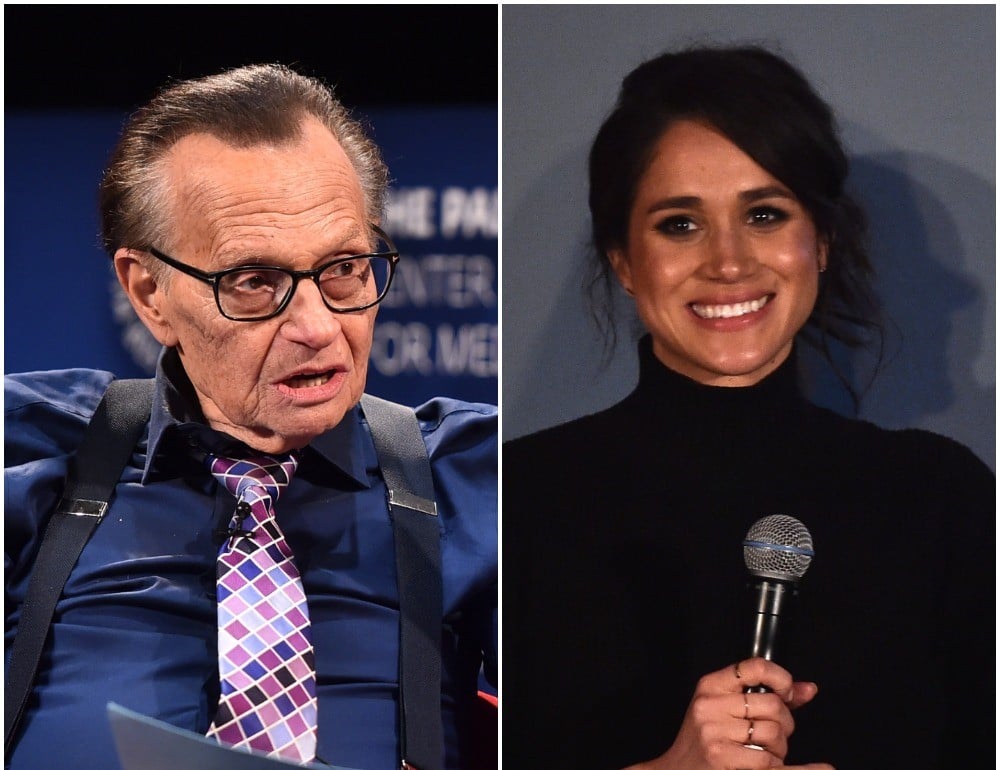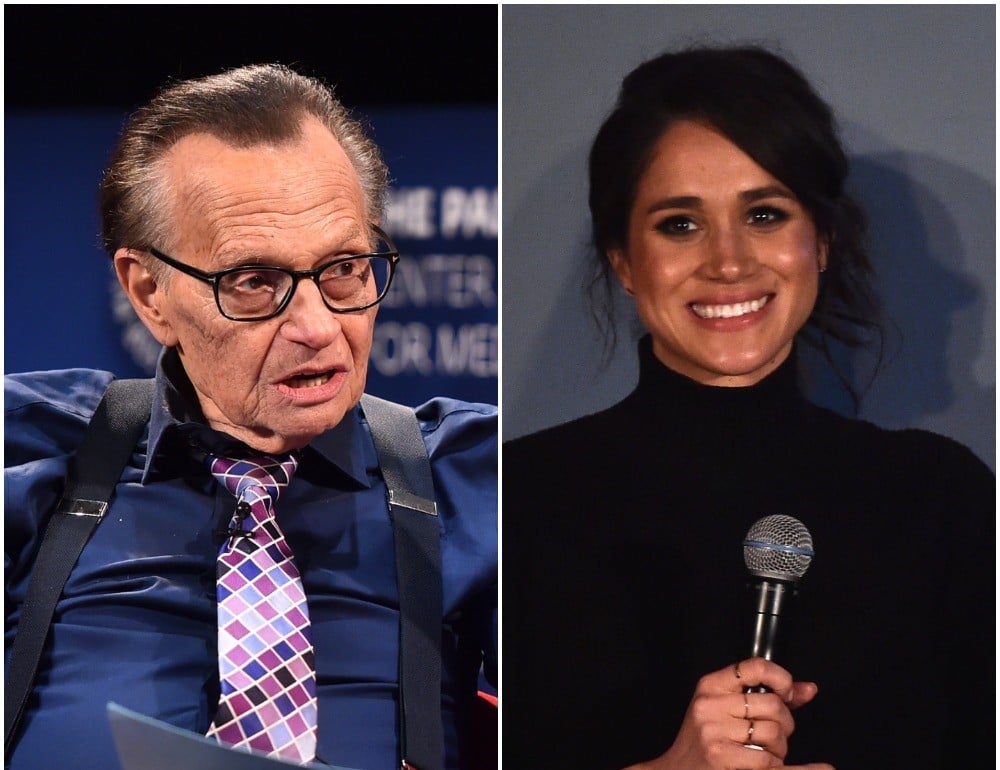 Larry King interviewed Meghan Markle not once but twice
The legendary talk show host interviewed Meghan not once but twice.
The first time was in 2013, years before she met her current husband. Meghan was a guest alongside her Suits co-star Patrick J. Adams. The duo spoke to King about the legal drama and playing their characters Mike Ross and Rachel Zane.
A notable part of the interview was when King asked Meghan about leaving the entertainment industry, which she later did to marry Prince Harry. The then-actress told King that she felt lucky to be in the position she was in because "some people are trying to do this for 20 years and still waiting tables."
She continued: "This feels like a slow burn, but really doing this for six, seven years and then having a show like this with this level of success is crazy," she added. "Someone said to me a long time ago, don't give it five minutes if you're not going to give it five years. On that five year mark, I was really eager."
King told the future duchess that she's 'not average'
The second time King interviewed Meghan was in 2016 about her now-defunct blog The Tig as well as her important work with UN Women.
"Do you think your looks affect your advocacy?" King asked, adding, "You're not the average American woman, Meghan, admit it."
"I would like to think that I am…" she replied before the host interrupted telling her: "You're not."
Meghan then stated: "No matter what you look like, you should be taken seriously. For me, also, I think it's really great to be a feminist and to be feminine."
Larry King's death
King died on Saturday, Jan. 23, 2021, while hospitalized at Cedars Sinai Medical Center in Los Angeles. He was 87.
A statement posted on his Facebook account announced his passing. "With profound sadness, Ora Media announces the death of our co-founder, host and friend Larry King, who passed away this morning," the statement said. "For 63 years and across the platforms of radio, television and digital media, Larry's many thousands of interviews, awards, and global acclaim stand as a testament to his unique and lasting talent as a broadcaster."
King is survived by his three sons Larry, Jr., Chance, and Cannon who released a statement following their father's death that read:
The world knew Larry King as a great broadcaster and interviewer, but to us he was 'Dad.' He was the man who lovingly obsessed over our daily schedules and our well-being, and who took such immense pride in our accomplishments — large, small, or imagined. Through it all, we knew without a doubt in the world that he loved us more than life itself. He was an amazing father, and he was fiercely loyal to those lucky enough to call him a friend. We will miss him every single day of our lives.