'Laugh Now Cry Later': Drake's Friendships With Athletes Go Way Back Before His New Music Video
Drake just came out of hiding with two big announcements. He just released a new song and accompanying music video called "Laugh Now Cry Later" featuring Chicago rapper Lil Durk, and his next album, titled Certified Lover Boy, is on the way. In the video for "Laugh Now Cry Later," Drake links up with some of his favorite athletes to play with them at the Nike World Headquarters in Beaverton, Oregon. He shoots hoops with Kevin Durant, plays football with Odell Beckham, Jr., and even gets tackled to the ground by Marshawn Lynch.
Drake is no stranger to the athletes who appear in his video (and those who don't), having shouted out some in song lyrics before and appearing publicly as close friends.
Drake loves his Toronto sports teams
Despite making it big, Drake has never been one to not shout out his hometown of Toronto. He arguably coined the term "The 6" to refer to the city, and the album cover for his 2016 project Views features him sitting nearly 2,000 feet above the ground on the CN Tower in downtown Toronto.
So when the Toronto Raptors had a successful season in 2019, Drake had to be there at the sidelines for nearly every game supporting them on their road to the NBA Finals. Kawhi Leonard is one of the players whom Drake has developed a close relationship. Last year was Leonard's first year with the Raptors, and he led the team to a historic victory as the first Canadian team to advance to the finals — and win. Drake is a Raptors superfan and did everything in his power to convince Leonard to stay in Toronto before eventually leaving earlier this year.
Kawhi Leonard isn't the only basketball star Drake is close with
Kevin Durant plays a pickup basketball game with Drake in the "Laugh Now Cry Later" video, but that's hardly the first time the two have ever met, and likely not the first time they've been on the court together either. Durant played for the Golden State Warriors against the Toronto Raptors in last year's NBA Finals, leading to lots of friendly trash-talking between the two. It was all in good fun: Durant accepted his loss to Drake's team and even gave the rapper one of his Warriors jerseys from the finals. Plus, thanks to the "Laugh Now Cry Later" video, Durant eventually would get his revenge.
Durant isn't the only Golden State Warrior that Drake is friends with: he's shouted out Steph Curry and Durant on songs like "0 to 100 / The Catch Up" in the past and has tattoos dedicated to both players.
Drake is also good friends with LeBron James, regarded by many to be the current King of the NBA. He's shouted out James in the past on songs like "Nonstop" and "Tim Westwood Freestyle," and recently appeared on James' HBO series The Shop. He even invited the three-time NBA champion onstage at a concert alongside Travis Scott to perform "Sicko Mode" in 2018.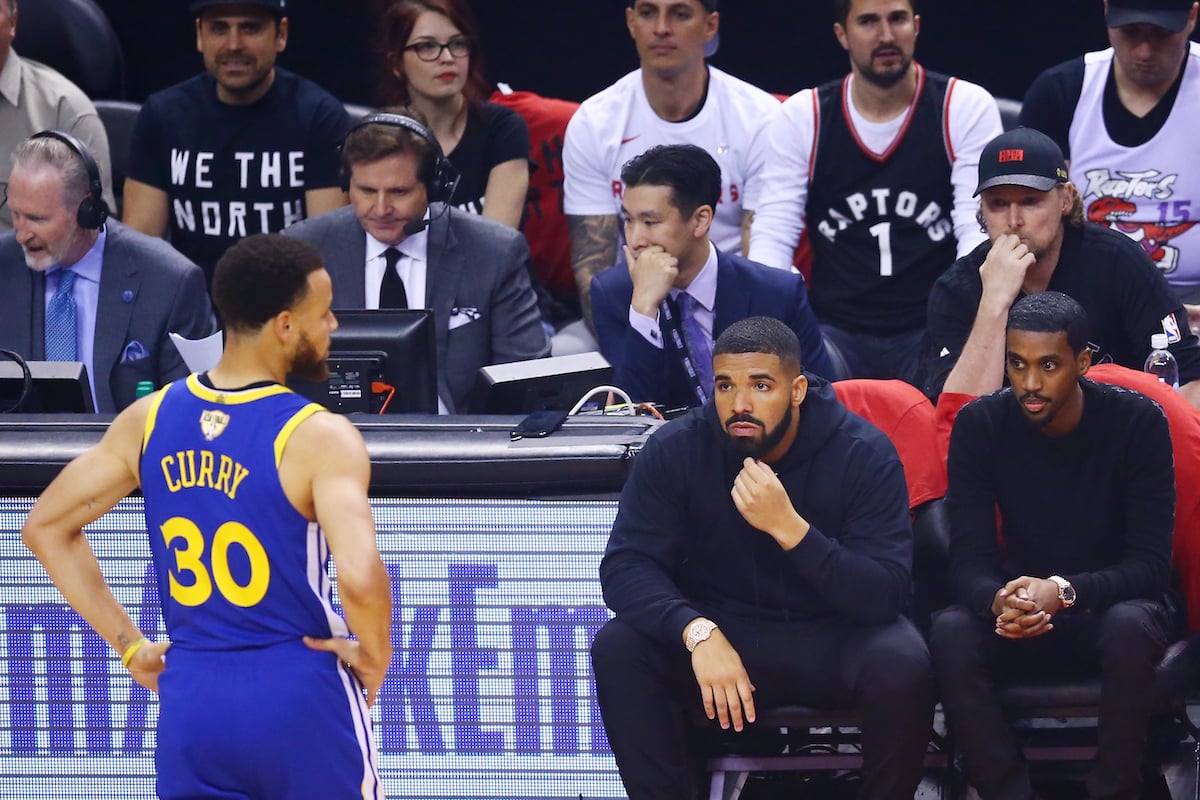 RELATED: Fans Think Ariana Grande and Drake Are Collaborating After 'Popstar' Name Drop
Drake plays football too
Over the years, Drake has maintained friendships with football players too. It was an easy decision for him to invite Odell Beckham, Jr. to play some football in the "Laugh Now Cry Later" video, and the scene of him being tackled by Marshawn Lynch is a testament to Drake's acting skills that seemingly haven't gone away.
Beyond basketball and football
Drake first became a fan of Serena Williams in 2011, often appearing in the bleachers at some of her matches. Rumors swirled that they were dating, which was seemingly confirmed when they were spotted kissing in 2015. The rumors were quickly debunked as she was later confirmed to be with tech mogul Alexis Ohanian, her future husband and father of her daughter Olympia.
Drake is even a UFC fan. He developed a friendship with Conor McGregor and supported him throughout his 2016 campaign for the championship, but McGregor soon fell victim to the "Drake curse."