Lauren London Remembers Partner, Nipsey Hussle, In Touching Post One Year After His Death
Lauren London is still grieving the loss of her longtime love, Nipsey Hussle. On the one year anniversary of Hussle's death, London paid tribute on her Instagram.
Lauren London emerged as a beacon of strength and grace following the tragic and untimely death of her longtime love, Nipsey Hussle. The rapper was gunned down in front of his LA business just as his star was rising not only for his music – but also for his contributions to economic prosperity in his hometown. One the one year anniversary of his death, London paid a touching tribute to her forever love.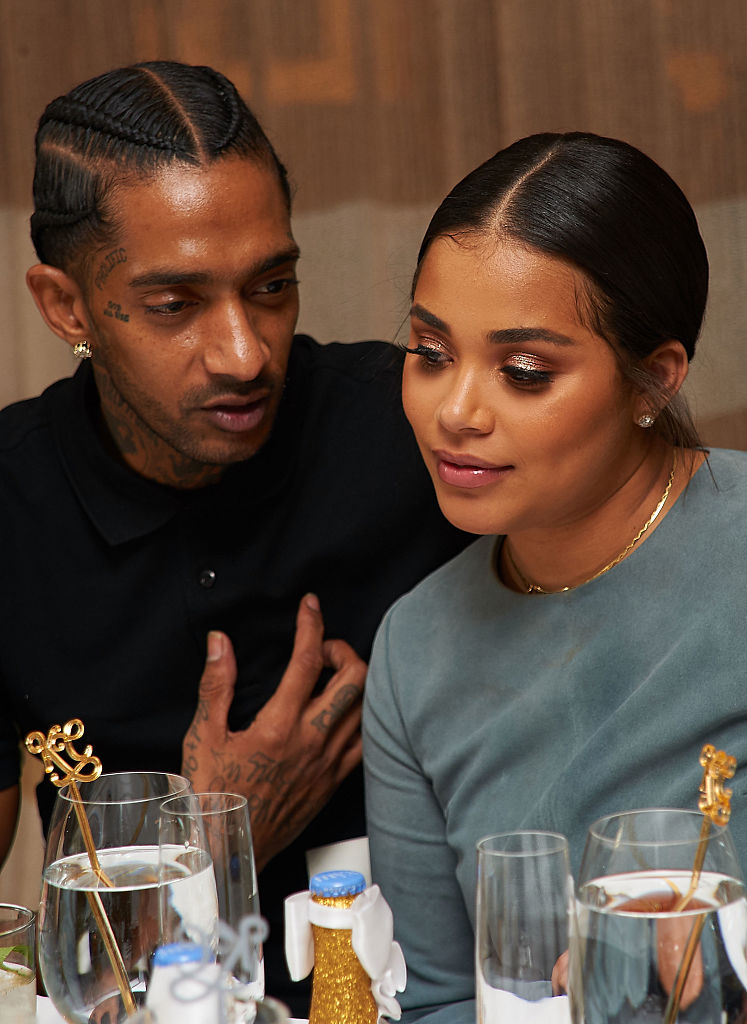 Lauren London honors Nipsey Hussle on his one year anniversary
The world waited in anticipation of how London would eulogize her love's death on his one year anniversary. London has maintained a strong social media profile that has largely been a memorial of their love story since his untimely passing. She took to Instagram to send Hussle an emotional message.
"Time is deceptive – It's been a year since you transitioned – The pain is as heavy today as it was a year ago – God knows I would give anything to see you again," she began in a caption of a photo of the two of them at his Marathon Clothing store in the Crenshaw section of LA. "I didn't think I was going to survive a second of any of this -Prayers have kept me together – The kids keep me going and – Gods Grace and Mercy have carried me this far."
London has been open about how she's leaned on her faith to get her through tough times throughout her life. Just recently. She posted a message of hope to her Instagram followers to help them navigate anxiety and uncertainty in the coronavirus pandemic. 
"Tragedy and trauma has taught me that in times when it feels so dark you must dig deep within," she began in an Instagram story post. "Connect with God that's the way."
London and Hussle were together for over five years before his untimely death. The two blended their families: London's son, Cameron, from a previous relationship – and Hussle's daughter, Emani, from a previous relationship. Together, they had a son, Kross. 
How Lauren London has helped to keep Nipsey Hussle's legacy alive 
London has been an instrumental part of Hussle's estate since his passing. In Oct. 2019, Complex Magazine reported that the actress was granted guardianship of the estate of her and Hussle's son, Kross. According to the outlet, London's role allows her to participate in legal matters involving Hussle's estate, which is administered by his brother Blacc Sam – as well as Hussle's mother and sister. 
London was present at several musical tributes for Hussle's, including the 2019 BET Awards where he was honored a Humanitarian of the Year for his entrepreneurial efforts in South Central LA. London also accepted Hussle's two 2020 Grammy Awards alongside his family at the televised ceremony. 
In late 2019, London partnered with PUMA for a promotional campaign of Hussle's clothing collaboration with the fashion brand. The collab was already in motion prior to Hussle's death. With Hussle's LA neighborhood as a backdrop and his sister's poetry, London narrated the campaign while donning pieces from the collection. It was launched in Sept. 2019 – along with other pop up locations throughout the fall and winter across major cities in the country. 
London continues to ensure Hussle's brand is represented in the best light. Despite her obvious pain, she channels it to inspire others.