Lauren London Struggles to Talk About Her Last Day with Nipsey Hussle
There aren't many events in celebrity history that have evoked a widespread sense of sorrow and grief. But the loss of Nipsey Hussle was felt around the world. A community activist and Grammy-nominated artist, he was just 33 when he was shot and killed in March 2019.
Even though months have passed since then, it's still hard for people to talk about, especially his life partner, Lauren London. When asked to talk about her last day with the "Dedication" rapper in a late 2019 interview, she couldn't, saying she had yet to "digest the fullness of it."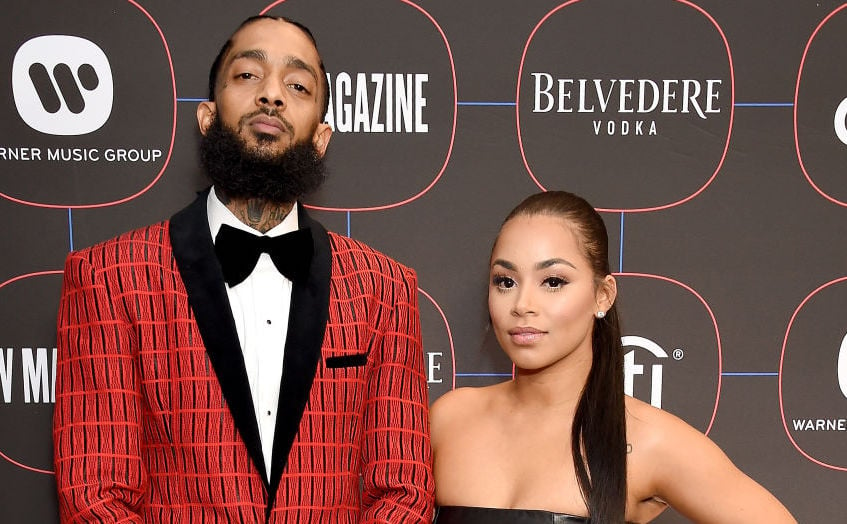 A quick timeline of Lauren London and Nipsey Hussle's relationship
London first connected with Nipsey Hussle in 2013. She reached out to purchase a few copies of his Crenshaw mixtape for her co-stars on the drama series The Game. Once she received the CDs, she and Hussle began following on social media and later made plans to meet up.
"We met because I wanted to pick up a box of clothes he offered me after I bought a couple [copies of] Crenshaw," she told GQ in an interview published in December 2019. "I pulled up to his shop on Crenshaw and Slauson, and he was like, 'You want to hang out?'"
She accepted Nipsey Hussle's offer and went on to spend the day with him, riding around their native Los Angeles and mingling with their mutual friends. After that, London said, they were basically inseparable.
"We started kicking it every day for weeks, and then I realized that we never went to dinner and had, like, a proper first date. From there, it was just…easy. It felt so natural for us to be in each other's lives," she continued.
London went into the relationship with a son named Kameron, whom she shares with Lil Wayne, while Nipsey Hussle brought along a daughter, Emani, from a previous romance. In 2016, the pair welcomed a child of their own, son Kross.
A look back at Nipsey Hussle's death
The shooting happened on March 31, 2019, at Nipsey Hussle's retail store, The Marathon Clothing.
TMZ reports that he went to the shop to hand out some clothes to an old pal who had just gotten out of prison and left in such a rush that he did not alert his security. He had been standing outside of the store with some friends when a man approached and fired, killing him and injuring two others. A suspect has since been arrested and is awaiting trial.
Following days of public silence, London spoke out on Instagram on April 2, 2019 and said she felt "lost" without Nipsey Hussle, describing him as her "best friend," "sanctuary," "protector" and "soul." She has since posted more than a dozen tributes in honor of the Victory Lap star.
Lauren London on her last day with Nipsey Hussle
In the same aforementioned interview with GQ, London did not offer up much in regards to her last day with Nipsey Hussle.
"I can't talk about our last day together," she said, noting that she had been trying to stay strong for their kids.
"I have a three-year-old that's still asking, "Where is Daddy?" He doesn't understand the concept of death," she continued.
Speaking directly about the loss, London added: "I haven't gotten to digest the fullness of it, because it's overwhelming and I'm in the process of healing myself and my family. But I absolutely feel the love of the city."
She has since made it her mission to continue his work and keep his legacy alive. She keeps fans updated about his businesses via social media and even partnered with Puma in December for a special campaign that paid tribute to the fallen rap star. People can't help but admire her strength and resilience, and we're sure Hussle would, too.
Read more: Nipsey Hussle Gave This Gift to His Girlfriend Before He Died