'American Idol': Lauren Mascitti 'Can't Argue With God'; Here's What's Next for the Top 21 Contestant
In a surprising turn of events, American Idol judges couldn't decide between two country-inspired contestants: Lauren Mascitti and Grace Leer. On April 19, we learned that Grace would be moving forward in the competition — but that didn't stop Mascitti from succeeding in country music.
Showbiz Cheat Sheet spoke with Mascitti about her experience on American Idol, her new album, and what's next for her career.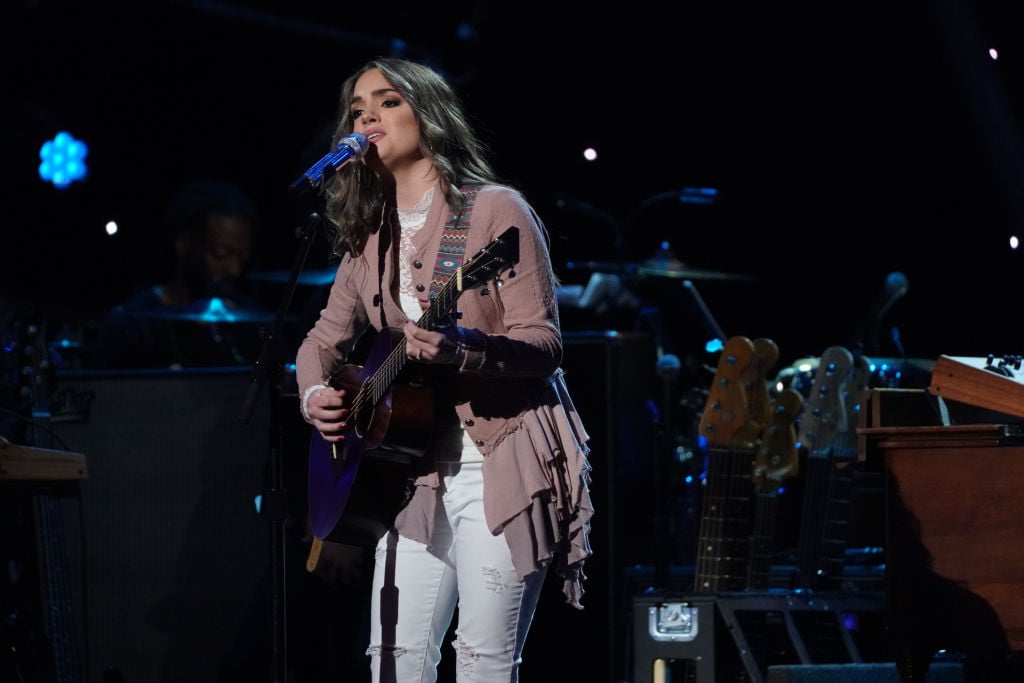 An 'American Idol' in more ways than one
The coronavirus (COVID-19) pandemic put an immediate halt on the production of American Idol's third season. Since returning from Los Angeles, Mascitti has been quarantined at home with her iconic Nana, Dee Mascitti.
"I took off work to go out to LA," Mascitti explained. "They had all of the Top 21 out there for rehearsals and taping of the live shows because they didn't know which one of us was going to get the vote or not."
When American Idol producers got wind of the nationwide shutdowns happening, they promptly sent everyone home. As a registered nurse, Mascitti was happy to return home and eager to get back to her day job. Unfortunately, that's not been the case "I haven't been back to work since [leaving for LA], and our hours have been getting cut at the hospital."
Members of the medical community are our heroes, especially in times like these. "I miss my work family — I love what I do," she gushed. "Of course, music is my heart, but [nursing] is my living, and I really want to be by my colleagues during this pandemic. I'm anxious to get in there and help out."
Mascitti joined Idol's first ever Top 21
The judges did something unique this season of American Idol — they allowed 21 contestants into their Top 20. "I was worried about going home in that moment," Mascitti told us, recalling what it was like sitting in front of Katy Perry, Lionel Richie, and Luke Bryan that day in Hawaii.
When the judges announced that they couldn't decide between Leer and Mascitti and that they would leave the decision up to America, Mascitti was honored: "It was exciting for me and just flattering that they thought enough of us that they were going to fight over both of us if they didn't do a vote."
In the coming weeks, America voted for who they wanted to move forward. Following orders to stay at home, Mascitti and Leer joined Ryan Seacrest on a video call to hear the results. Of course, Mascitti was happy to see her friend advance in the competition, but we asked what else was going through her mind at that moment.
"I made up my mind a long time ago that God knows my future much better than I do, and his hands are the best place for my future to be," Mascitti shared. Humbled by her experience on the show, Mascitti told us, "You can't argue with God." She is excited to watch Leer go on with the belief that she is on her path for a reason. "I'm excited to find out what that is, and I'm really trying to put my trust in Him and stay positive."
'God Made A Woman' is a smashing success
Richie — the judge Mascitti says inspired her the most — called her a "storyteller" during her audition. Later, during Hollywood week, Richie and audiences alike were delighted with Mascitti's original song inspired by her Nana, "God Made A Woman."
"They gave me a standing ovation. Lionel kept saying, 'Good song! Strong song!' That overwhelms me that he loved it that much, and that was really encouraging to me."
Mascitti released her album, God Made a Woman, back in January. "It's completely independent. My fiancé Shawn Camp produced it, but I paid for every penny of it with my salary as a nurse." Now, having performed the title track on American Idol, fans can't get enough of Mascitti's strong song-writing ability.
At the time of our conversation, Mascitti's album was number 13 on the iTunes country music chart. Currently, God Made A Woman sits at number four. The single has been released to country and Americana radio stations nationwide — if you're a fan, call in and request it!
What's next for Lauren Mascetti
The future looks bright for American Idol's Lauren Mascitti. Her "touring future is kind of fuzzy right now," per the coronavirus, but fans can still find Mascitti on social media and live streaming events.
On Thursday, May 7, at 7 p.m. ET, she will join the Martin Guitar "Jam In Place" live stream series on Facebook with her fiancé.
Stay tuned to Mascitti's Instagram and Twitter for more upcoming events. She has been posting a lot of country music covers "just to be an encouraging bright spot in people's day" — check out #ClassicCountryCovers on Instagram.
We're looking forward to see where Mascitti's country music career takes her!