'Laverne & Shirley' Was In Production Before 'Happy Days' Audiences Even Knew Who the Characters Were
Some TV show spinoffs end up doing much better than their parent shows. A good example is the iconic 1970s show Laverne & Shirley.
On a few occasions, some TV show spinoffs end up doing much better than their parent shows. A good example is the iconic 1970s show Laverne & Shirley, a show that followed two roommates in Milwaukee working in a brewery.
Laverne & Shirley ran for eight seasons and earned six Golden Globe nominations throughout its entire run. Interestingly, the showrunners worked on the show's script even before their audiences on Happy Days knew about the spinoff's cast.
'Laverne & Shirley' aired in the '70s
Laverne & Shirley was a '70s hit sitcom that followed two best friends who cohabited in a basement apartment in a '50s setting. The pair worked in a bottling factory as bottle capers at a brewery and often interacted with their neighbors Squiggy Squiggman played by David Lander and Lenny Kosnowski, played by Michael McKean.
The common running gags on the show included the two women finding love in the city and navigating dating life, yelling at their upstairs neighbor, and interacting with their landlord. The show's opening theme included a hopscotch chant which Penny Marshall revealed was something she and her sister used to chant when going to school.
Throughout the show's run, characters from Happy Days made occasional appearances. During the show's fifth season, Laverne and Shirley went into the Army Reserve, where they had to deal with a tough Drill Sergeant. Although their time at the Army Reserve was limited, their adventures inspired an animated series.
'Laverne & Shirley' was a spinoff of 'Happy Days'
Laverne and Shirley undoubtedly knew how to capture an audience. Marshall and Cindy Williams' star power were made evident when the two appeared in an episode of Happy Days. The actors' characters served as double dates to Richie and Fonzie.
Laverne and Shirley were portrayed as loose and "sleazy" girls who'd had their fair share of experience with romantic involvements vis-a-vis the innocuous Richie and Fonzie. While Laverne and Shirley only had some short screen time in Happy Days, the audiences couldn't have enough of them and what they had to offer.
Their Happy Days cameo might have been a huge factor in how Laverne & Shirley was made, but the show's director Garry Marshall's mother also played a role in its production. Garry made the show at his mother's behest to give his sister Marshall a source of income.
The demand came after Marshall had lost her job due to the cancellation of another show Paul Sand In Friends & Lovers. Garry's mother feared that Marshall would end up remaining unemployed for long, so when Garry created Laverne & Shirley, he wrote his sister as the lead.
The show was already in production even before it aired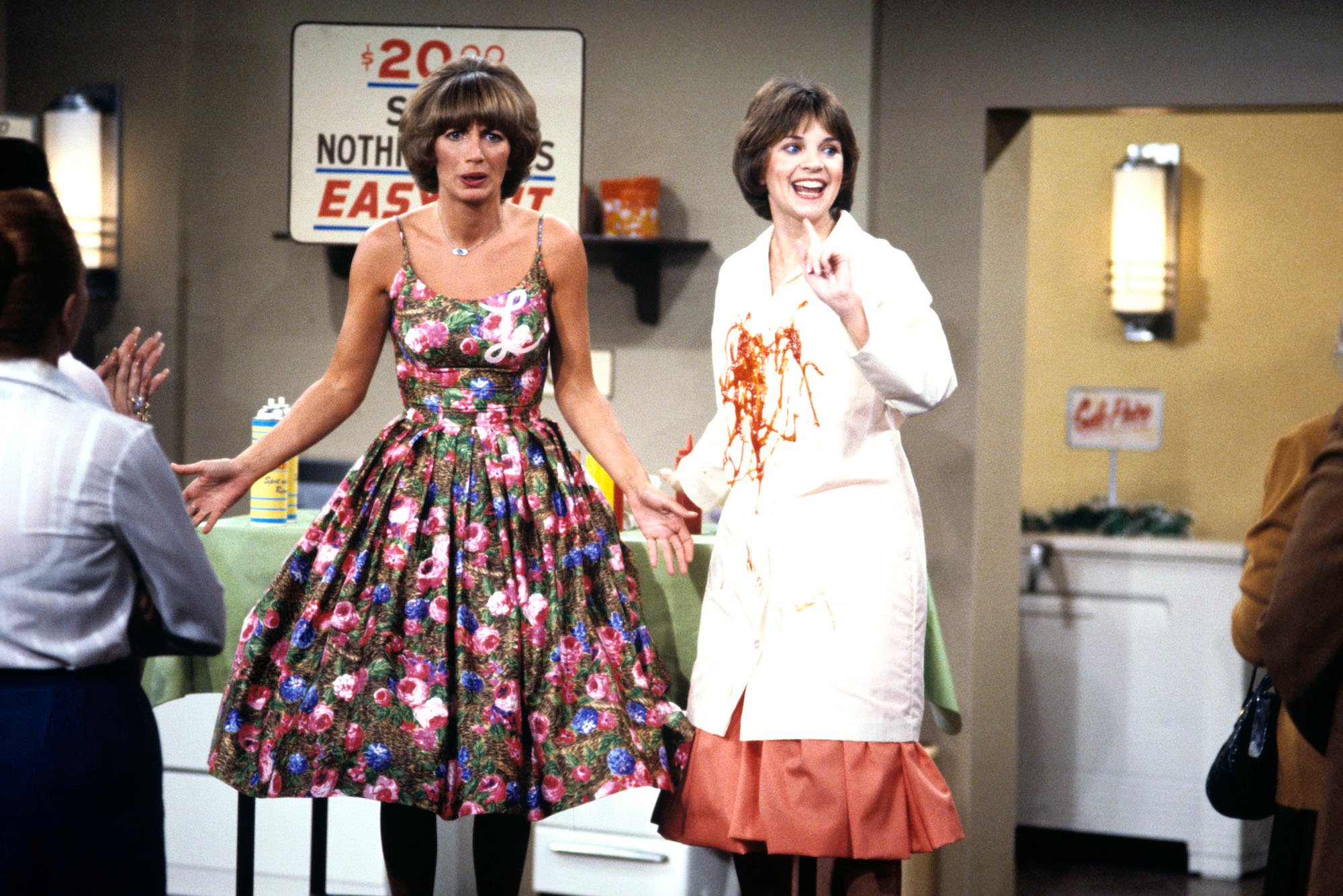 In the short-lived sitcom Paul Sand In Friends & Lovers, the showrunners wrote an episode that followed Robert Dreyfuss, an awkward and shy musician. The script followed Robert as he tried to pick up women in a supermarket.
However, it never made it to production because the producers thought that it portrayed the character as somewhat a loser. After the show's cancellation, Happy Days creators were working on the show when Garry brought up the idea of using the unused script from Paul Sand.
Garry suggested that they incorporate the unused script into a Happy Days episode which ended up being the episode where Laverne and Shirley made their onscreen debut. Not long after the hit Happy Days episode aired, Garry met ABC Chief Executive Fred Silverman at an industry event.
Mental Floss reports that Garry pitched the idea for two roommates who worked regular blue-collar jobs. Silverman immediately loved the concept and asked Garry for a pilot on the spot. The audience was introduced to "a scene from a new show" after the taping of 'Arnold's Wedding,' and from their response, the showrunners knew they had a hit on their hands.