'Law & Order: SVU' Fans Are Begging For Stabler and Benson to Get Romantic
Article Highlights:
Law & Order: SVU fans are begging for an Elliot Stabler and Olivia Benson romance.
Mariska Hargitay and Christopher Meloni worked together on the spinoff for years.
Meloni isn't opposed to his and Hargitay's characters getting together.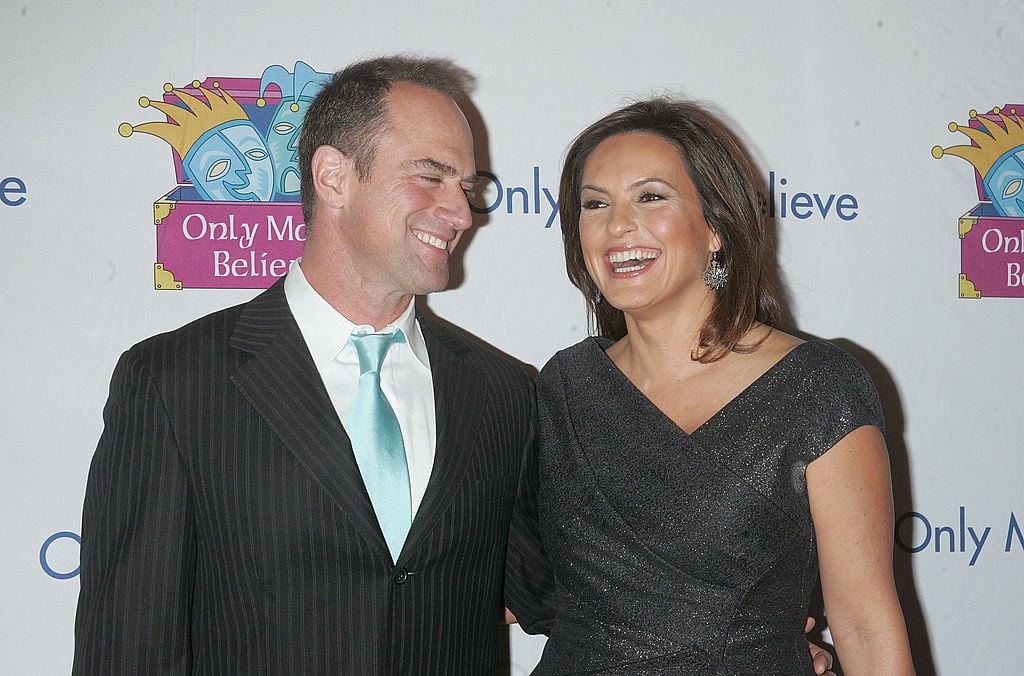 In 1999, Christopher Meloni and Mariska Hargitay joined forces as Olivia Benson and Elliot Stabler for Law & Order: SVU. More than 20 years later, SVU is still going strong despite Meloni's exit from the series in 2011. Their chemistry is one-of-a-kind — especially with Meloni's return for the new L&O iteration Organized Crime which crosses over into Hargitay's world nearly every week now.
"It's undefinable, but you know it when you feel it," Meloni previously told TV Line about working with Hargitay, "For me personally, one of its main cornerstones is humor." Hargitay concurs, adding, "I think the mutual love, respect, chemistry, and trust between these two characters creates a unique bond."
'Law& Order: SVU' fans want to see Elliot Stabler and Olivia Benson get together
For many months, Hargitay and Meloni have been trolling fans with a Benson and Stabler romance. The series premiere of Organized Crime revealed the death of Stabler's wife, Kathy. And, though he's still grieving, there's so much history between Stabler and Benson; viewers are all but demanding a relationship.
So far, nothing has come to fruition aside from Stabler confessing his love while under the influence of drugs, saying, "in a parallel universe, it will always be you and I." The return of Meloni after 10 years away from the Dick Wolf production sent longtime fans into a tizzy. The regular crossovers between SVU and Organized Crime only tease the possibility of a romance more, and fans have had enough.
"I mean, Kathy is dead. The parallel universe is now…" one fan commented on Instagram.
"I don't want "Parallel Universe." I want them there, now, together. NOW," another said.
"Really unsatisfied. I wanted a more meaningful conversation," this fan said.
"IT WILL AND STILL IS ALWAYS THEM!! I will accept nothing less. Now that he can be with her, I expect that parallel universe business to be GONE! It has been 23 years. We need #EO," another added.
The Stabler and Benson crossovers continue
Despite how hard writers are throwing the Benson/Stabler relationship in viewers' faces, many clues have been dropped from the start. In the first season of OC, Stabler told Benson he loved her during an intervention in the aftermath of Kathy's death.
"It was deliberately [left] open to interpretation," Meloni said adding the "rich, unexpected" scene is among his favorites. With the crossovers, the relationship is moving at a different speed and depth than all previous years combined.
"Everyone is working very hard to create an authentic, satisfying and difficult journey for these two people," he said.
While that may not satisfy Law & Order: SVU fans, Meloni is all for the romance, if it ever happens.
"Hope springs eternal. I mean, why not? I think it's going to be a collaborative effort between those showrunners for 'SVU' and 'OC,' and I believe with Mariska and I, to kind of figure it all out," he said at NBCUniversal's Summer 2021 Press Tour (via Today). "It's a complicated relationship," he continued. "So, we'll see."