'Law & Order: Organized Crime': Elliot Stabler Faces a 'Formidable' Foe
Law & Order: SVU star Christopher Meloni returns as Elliot Stabler in NBC's new spinoff, Law & Order: Organized Crime. Stabler's investigation into his wife's murder led him to mafia boss Richard Wheatley in the series premiere. And according to Dylan McDermott, who plays the ruthless villain, Stabler is now facing one of his most formidable foes.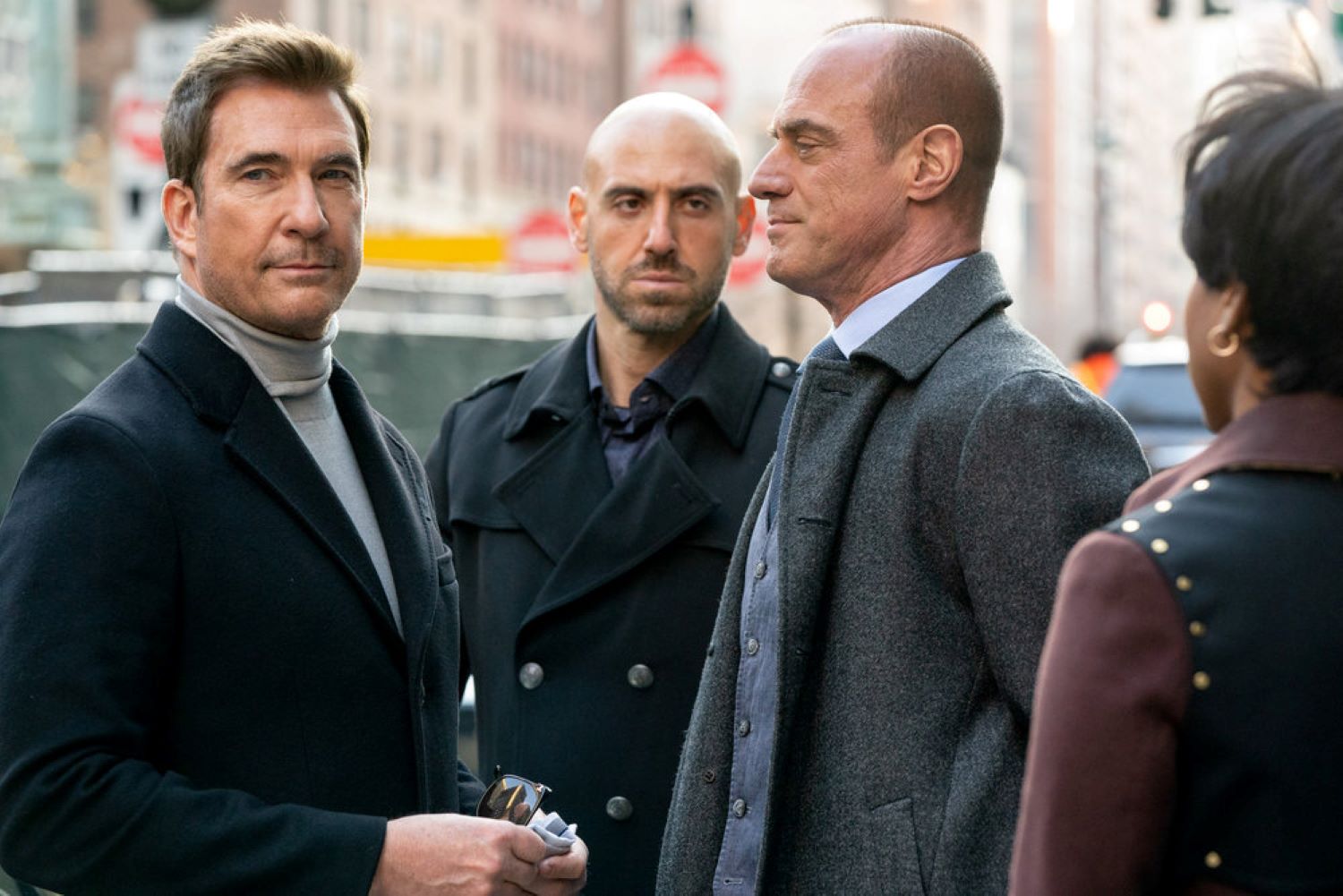 Dylan McDermott joins the 'Law & Order: Organized' crime cast
McDermott is known for his work in popular film and TV projects, including Steel Magnolias, The Practice, and American Horror Story. He joins the cast of Law & Order: Organized Crime as the son of a mafia don, who runs his own illegal business.
McDermott is from New York City. And he's tapping into some of his own experiences with the mob to portray the villainous character.
RELATED: 'Law & Order SVU': Why Benson and Stabler's Reunion Won't Feel Satisfying
"I love the crime world," McDermott told TV Line. "I grew up in New York, and I was seeing the mafia around town, watching them — So, it was always some elements that I was around. I thought it was infinitely interesting, the social clubs where the mobsters would hang out. I liked that world. Something about that world really intrigued me."
The 'Law & Order: Organized Crime' star says Richard Wheatley is a formidable foe
From the series premiere of Law & Order: Organized Crime, we know that Richard Wheatley has something to do with the murder of Elliot Stabler's wife. And to protect himself, he killed his father, leaving a dead body for Stabler to deal with. He's smart and ruthless, and McDermott says he'll prove to be a formidable foe for Stabler this season.
"Stabler definitely needs a foe, a formidable foe," the actor said in his chat with TV Line. "Otherwise, the show wouldn't work. Because that kind of conflict, that standoff is so necessary on a show like this. So, you have to have somebody who can take him on, and I think that Richard can take on Stabler."
"In fact, he looks forward to it," McDermott continued. "That's what turns him on — He's one of these criminals that like to leave a note to let you know he was there. There's something about it that turns him on, the getting away with it. I think he looks forward to this challenge."
Dylan McDermott teases Richard Wheatley and Elliot Stablers first meeting
After finding his only lead, Freddie Sinatra (Chazz Palminteri) dead, Stabler must know that the mobster's son has something to do with his wife's murder. According to McDermott, the two will meet. But when they do, Wheatley will continue to provoke the detective.
You'll see, it'll be the first time that we meet, but he's toying with him to a certain degree," the actor told TV Line. "I think that he likes that. I think that he gets off on it. He likes to poke, and he's going to do a lot of that with Stabler."
It will be exciting to see how Stabler — who already messed up by taking the phone off Sinatra's body — handles the Wheatley's provocations. New episodes of Law & Order: Organized Crime air Thursdays, at 9 p.m EST on NBC.