'Law & Order: Organized Crime': Mariska Hargitay Just Shared Some Photos Teasing a Crossover With the New Series – 'It's All Happening'
Mariska Hargitay recently shared images that tease a crossover between 'SVU' and 'Organized Crime' with Christopher Meloni.
Fans have been waiting for a long time to see Olivia Benson and Elliot Stabler reunite on our television screens, and we're one step closer now. Mariska Hargitay, who plays Benson, and Christopher Meloni, who plays Stabler, will be working together soon if social media is anything to go on.
Meloni left Law & Order: SVU after season 12 over issues with contract negotiations. But Stabler never said goodbye to his partner, Benson, and it's something fans have been sour about since he left. But hopes for their reunion are high, and we'll get to see it happen in season 22 of SVU.
'Law & Order: Organized Crime' was expected in the Fall of 2020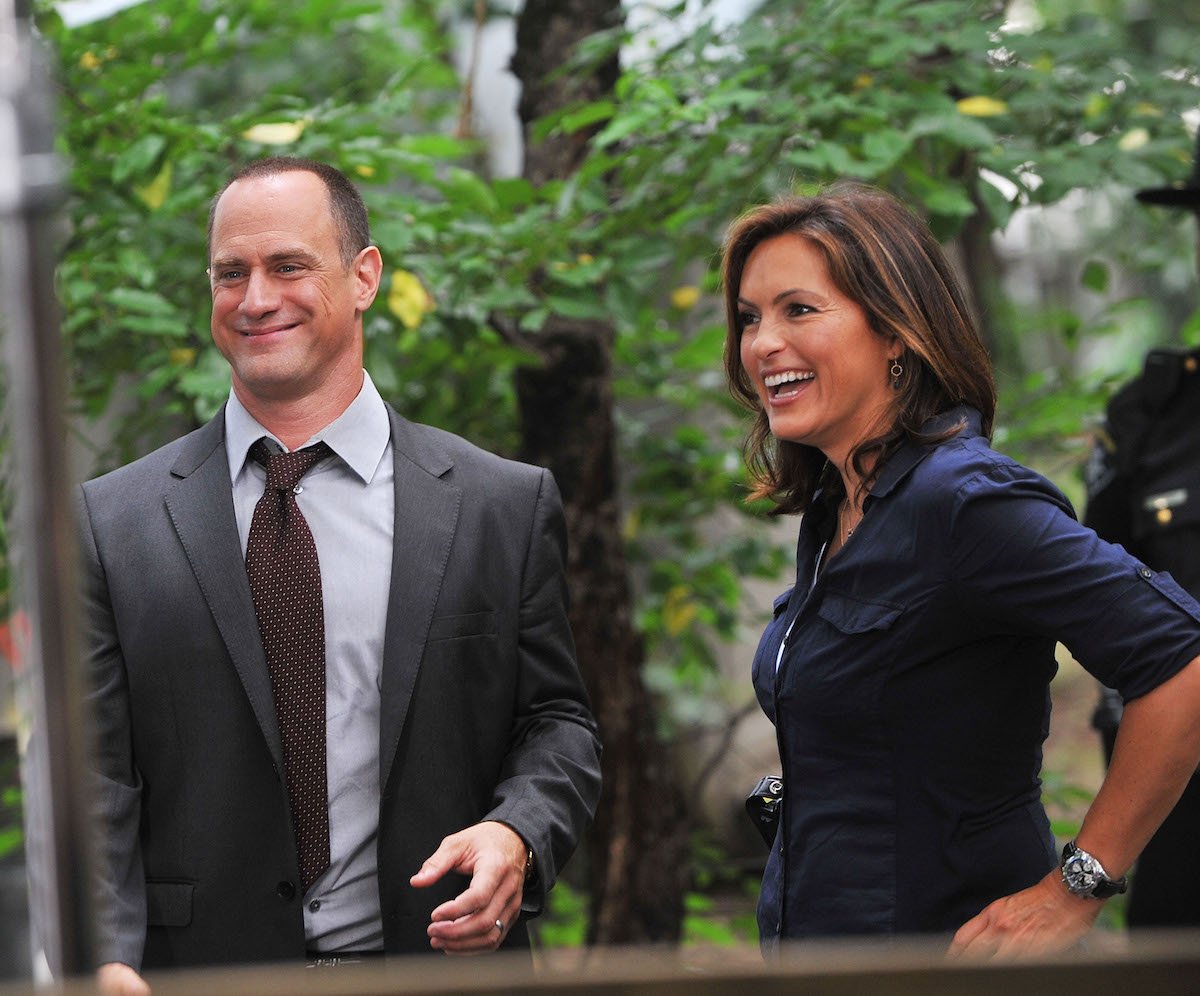 Stabler was supposed to make an appearance in the premiere of season 22 of SVU ahead of the premiere of his new series, but that didn't happen. However, it looks like we'll be seeing Meloni soon in both shows. 
Law & Order: Organized Crime was supposed to premiere in the Fall lineup, but it was delayed. According to The Hollywood Reporter, it had to do with showrunner Matt Olmstead leaving the project. However, we do know the highly anticipated series is supposed to drop this year. 
Teases have been pouring in from Hargitay and Meloni of their eventual reunion over the last few weeks. Social media is lighting up, and multiple images have been shared teasing the return of Stabler for an upcoming episode of SVU this year. But Hargitay recently shared some photos that have fans excited for Law & Order: Organized Crime.
Stabler will return "after a devastating personal loss," according to NBC. Here's the rest of the official description: "However, the city and police department have changed dramatically in the decade he's been away, and he must adapt to a criminal justice system in the midst of its own moment of reckoning. Stabler will aim to find absolution and rebuild his life while leading an elite new task force that is taking apart the city's most powerful crime syndicates one by one."
Mariska Hargitay just shared some photos teasing a crossover
Viewers were hoping for a crossover, and it looks like we will be getting it. Mariska Hargitay recently shared some photos that have fans seriously excited about Organized Crime. The first image shows Hargitay with Meloni in the background looking serious in the black and white photo. There's an SUV behind them, and they're bundled up in jackets. Hargitay tagged NBC, Wolf Entertainment, Meloni, and Organized Crime in the shot.
The next two photos are black and white as well, and show the actors' studio chairs with the names "Stabler" and "Benson" written on them. The final image is the back of the chairs that say: Law & Order: Organized Crime. It looks like the two actors are filming scenes for the new series, and it gives fans hope that we'll see this crossover happen soon.
Hargitay captioned the post on Instagram: "It's all happening… #OC #PFL."
Christopher Meloni has spoken about crossovers before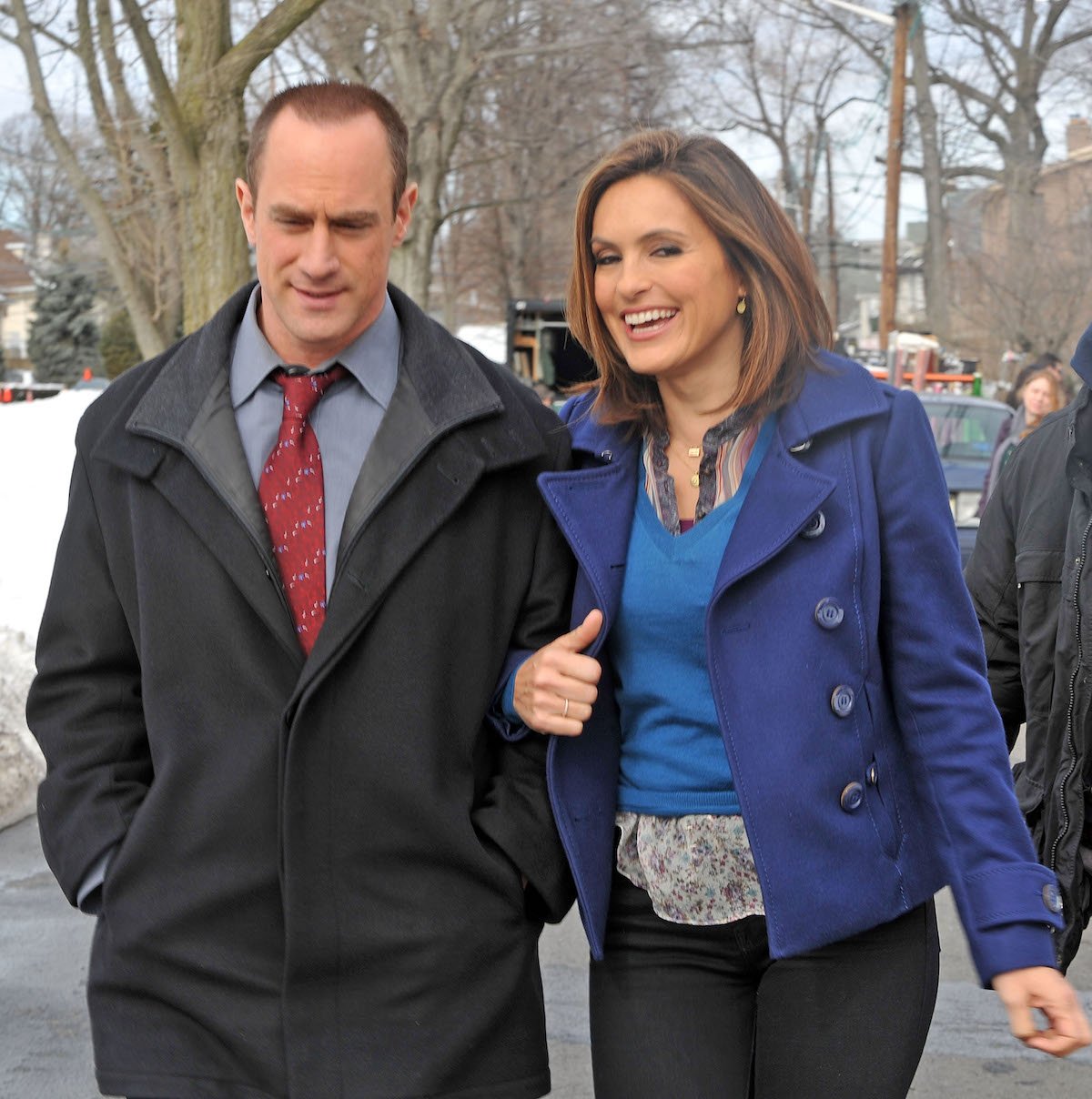 Meloni has actually spoken about crossovers between the two series just last year, so it looks like this won't be the only one to come. In an interview with The New York Post, Meloni sees the two former partners reuniting again in the future, which fans know is going to happen.
"It just has to be," Meloni revealed. "Benson and Stabler are inextricably linked, locked and connected. I think there is truly and deeply a worthwhile, inherent drama in exploring that relationship and the complexity of how Stabler left — the unresolved emotions both characters feel and how the fans feel."
He also teased that there could be more than one crossover happening in the future, so that's good news for fans. "How my character left was really unsatisfying, I think," Meloni continued. "It almost feels that we won't do one or two [crossover] episodes and move on our merry way."
This new tease of a crossover between SVU and Organized Crime will hopefully be everything fans need it to be.