'Law & Order' Showrunner Confirms 'You'll Definitely See Some Familiar Faces' on the Highly-Anticipated Reboot
Law & Order is officially back in NBC's prime-time lineup 12 years after the network abruptly canceled the long-running drama. During the show's first 20 seasons on the air, fans saw a number of characters come and go. But will any of them be back in season 21? According to showrunner Rick Eid, fans will "definitely see some familiar faces."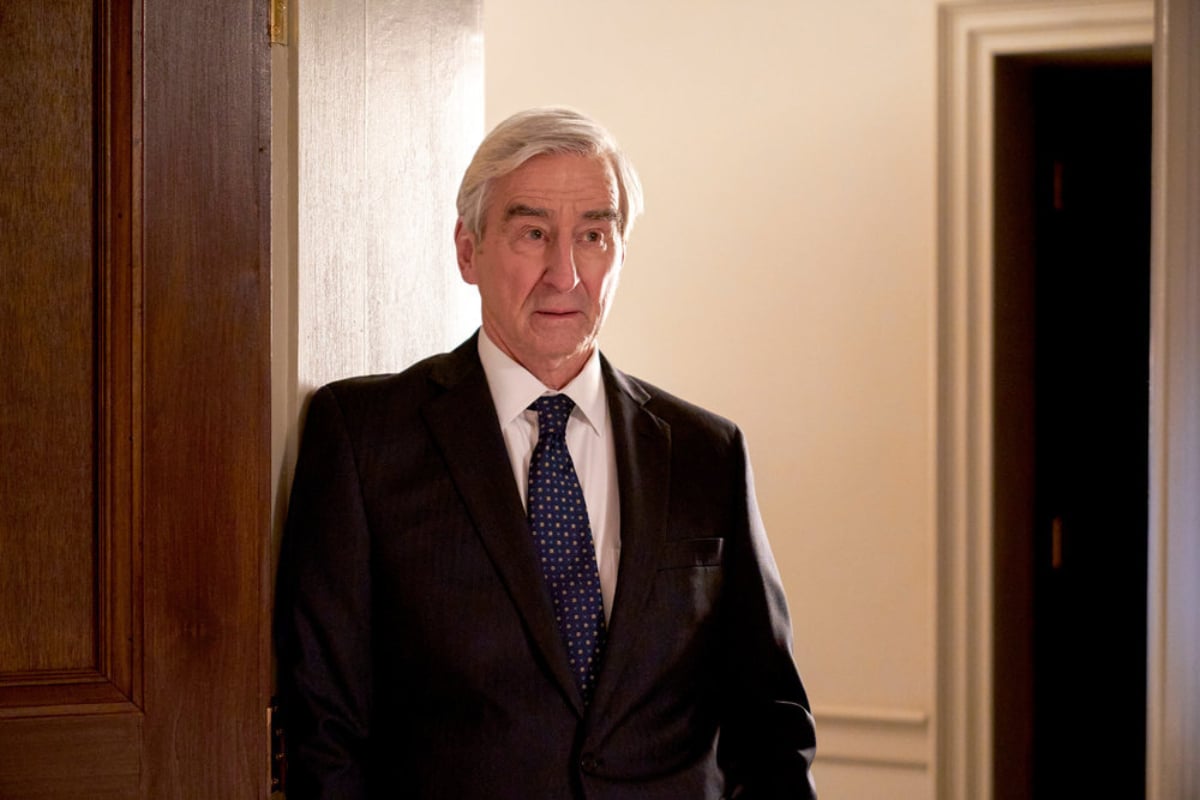 Sam Waterston and Anthony Anderson will reprise their roles in 'Law & Order' season 21
Dick Wolf's Emmy-winning drama is back for another season filled with cases "ripped from the headlines." Both Sam Waterston and Anthony Anderson are reprising their roles from the series' original run — D.A. Jack McCoy and Detective Kevin Bernard. But there will also be a cast of new characters.
Burn Notice alum Jeffrey Donovan stars as detective Frank Cosgrove, and The Practice alum Camryn Manheim stars as Lieutenant Kate Dixon. Hugh Dancy is the new Assistant District Attorney Nolan Price, and newcomer Odelya Halevi plays Assistant District Attorney Samantha Maroun.
Dick Wolf has been plotting the show's return for years
Wolf is working with his frequent collaborator, Rick Eid, to bring this new version to life. Eid is both a series writer and the newly-named showrunner. And he says that when Wolf approached him about a year ago, he "jumped at the opportunity."
Waterston says that Wolf has been talking about the return of Law & Order for years, and he was the driving force behind season 21.
"One of the reasons that we're back is because of his persistence and determination and his complete conviction that it was a terrible mistake to stop in the first place," Waterston said at the recent Law & Order TCA Panel, per Deadline.
The 'Law & Order' showrunner confirms that fans will see 'some familiar faces'
In addition to Waterston, Anderson, and Manheim, Eid says that fans should expect to see other actors they recognize show up in season 21. The showrunner admits he's excited about the opportunity to bring back former stars of the show, but he's staying mum about the specifics.
"You'll definitely see some familiar faces along the way. We're going to keep that, those names quiet right now," Eid said. "But, yeah, there's so many great actors who have been involved in the show, and the opportunity for them to come back in some capacity is really exciting. So I think we definitely want to find ways to bring back several of our alumni."
Anthony Anderson says 'it feels great to be back'
Wolf recruited Waterston to return for season 21, but he didn't know that Anderson would be interested in coming back. After wrapping his eight-season run on Black-ish, the 51-year-old reached out to Wolf to let him know he wanted to return.
"I feel great being back within the Wolf Entertainment family and being on the mothership," Anderson told People. "I think had we not been unceremoniously canceled 10-plus years ago, I think the show would still be on the air and we'd be going into our 31st, 32nd season. That's what I like to think and believe and it feels great to be back."
'Law & Order' season 21 will 'reflect what's going on in today's world'
"I feel privileged, honored, really excited, and terrified," Manheim said of her return. Waterson added, "It feels absolutely great. Better than I could have ever imagined."
According to Anderson, the new season of Law & Order is going to be a "truer reflection of what's going on between police and community and reform and all of that" in 2022. He promised that the show will "reflect what's going on in today's world."
"It's shown truthfully and honestly — good, bad and indifferent. You have bad apples in every barrel, no matter what it is. I think our show is going to deal with that," Anderson promised.
Law & Order season 21 premieres Feb. 24 on NBC.
RELATED: 'Law & Order': The Gift Jerry Orbach Left After His 2004 Death