'Law & Order' Star Christopher Meloni Explains How He Dealt With Early Career Rejection
Christopher Meloni is currently riding high with his series Law & Order: Organized Crime. The show recently wrapped up its first season, with the second season expected to begin on September 23. Although Meloni is today a recognizable face, he had to deal with his fair share of rejections before making it big. Find out how the star dealt with early-career rejection.
Christopher Meloni left 'Law & Order: SVU' on a high
Meloni attended the University of Colorado Boulder and graduated with a degree in history in contemporary U.S diplomacy and communism. After the Berlin Wall fell, Meloni's degree was rendered useless, and he had to figure out what he would do with his life. 
He, therefore, began his acting journey, which was mostly unsuccessful. The star said that he went through a series of failed auditions until he landed his first role in 1997 in HBO's Oz playing an inmate called Chris Keller.
After the role, Meloni's luck started changing as he got more and more acting work. However, his big break came when he starred in Law & Order: SVU alongside Mariska Hargitay. The two had fantastic chemistry, and their roles seemed to fit their storylines.
Meloni played Elliott Stabler while Hargitay played Olivia Benson. The star worked on Law & Order: SVU for 12 seasons until one day he left with the writers writing his character out, leaving room to return.
Meloni said that he quit SVU because he wanted to feel more fulfilled and more money. The actor mentioned that SVU showrunners came to him needing an answer about his possible exit, and in a yes or no situation, he chose to walk away from the show while still on a high.
How did Meloni handle rejection in his early career?
Not every actor in Hollywood is lucky enough to start on a high note. Some like Christopher Meloni have had to work their way through the cracks in the industry to become the big stars they are today. In a recent interview with Men's Health, Meloni revealed that he didn't have the best methods for handling rejection.
Meloni said that anytime his audition would go badly, he would stand in front of his mirror in an apartment he shared with three other people and scold himself. The actor admitted that he was tough on himself during his early career days, and he would always scream at himself after every failed audition for letting a big opportunity pass him by.
When he finally found the big break he had been hoping for, the star didn't know what to do with it. A year after his appearance in SVU as Stabler, Meloni began having anxiety attacks that would violently wake him up in the middle of the night.
He said that he felt cautious about losing his big break as he had lost several opportunities before. He likened the feeling to "a dog getting run over by a car," saying he didn't want to trust it as he had struggled for so long.
Nowadays, Meloni takes everything smoothly and lets everything flow. He said he isn't stressed by what will happen. He now has better management skills and clearly understands his "gifts," and knows there are "bigger things, more important things."
Christopher Meloni's body of work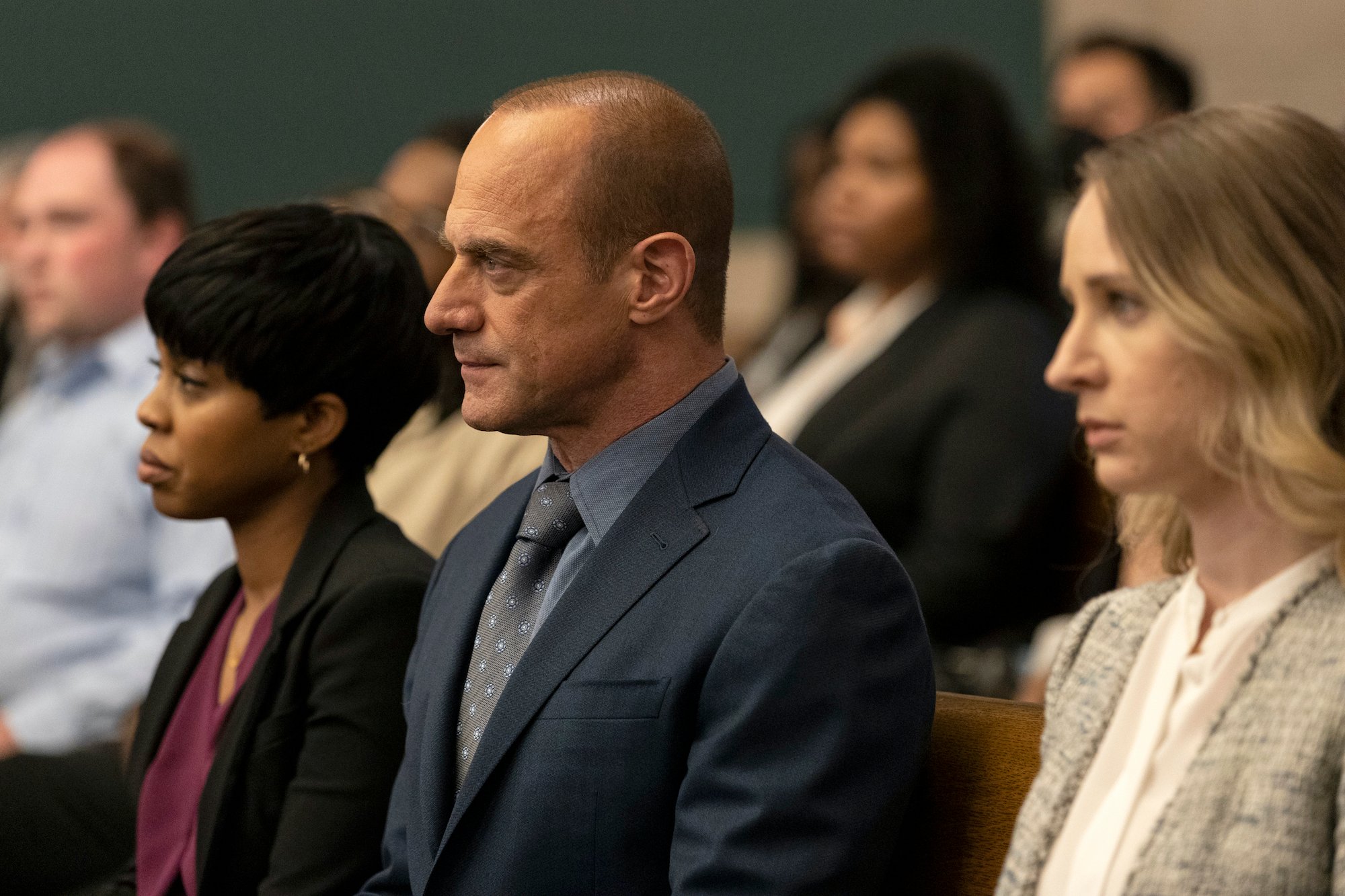 Meloni appeared in the 2001 comedy Wet Hot American Summer and on Scrubs playing pediatrician Dr. Norris. He had various cameos in Harold & Kumar Go to White Castle, its sequel, Wonder Showzen, and an uncredited role in Fear and Loathing in Las Vegas.
In 2009, Meloni played Green Lantern in the animated film Green Lantern: First Flight and appeared in True Blood in 2012. He also had appearances in Man of Steel, Happy! and the Handmaid's Tale before returning to Law & Order.