'Law & Order: SVU': Before Playing Fin's Girlfriend, Jennifer Esposito Played a Character With a Surprising Connection To Munch
In Law & Order: SVU, some actors have reprised more than one role in the countless seasons of the series. One of those actors happens to be Jennifer Esposito, known for NCIS and Blue Bloods. She recently made an appearance in season 22 of SVU as Odafin "Fin" Tutuola's (Ice-T) girlfriend and now new fiancé. But this isn't the first character she's played in the series. 
Jennifer Esposito plays Sergeant Fin's girlfriend in 'Law & Order: SVU'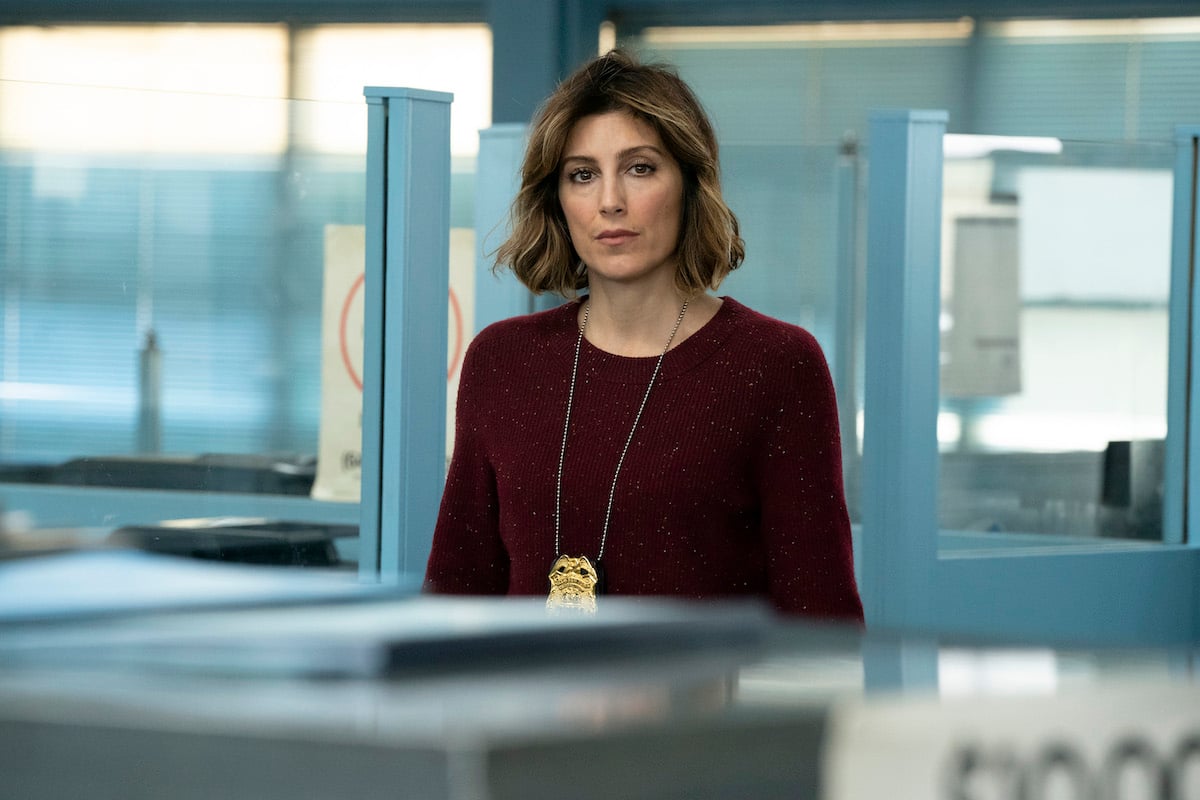 In episode 4 called "Sightless in a Savage Land," Fin has a new love interest named Sergeant Phoebe Baker, played by Esposito. Phoebe works with Vice, and she's actually from Fin's past. She was his first partner while working in the Narcotics division. They actually had a relationship during that time, but it didn't work out when Fin wasn't able to trust her, according to her Fandom page.
Sergeant Baker was in a previous episode called "Brothel" in season 20, episode 15. Fin wanted to rekindle the flame then, but Phoebe didn't go for it because she was dating someone else at the time. But she's back in Fin's life, and they've been dating since 2020. 
Fin recently showed off an engagement ring to Captain Olivia Benson (Mariska Hargitay), and he asks if she thinks it's "too much." But Benson assures him that it's "just right." He is uneasy and concerned that Phoebe might say no when he asks her to marry him, but Benson helps calm his nerves that she won't.
Unfortunately, when Fin tries to propose on New Year's Eve, he gets called into work. But the moment does happen off-screen because later Fin mentions that he proposed to Phoebe in the morning. However, there was one condition: "No more herbal tea."
Before playing Fin's girlfriend, Jennifer Esposito played a character with a surprising connection to Detective John Munch
The character who plays Fin's girlfriend turned fiancé, Jennifer Esposito, has been on the series before in season 1, episode 20 called "Remorse." She plays Sarah Logan, a television news reporter who is sexually assaulted by two assailants. She talks directly to the public and tells her story, including important details about the attackers.
A woman comes forward when she notices Mark Krieger (Jason Field) has similarities to one of the men Sarah described. It turns out he and another man, Tommy McConaugh (Patrick Fitzgerald), sexually assaulted Sarah when she was walking home.
Detective John Munch (Richard Belzer), the lead detective on the case, forms a close bond with Sarah, and their chemistry is palpable. They are extremely friendly with one another, and they have developed a connection over some months. At some points, it seems like there is more between them than just a detective helping a survivor. There could have been more between them, but Sarah's life is cut short.
Sarah convinces Munch to come on her show, and she promises to buy him dinner after. But before Munch gets the chance to go on the show, he gets a phone call that changes everything. Munch soon learns that Sarah was killed by a bomb in a flower box. It turns out she was being stalked by William Lexner (Christopher Evan Welch), whom they found through a letter he sent Sarah with his fingerprints on it as well as black powder residue. He applied for the fire department numerous times, which is how they matched his fingerprints. He's responsible for Sarah's death after she revealed she was raped. He even kills Krieger in a bomb in a car for assaulting Sarah.
Fans talk about Jennifer Esposito's appearance in the season 1 episode
Fans on Reddit recently spoke about Esposito's role in the season 1 episode. "Before she was Phoebe Baker, Fin's fiancé, Jennifer Esposito played Sarah Logan in S1E20: Munch's love interest who died tragically," the post is titled. It also includes an image of Sarah Logan and Munch talking.
One fan thinks Munch would "approve" of the new woman in Fin's life. "Lol. She resurrected to make Fin happy," they said. "Munch would definitely approve 😂."
"That's her???? Oh my gosh!!!" a fan said.
Another fan recalls the episode being "really good," although "it was sad," something some viewers can agree on. "That was a really good episode," they said. "It was sad when Sarah was killed after everything she'd been through."
"I love that episode …," a fan added.
Jennifer Esposito once played a survivor with a lot of chemistry with Detective John Munch before playing Fin's girlfriend and then new fiancé.