'Law & Order: SVU': Fans Can't Get Enough of Season 10, Episode 7 Because It Involves Shirtless Detectives
There's been a number of memorable Law & Order: SVU episodes over the years. Now that we have confirmation that Detective Elliot Stabler (Christopher Meloni) will be back in an all-new spinoff, people can't help but talk about him. Recently on Reddit, there was a post of a still shot of a great episode involving some shirtless detectives and Stabler was definitely one of them.
Elliot Stabler is getting his own spinoff
The SVU universe is growing with Stabler's new spinoff. According to Deadline, the new Dick Wolf drama has been given a 13-episode order with NBC. It's the first to come through a massive deal that Wolf signed with Universal Television.
The new series will focus on Stabler's NYPD crime unit. It will also be based in New York, so that means some crossovers with SVU could be likely, and who wouldn't want to see Stabler reunite with Olivia Benson (Mariska Hargitay)?
Fans can't get enough of Season 10, Episode 7 of 'SVU'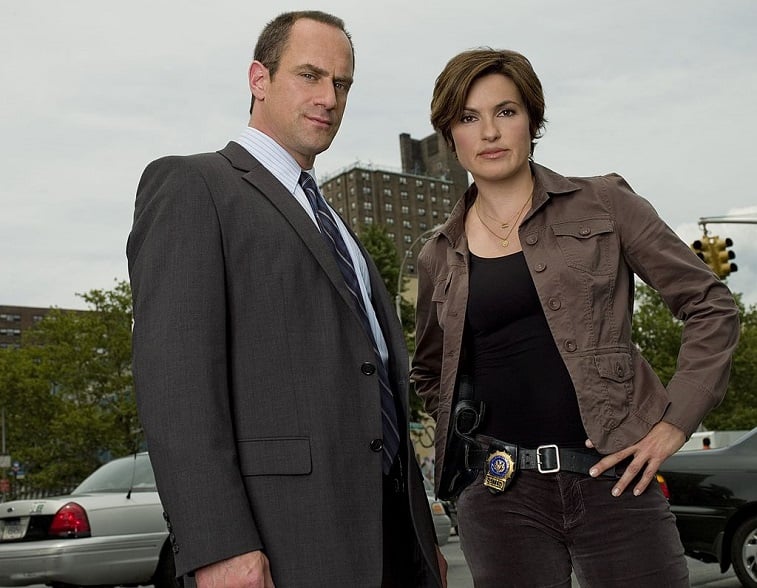 Users on Reddit have been buzzing about the news of Stabler's new spinoff that's coming. In a recent Reddit post, a fan shared their appreciation for Season 10, episode 7 of SVU. The episode is called "Wildlife" and it involves Stabler going undercover while investigating an animal smuggling ring after a woman ends up dead.
During the episode, Stabler gets set up in a fake place while going undercover. At one point, his partner Benson comes to the door to speak with him. When there's a knock at the door, Benson plays it smart to avoid any issues while claiming to be a prostitute. She has her shirt off when she enters the room from the bathroom so it looks like she was getting ready for her client. Stabler also has his shirt off as well when Benson says, "Are you ready for me Daddy?"
Fans love the unique episode and moment
Fans of SVU really seem to love this episode in particular for obvious reasons. Both detectives have their shirts off and it's humorous to watch.
"One of my favorites I say this line to my girlfriend all the time: 'Oh I didn't know we were having a party it's an extra 100 to watch boys,'" a Reddit user wrote.
Numerous fans count this episode among their all-time favorites in the series. "This is honestly one of my favorite episodes by far! I love the exotic animals storyline, and Stabler undercover is awesome," said another user.
Other people seem to agree and consider this episode a gem. "One of my favorites as well," wrote another Reddit user.
One fan admits they haven't actually seen this episode yet. They really should though because it's an iconic moment in the SVU world. "How have I never seen this?" a fan asked.
Fans really seem to enjoy the chemistry between Benson and Stabler. Hopefully there will be more of that in future crossover episodes. It would be nice to see them making more memories together.