'Law & Order: SVU': Fans Discuss Olivia Benson and Elliot Stabler Ending up Together: 'I Really Really Hope They Don't'
In Law & Order: SVU, Olivia Benson (Mariska Hargitay) and Elliot Stabler (Christopher Meloni) were partners for over a decade. Despite a lot of chemistry between them, these two never got together romantically despite tons of fans hoping it would happen. Now that Stabler is coming back into the franchise, it opens the door for the possibility of them becoming romantically involved and ending up together. Fans recently discussed the situation on Reddit, and they didn't hold back when it comes to their feelings.
Olivia Benson and Elliot Stabler in 'Law & Order: SVU'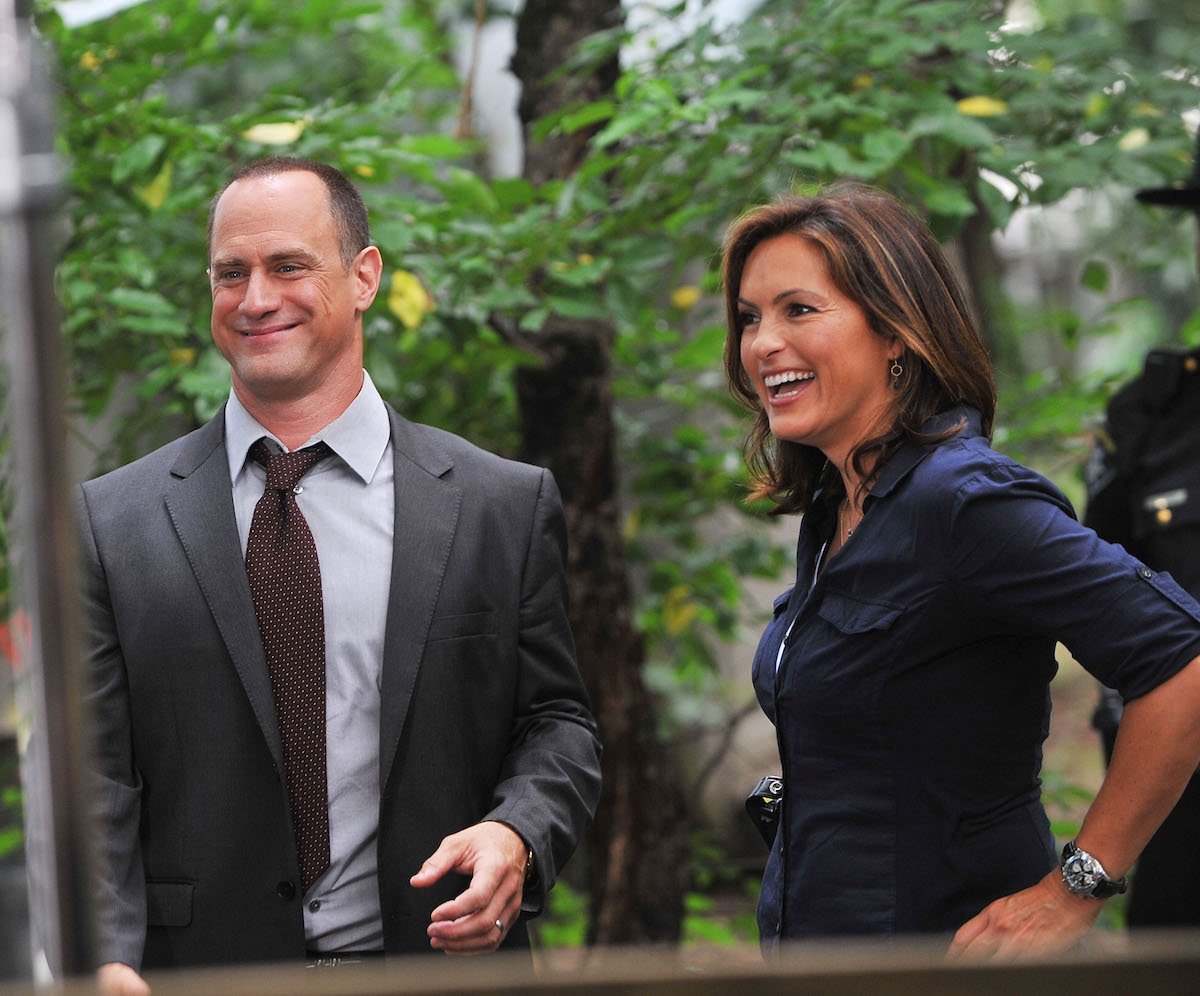 When the series started, SVU included the duo, Benson and Stabler. They worked well together, and the chemistry was palpable. Despite the detective team's amazing connection, it never became romantic. Stabler was married to Kathy Stabler (Isabel Gillies), his wife, and despite the marriage having problems at times, Benson and Stabler never took things to a romantic level.
Then suddenly, Stabler put his papers in without saying goodbye, and it stung Benson to the core. In reality, Meloni, the actor who plays Stabler, left before season 13 because of a contract dispute. It was a hard situation for fans, who were left high and dry without a proper sendoff. 
Stabler is coming back to the 'Law & Order' universe
Stabler is returning with his own spinoff called Law & Order: Organized Crime. On Thursday, April 1 at 10 p.m. EST, Stabler will be back in the premiere of Organized Crime, which will feature a crossover with SVU. But first, at 9 p.m. EST, there will be an all-new episode of SVU, and it will start the crossover event in which Stabler and Benson will reunite for the first time in many years. Things will continue in the premiere of Organized Crime, which is an exciting prospect for fans.
Fans discuss Benson and Stabler ending up together
With the reunion between Benson and Stabler almost upon us, it has fans talking about the possibility of the two former partners ending up together, something some fans were hoping to see. However, not everyone wants that end result, and the feelings are pretty mixed.
A fan recently posted on Reddit talking about the situation. "Where I feel this goes…" the post is titled. "I am not a shipper on this show by any means, but I feel like they're setting up end game here to be Liv and Stabler end up together, in a couple sort of way." The user hopes they're "wrong" about it, but they believe "if the writing is solid, they could pull it off."
Another fan hopes that the Reddit user is correct. It's what numerous fans are anticipating will happen between the two former partners who were once so close. Of course, that would come after reacclimating into a friendship first.
"I hope you're right, LOL," a fan adds. "I don't need it anytime soon, but at the end of the show, I hope they end up together. For me, them ending up together after all these years would be a satisfying ending. But I only mean that after they have build up their friendship back, and it evolve into that gradually."
Benson and Stabler share a 'platonic love'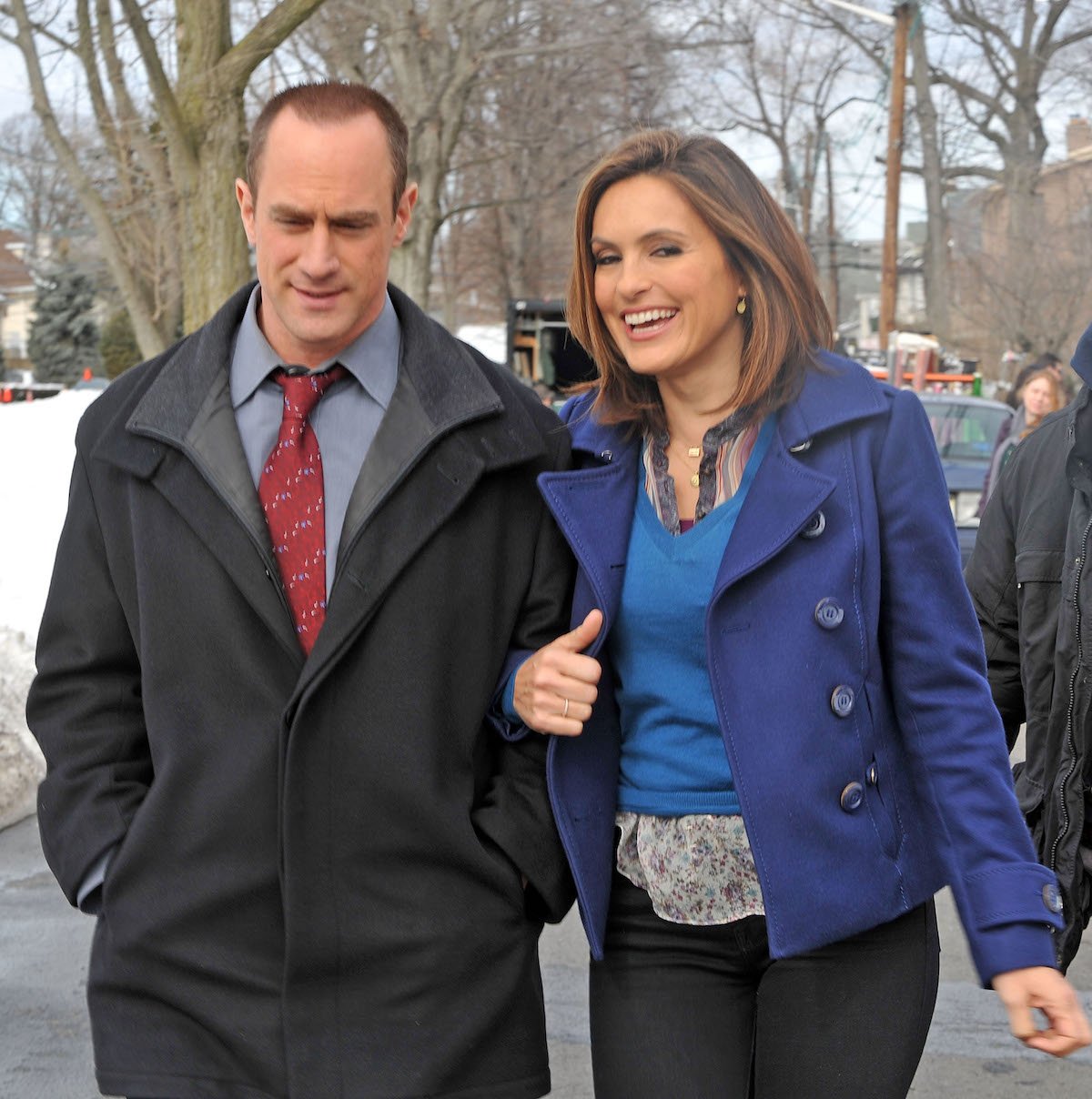 RELATED: 'Law & Order: SVU': Mariska Hargitay vs. Christopher Meloni – Who Has a Higher Net Worth in 2020?
However, one fan is hoping the two former partners don't get together. They mention the "platonic love" that Benson and Stabler have together, and it's definitely a true statement. At times, they seem to be like family members rather than two people that could be lovers.
"I really really hope they don't," a fan explained. "I'm watching 'Paternity' right now, and the platonic love that Olivia and Elliot have where she goes above and beyond to save Kathy and the baby's life," they said. "We need to normalize platonic love, and Elliot and Olivia remaining friends would be a good way to do it."
However, another user points out that there are "reasons why" Benson and Stabler "wouldn't" work all those years ago. Now they're in different place and don't actually "work together directly." A lot of things could happen in this new set of circumstances.
"Years of platonic friendship aren't necessarily negated by the relationship eventually becoming romantic though," a fan points out. "There are lot of reasons why Olivia and Elliot wouldn't have worked as a couple before, but coming together again as different (and single) people who have history but don't work together directly changes the dynamic and opens new possibilities. I'm open to a lot of things when it comes to them. I'm not necessarily shipping, but also wouldn't be mad if it was done well."
Some fans don't want it
One fan doesn't want them to be together. They mention Benson "being a loner," which is true, although she does have a small circle of friends whom she's close to. In other shows and movies, the two main characters will likely at times end up together, but that hasn't been the case with Benson and Stabler.
"I hope not," a fan said. "Olivia being a loner is what makes her character unique. She can lay claim to being the greatest TV character ever because she was different and never did the cliché romance thing."
Another fan thinks that "storyline" would make them "stop watching" the series. They reference the dynamic Stabler had with both his family and Benson, which conveys that both women and men can actually be good friends without it going further. Benson and Stabler have been an example of that so far.
"I think that storyline would cause me to stop watching the show," they said. "There's something really great about Stabler being so devoted to his family and the closeness with Liv just shows that men and women can be really great and close friends without leading to sex or some type of romantic relationship. I REALLY hope they don't do that storyline."
Fans have varying opinions when it comes to Benson and Stabler ending up together. We'll have to see how things play out when the big reunion finally happens.