'Law & Order: SVU': Fans React to Christopher Meloni Saying 'Stabler Has Feelings for His Ex-Partner Benson' in New Promo: 'He Just Confessed Get Out'
Law & Order: SVU and Law & Order: Organized Crime return to televisions everywhere tonight, September 23, 2021, at 8 p.m. EST and 10 p.m. EST. SVU will feature a two-hour premiere for season 23, and then Organized Crime will follow with its season 2 premiere. The official social media channels for the shows have been sharing teases and content ahead of the new seasons, and one such trailer has fans talking about Benson (Mariska Hargitay) and Stabler (Christopher Meloni).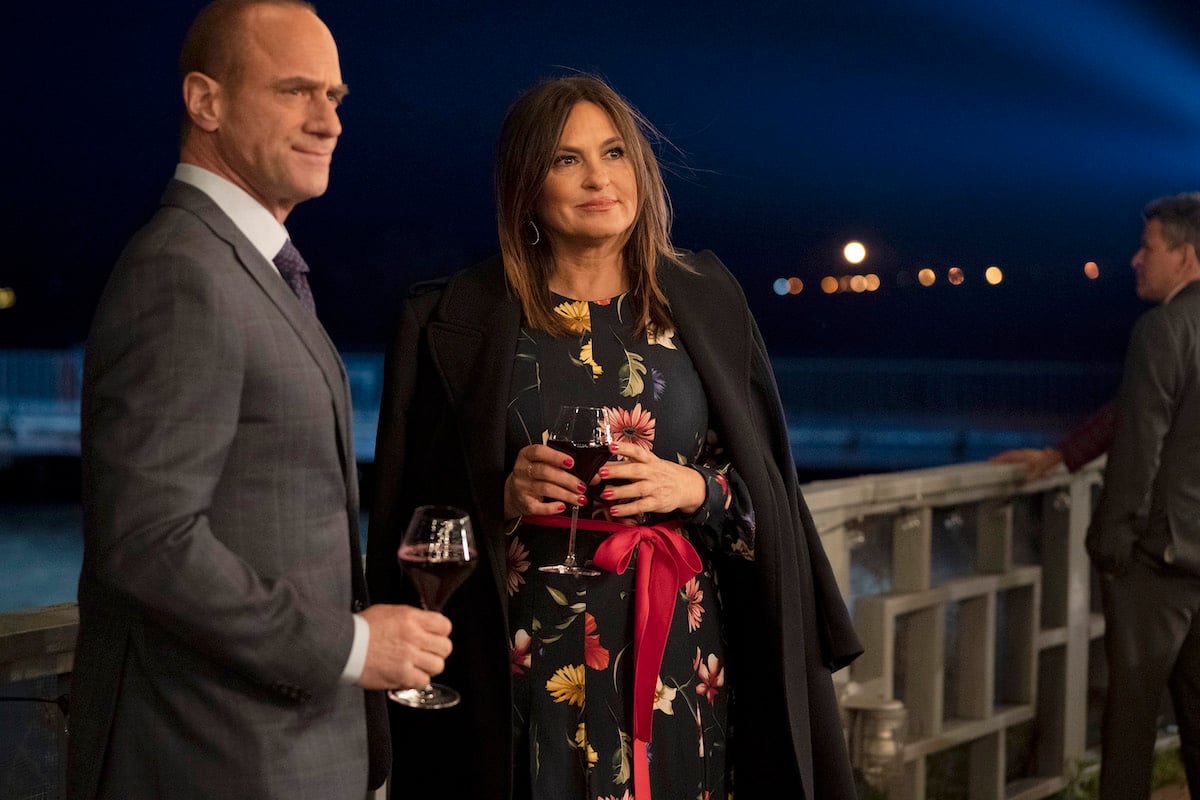 Elliot Stabler and Olivia Benson in 'Law & Order: SVU'
Christopher Meloni, who plays Detective Elliot Stabler, was a part of SVU from the very beginning right along with his partner for over a decade, Detective Olivia Benson. Their partnership lasted from 1999 to 2011 when Meloni let the series before season 13 premiered over a contract dispute. It was said that Stabler retired, and he didn't even say goodbye to his partner. The way things ended was a crushing blow for fans and the character Benson, who was left obviously upset.
Stabler and Benson definitely had something special, and their chemistry was obvious to viewers. They worked well together, and they definitely cared about each other. But it never materialized into anything more. Many fans wanted these two to get together over the years, and now that Stabler is back in his own show in the franchise, it could be a possibility.
Christopher Meloni just admitted in a promo that 'Stabler has feelings' for Benson
Add in the fact that a new promo video has Meloni discussing Stabler's feelings for Benson, and it makes it all more likely they could get together romantically. In a startling video for the new seasons, Meloni says to the camera, "This is where it gets interesting. Obviously, Stabler has feelings for his ex-partner Benson. They're doubling down on that."
"I think it's what the fans wanted," Hargitay adds.
It's super exciting news to hear it being said out loud by the actor himself that Stabler "has feelings" for Benson. Remember, we have yet to learn what was in the letter Stabler gave to Benson. But it isn't a stretch to think Stabler has feelings for Benson. After all, he recently revealed that he loved her in front of his kids in an awkward moment in Organized Crime.
Fans react
Fans have a lot of opinions about this revelation. Over 44,000 people liked the post on Instagram. Over 1,600 people commented with their own thoughts as well. Some directly reacted to the news about Stabler and his feelings for Benson.
"He has feelings for his ex-partner, he said it," a fan responded.
A fan tagged others while adding, "Oh my God, he finally admitted it."
He just confessed get out," another fan added.
"I hope it's done really well and not feel forced!" a fan says about the situation, which many fans would agree with.
A fan seems excited, saying, "They said it, it's confirmed ahhhhhhhh." 
Another fan seemed to know it was coming. "I knew it when he said I love you," they said.
A fan agrees that it is what the fans wanted. "Yes it is what the fans wanted, we waited over 20 years for this come on ❤️❤️❤️❤️❤️❤️," they said.
One fan thinks they could be "teasing" the fans. "Y'all are just teasing us," they said. "Won't believe anything gonna happen until I see it. By feelings, it could just be feelings of platonic love. I don't trust y'all."
However, some fans aren't on board for Stabler caring about his old partner as more than friends. "Noooo!!!" a fan wrote. "Fans don't need Stabler and Benson as a couple! The whole point of their relationship is that they've always been good friends, not potential lovers!"
Another fan doesn't seem to want it either. "No! No this not what this fan wanted," they said. "Just confirms that the whole time they had feelings for each other even though he was married."
Fans have their own opinions about the news Meloni just dropped in a promo for SVU and Organized Crime.