'Law & Order: SVU': Fans React to the All-New Teaser for the Crossover With 'Organized Crime': 'Time Travel Is Needed Right Now'
Law & Order: SVU has been a part of television for 22 seasons, and there's no sign of it stopping anytime soon. Fans now have a new spinoff to watch as well, called Law & Order: Organized Crime. It will feature Elliot Stabler (Christopher Meloni) from SVU at the helm, and fans can't wait for his return. Fans also anticipate the reunion between Stabler and his former partner, Olivia Benson (Mariska Hargitay), which will take place ahead of the Organized Crime premiere.
A recent teaser features Stabler, and fans reacted on social media to the latest promo for the epic crossover event between SVU and Organized Crime.
Elliot Stabler is coming back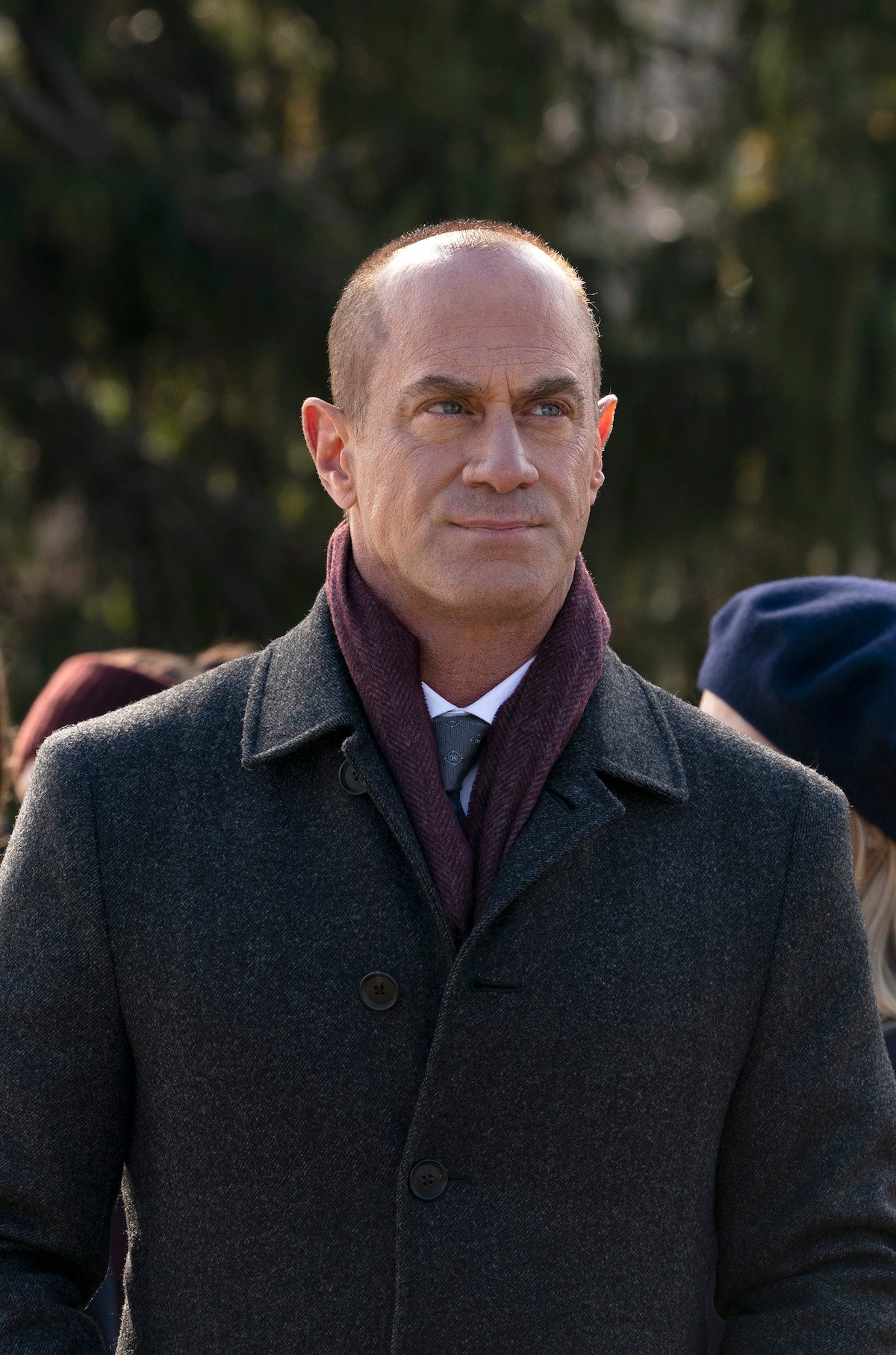 Meloni reprised the role of Stabler and Benson's partner for over a decade. They had amazing chemistry and worked well together, getting justice for many victims, but it didn't last. Meloni left before season 13 because of a contract dispute. Stabler never said goodbye to Benson, and it was a hard pill to swallow for her as well as for fans. Viewers have been waiting for a reunion between the two ever since, and they'll finally get it in just weeks.
Stabler is returning to the Law & Order universe, and a crossover is in store. It's all set to go down on April 1. Organized Crime, the new series Meloni will star in, will premiere on Thursday, April 1 at 10 p.m. EST. It will feature a crossover that starts on SVU.
Special Victims Unit will include a new episode at 9 p.m. EST, which will hold the first crossover event between the two series and include Benson and Stabler's reunion. In the following hour, Organized Crime will feature more of the crossover we've been waiting for between the two former partners.
What will 'Law & Order: Organized Crime' be about?
Fans have been waiting a long time to see Stabler again, and the moment is almost upon us. Stabler will return, but he'll also be dealing with "a devastating personal loss," according to NBC, in the new Law & Order show.
Here is the rest of the official description: "However, the city and police department have changed dramatically in the decade he's been away, and he must adapt to a criminal justice system in the midst of its own moment of reckoning. Stabler will aim to find absolution and rebuild his life while leading an elite new task force that is taking apart the city's most powerful crime syndicates one by one."
There's an all-new teaser for the 'SVU' and 'Organized Crime' crossover
There have already been teasers for the upcoming event, including in regards to Benson and Stabler's reunion as well as what's to come from the crossover and new series. The latest teaser features Stabler surrounded by blue and red police lights. The trailer doesn't give too much away, unfortunately, but at least it's something.
"I've paid a price for my mistakes," Stabler's voice can be heard saying as he walks away from police lights. Viewers get to see him walking around in a building as well.
There are a number of close-up shots of Stabler's face. We even see a young Stabler too in flashbacks from the past. "I won't let that hold me back," he says.
He holds up his weapon at one point in the teaser and also walks toward the red and blue law enforcement lights while saying, "I will keep moving forward."
Fans also get to see some flashbacks of him and Benson working together. "Now, it's time to make things right," Stabler continues talking while we see some shots of him walking around outside and driving a car, presumably working the case.
Next is a shot of Captain Benson in the present as Stabler says, "The world's changed, and so have I."
"Stabler coming home," flashes across the screen before it cuts to Benson and Stabler's faces with the words "SVU and Organized Crime Crossover Event." Stabler walks away as the trailer ends there.
Fans react
As you might expect, fans are buzzing over this new trailer. On Instagram, a number of fans commented with their thoughts. "This better be as fire as y'all making it seem!!!!" a fan said. "On gawd imma be upset 😭😭😭."
As can be expected, fans are hoping the time in-between this epic moment goes by quickly, and we're right there with them. "These next 2 weeks better fly by," a fan wrote.
One fan even references "time travel," and they can't be the only ones. "Time travel is needed right now 🙌," they said.
Another fan mentions they believe their "heart just stopped," which just goes to show how they're really feeling about the teaser. "I think my heart just stopped, I don't think it's planning on beating again until April 1st," they said.
Viewers of SVU have been patiently hoping and waiting for this moment, and it's finally almost here. "I've been waiting forever for this 😭😭❤️❤️❤️❤️❤️," a fan said in the comments.
While another fan says it's going to "kill" them, just going to show where emotions are at. "It's official this and the Bensler reunion will kill me," the fan said.
A fan added, "Killing me." While another fan admits they've "never been so excited," and many other fans can certainly agree with that statement. "I have never been so excited for something!" they said.
Fans of SVU are excited and hopeful for the epic event happening on April 1. Viewers will get to see Stabler again and he'll be reuniting with his former partner as well.