'Law & Order: SVU' Fans Remember Bob Saget's 'Absolutely Terrifying' Guest Role
Law & Order: SVU has featured hundreds of guest stars over its 23 seasons, including Bob Saget. In light of his tragic death, fans are revisiting his episode and lauding his portrayal of a terrifying murderer.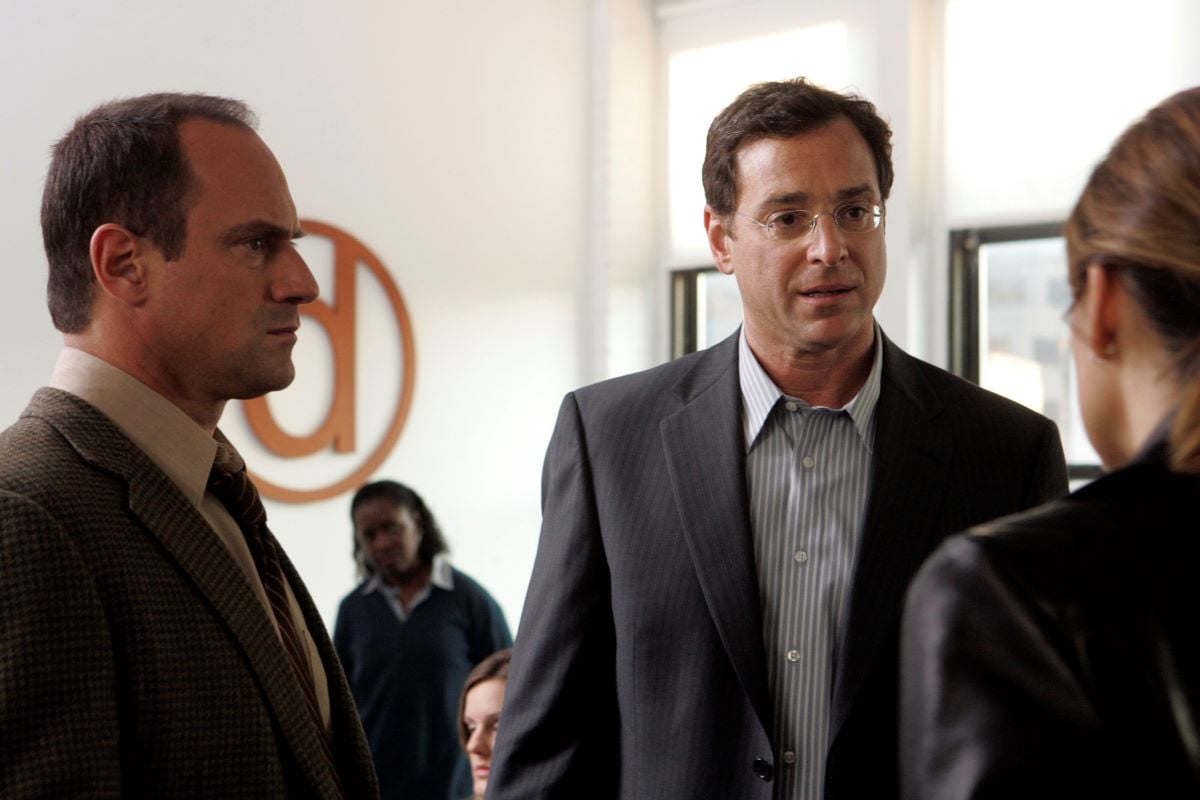 Bob Saget was found dead in his Orlando hotel room
On Jan. 9, 2022,  Saget was found dead in his Orlando, Florida, hotel room. The comedian was on his I Don't Do Negative tour and performed in Ponte Vedra Beach the night before. 
"Loved tonight's show @PV_ConcertHall in Jacksonville," Saget wrote in his final Jan. 8 tweet. "Appreciative audience. Thanks again to @RealTimWilkins for opening. I had no idea I did a 2 hr set tonight. I'm happily addicted again to this s***."
Saget leaves behind a wife, Kelly Rizzo, and three adult daughters — Aubrey, 34, Lara, 32, and Jennifer, 29. His cause of death has not been revealed.
Bob Saget appeared on 'Law & Order: SVU' in Season 8 Episode 9
Saget is most known for portraying the cookie-cutter TV dad Danny Tanner on the '90s sitcom Full House. But in 2006, he proved he could do more than comedy when he appeared on Law & Order: SVU.
In his season 8 episode, "Choreographed," Saget plays Glenn, a jealous husband who tracks his wife and discovers she's cheating on him. Glen kills the wife of the man his own wife was having an affair with. And he then frames the man for murder.
Through their investigation, Olivia Benson (Mariska Hargitay) and Elliot Stabler (Christopher Meloni) discover Glenn's scheme. He confesses and is arrested. And at the end of the episode, after inadvertently getting his wife sick, Glenn is temporarily released to donate his liver to her.
In a 2017 interview with That's Messed Up, An SVU Podcast, Saget revealed that he was a fan of the show and knew star Mariska Hargitay for years. He recalled that the two went to a concert together and remembered that her husband carried their baby in a sling on-set. Saget also revealed that he had gone out for lunch with Christopher Meloni during filming and was given Ice-T's dressing room.
Saget also admitted that he wanted to play a character like Glenn on the series because he didn't want to be typecast. "It was a lot of fun to play," he said. "When I read that, it was very well written."
'Law & Order: SVU' fans remember Bob Saget
After learning of Saget's untimely death, Law & Order: SVU fans revisited his guest appearance. And many remembered how great he was in this dramatic role.
"I just watched that episode last week," one Reddit fan wrote. "He gave a brilliant performance – I'm glad I got to enjoy it without this cloud of sadness one more time."
"This episode is SO GOOD too," a Redditor added. "He definitely should've explored more dramatic roles! RIP TV Dad."
Some fans recalled how "absolutely terrifying" Saget was as Glenn. And others admitted his portrayal was so good, they still can't help thinking of Glen when they see Saget.
"I have to remind myself Bob Saget was not his character from this episode as I see all these celebrities post amazing things about him," one Reddit shared. "He really was a good actor because I kept saying 'that creep? Oh wait, that was just one episode of a fake show.'"
"My girlfriend when she heard the news was like 'wasn't there something really creepy or awful about Bob Saget or am I just remembering that SVU episode?'" another Redditor added. "Dude killed it."
RELATED: 'Law & Order: SVU' Star Reveals the Funniest Cast Member Laughs 'All Day, Everyday'