'Law & Order: SVU': Fans Weigh in on Their Favorite ADA on the Series
There have been a lot of wonderful ADAs throughout the length of Law & Order: SVU. Fans enjoy debating each other about who is the best ADA and there was recently a poll on Reddit to settle the matter. Read on to learn what fans are saying.
Who do fans consider to be their favorite ADA on 'SVU'?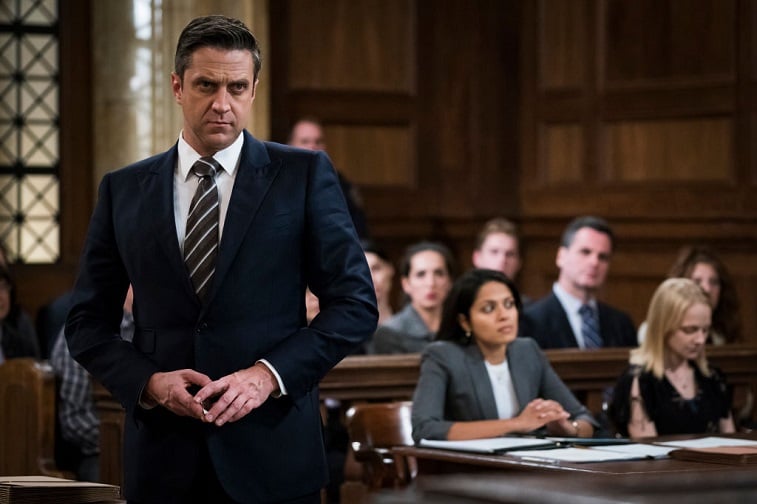 There was a recent poll on Reddit that consisted of voting for the best assistant district attorney on the series. 456 votes were cast and there was one overwhelming winner: Rafael Barba played by Raúl Esparza. He received 270 votes and was the clear winner of the poll.
Fans may remember Rafael Barba was the ADA for the squad for a number of years. He's remained good friends with Olivia Benson (Mariska Hargitay) over the years. He resigned from his job after an extremely difficult case involving an infant.
Alexandra Cabot (Stephanie March) received 102 votes. Everyone else scored much lower amounts. Dominick "Sonny" Carisi Jr. (Peter Scanavino) only got 10 votes himself, which seems surprising considering his huge fan following.
Fans weigh in with comments about the best ADA
People didn't just stop there. They commented to share their feelings in more accurate detail. Numerous fans love Barba and miss him in his role as ADA for the squad. He brought a different dynamic to the team and he always seemed to push them to do more.
"I miss Barba so bad," a Reddit user admitted.
One fan knew the results would end up the way they did. "I knew everybody was gonna vote for Rafael Barba," someone correctly deduced.
Another user says Barba was clearly the best because of the lengths he's always willing to go. "I watched seasons in this order: Novak, Cabot, Barba, then Stone. And tbh I love all the same. But I think Barba was the best in the lengths he'd go to get justice."
A fan of the show says they are "torn" between two ADAs. "Torn between Barba and Cabot because I loved them both and they both had terrible endings," they explained.
People seem to love Barba
It seems that Barba was the clear winner in the hearts of fans. They can't seem to get enough of him as an actor and as a character on the show.
"I'm a big Barba fan. I think Raúl Esparza is a great actor, I think he out-acts everyone else in a scene and I want to watch him and pay attention to him," a Reddit user explained. "I think it was an interesting character and would have been even more interesting if the writers would have delved deeper into his background. I always felt like Barba cared and he pushed the detectives to do their jobs right."
Another fan says they love Carisi and wish he had been able to work with Barba more. "I love Carisi with my whole heart but I miss him as a detective :( I wish Carisi and Barba got to be a team though," the fan expressed.
In a recent poll on Reddit, fans of SVU clearly favor Barba as the ADA on the show.