'Law & Order: SVU': Kelli Giddish Talks About That Difficult Scene Involving Her On-Screen Sister
Episode 16 of Season 21 of Law & Order: SVU was a difficult one for Detective Amanda Rollins, played by Kelli Giddish. She recently spoke on Squadroom, which is SVU's very own podcast about the series.
The podcast was created by NBC and Dick Wolf's company, Wolf Entertainment. Anthony Roman hosts the podcast. Read on to learn more about what Giddish has to say about the episode. Lindsay Pulsipher, who plays Rollins' sister Kim, talks about her role as the troubled sister.
Kelli Giddish and Lindsay Pulsipher talk about their dynamic as sisters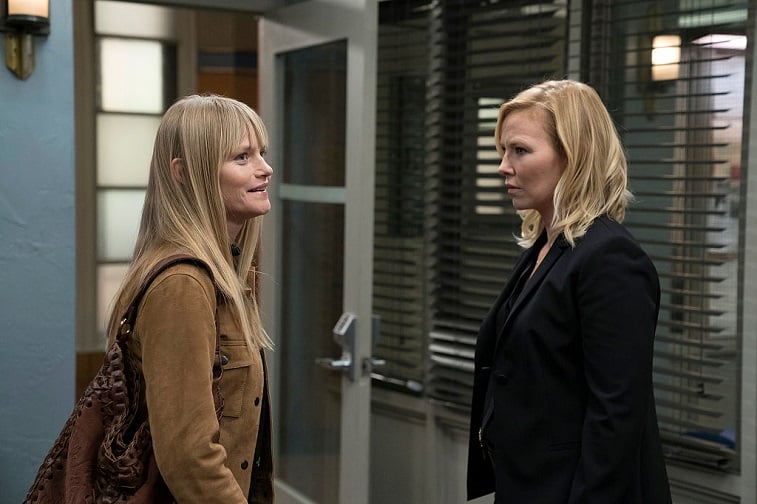 The Rollins sisters talk about their relationship and what it's like playing them. It's hard for Rollins to deal with everything her sister has put her through over the years.
Giddish was asked what she thinks when she hears that Lindsay Pulsipher is returning for an episode. "Any time I hear Lindsay is coming, it's like OK the script is going to be great and I get to actually play you know," Giddish said. "And I get to go into who my character is and see her not just in the procedural world, which is always fun for me."
Kim is actually known as "Hurricane Kim" online. The on-screen sisters were asked what they think about their chaotic relationship.
"In terms of family, we all have family that somebody goes sideways and you're there to pick em back up," Giddish said. "Yes, she moved away from Georgia, Amanda Rollins, but she's far away from people that she has blood ties to, and no matter what, that still means something." She continued to explain that you can't just turn your back on family, especially with sisters, since that is such a special relationship.
"Amanda is so forgiving of Kim, but it's true you can't choose your family," Pulsipher said. "Kim I think in her mind she's doing her best and she really loves Amanda and she feels like you know, maybe because Amanda does forgive her so many times, she's OK, like in Kim's mind she really is doing a good job. The best that she can do."
The opening scene of episode 16 was difficult to watch
At the beginning of the episode, Kim leaves her child with a woman while she goes into the bathroom to get high. She ends up overdosing, but luckily she's saved just in time because she turned on the faucet and the bathroom floods. It was a hard scene to watch as well as film.
"Playing that beat was hard in that scene actually," Giddish revealed. "That beat comes at the beginning of the scene. And you can't blow your wad at the beginning of the scene. Like I was so, like that's the crux of, 'Are you kidding me?' But no she's not, she did it. Now her kid is taken away and I'm picking up the pieces, so no, she's not kidding me. She actually turned on the faucet, that was her great plan."
This week's episode was certainly difficult to watch, especially the opening scene. Hopefully, Rollins' sister will do the right thing in the future. We'll see how things work out for her in future episodes.