'Law & Order: SVU': Mariska Hargitay Reveals a Gift From Her On-Screen Son Inspired by Ruth Bader Ginsburg
Mariska Hargitay from Law & Order: SVU celebrated her 57th birthday on January 26. She recently shared a post with her Instagram followers of herself and her on-screen son, played by Ryan Buggle. In it, she shows off an extremely sentimental gift she received from him for the occasion that's inspired by Ruth Bader Ginsburg. We have all the details you need to know.
Mariska Hargitay shows off a gift her on-screen son gave her inspired by Ruth Bader Ginsburg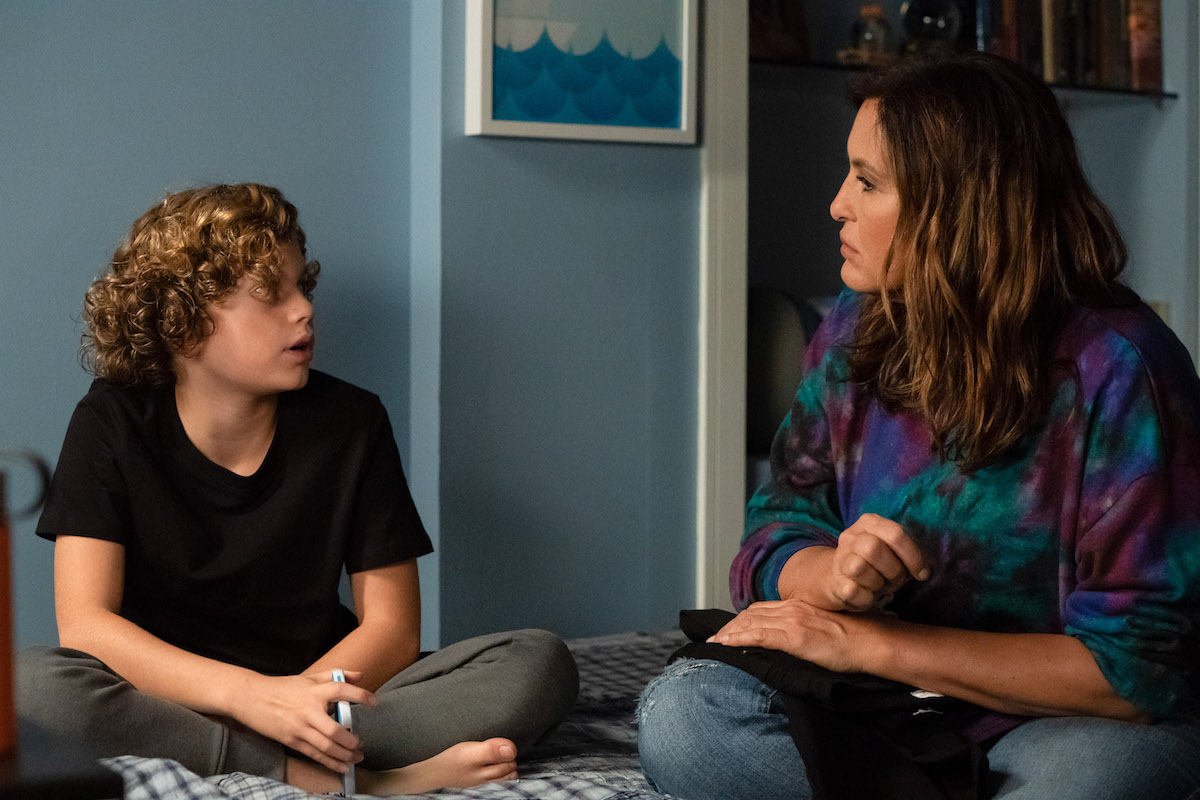 Hargitay has been on SVU as Olivia Benson since the very beginning, working the cases and getting justice for the victims since 1999. She now has an adopted son named Noah Porter-Benson, played by Ryan Buggle. He's reprised the role since 2017, and sometimes it's hard to believe these two aren't really mother and son in real life.
Hargitay recently showed off a gift she received from Buggle, and it's truly a unique piece of jewelry. It's a collar necklace like the ones Supreme Court Justice Ruth Bader Ginsburg would wear, someone Hargitay and her on-screen counterpart truly admire.
The necklace is in the shape of a collar with the initials "MH" in black with a silver background. She points to the gift and interesting statement piece as she hugs Buggle for the photo. They both wear a mask and cold weather attire while surrounded by snow and a backdrop of the city. 
Hargitay captioned the post: "Had such a fun day shooting in the snow with this guy! Look look at what he gave me for my birthday! #SupremeGift A handmade RBG collar With my initials on it! Honored #BestGiftEver @ryanbuggle #BestSonEver! #NoahPorterBenson #Snowday #Sledding #SVU #OC #MamaBenson #BabyBenson #BirthdayBenson #RBGBenson."
Buggle commented on Hargitay's post. "The BEST snow day EVER! ❄️☃️❤️," Buggle wrote.
Mariska Hargitay added Olivia Benson's love of Ruth Bader Ginsburg to the character she plays
Ruth Bader Ginsburg died on September 18, 2020, from complications that arose from metastatic pancreatic cancer. Hargitay's on-screen counterpart, Olivia Benson, loves the former justice. It's something that came from Hargitay herself that she added in according to an interview she took part in on Late Night with Seth Meyers in 2019.
"Well as I became lieutenant, I started thinking about who do I look up to? Who is Olivia Benson's inspiration? And she is about as superhero as they come," Hargitay said. "I watched that movie it changed my life, and I could watch that movie on a loop, RBG."
Hargitay, as well as her on-screen character, admire Ruth Bader Ginsburg, and that's obvious by Hargitay's collar necklace inspired by the late supreme court justice. It's a truly nice and sentimental gift on Buggle's part, and fans certainly appreciate Hargitay sharing the sweet gift and moment between them. 
Mariska Hargitay received an RBG inspired gift from Ryan Buggle. It would be cool to see Benson wearing it in a future episode despite it having Hargitay's initials on it.