'Law & Order: SVU': Mariska Hargitay Shares Cute Mask Selfie on the Set With Her Husband, Peter Hermann
Mariska Hargitay is known for her role as Olivia Benson on Law & Order: SVU. The show hasn't just been her claim to fame though. It also helped bring Hargitay and her husband and fellow actor, Peter Hermann, together.
Hargitay recently shared a sweet selfie with her husband while she worked, and it's a must-see for fans of the series.
How did Mariska Hargitay meet Peter Hermann?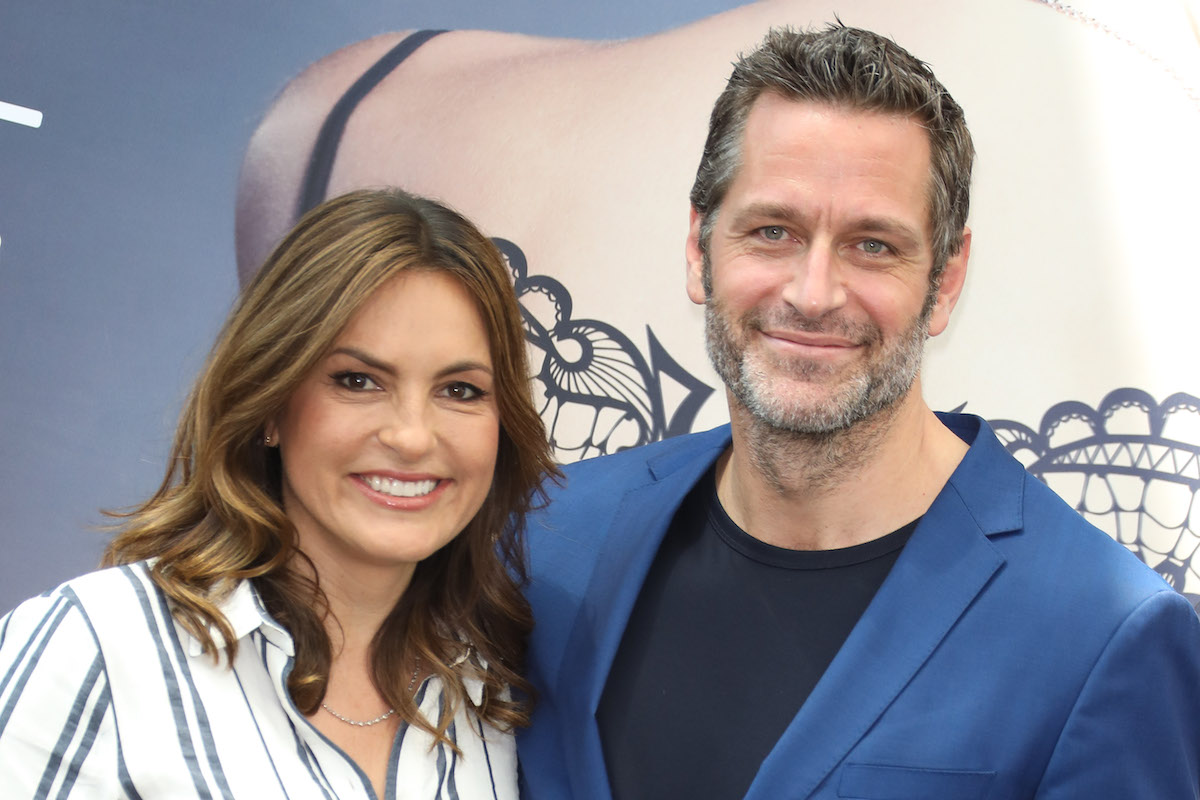 Hargitay has been on SVU since the very beginning in 1999. Her future husband played a defense attorney named Trevor Langan, and the two met in 2002. Their first date was to attend church together after Hermann asked Hargitay out. Hargitay spoke with People in 2019 about their first date. She realized during the service that Hermann was "the one."
"We went to church together, and it was like getting hit with a lightning bolt," Hargitay revealed. "I just started sobbing. Peter thought I was crying because I was so moved by the service. No, it was because I was just overwhelmed, realizing he was the one."
The two would eventually get married in 2004, and they now have three children together: August, Amaya, and Andrew.
Mariska Hargitay shares cute mask selfie with husband Peter Hermann
Hargitay has been known to share aspects of her life on social media, and she recently posted a cute selfie with her husband. She was on the set of SVU working, but, the two took the time to steal the special moment.
In the photo, they are both wearing black masks — Hargitay's with two silver hearts — and Hermann has his arm around his wife as the two look at the camera. They're bundled up in coats with Hargitay wearing Captain Benson's signature black jacket look.
Hargitay captioned the post: "Look who came to visit me at work ❤️ #MyYoungerMan #BringYourHusbandToWorkDay #WorkDate #WorkPerk #2Hearts #WearAMask 🤍🤍."
Is Elliot Stabler coming back to 'SVU'?
In other SVU news, Benson, Hargitay's character, will reunite with her old partner, Elliot Stabler (Christopher Meloni), in episode 9 of season 22. Fans may recall that the two former partners worked together for over a decade, and Stabler left abruptly before season 13. But he's back with his own Law & Order spinoff called Law & Order: Organized Crime. It premieres April 1 and will feature a crossover event for the ages.
Ahead of the premiere of Organized Crime will be a new episode of SVU, which holds the Benson and Stabler reunion many fans have been waiting for. It premieres at 9 p.m. EST, and Organized Crime follows at 10 p.m. EST., continuing the crossover.
There's a new promo trailer for the upcoming episode of SVU, that features Benson on the scene of a case. She hears her name being called. "Liv," Stabler says in his familiar voice, although we don't see him. Benson turns around and says, "Elliot," with shock on her face.
There's also a promo for Organized Crime that features Stabler talking to someone. "You know how so much time has passed that you can't reach out," he says while seated and talking to someone whose head can just barely be seen. "Days turn into months, turn into years. I just kept waiting for the right moment." 
We'll have to see how the rest of the reunion plays out when it premieres April 1.