'Law & Order: SVU': Olivia Benson and Elliot Stabler Once Went Undercover at a Swingers Club
There have been many episodes where the detectives must go undercover in the series Law & Order: SVU, and one such episode was recently posted about on Reddit. Detective Olivia Benson (Mariska Hargitay) and her partner, detective Elliot Stabler (Christopher Meloni) once went undercover at a swingers club together as a married couple. We have all the details.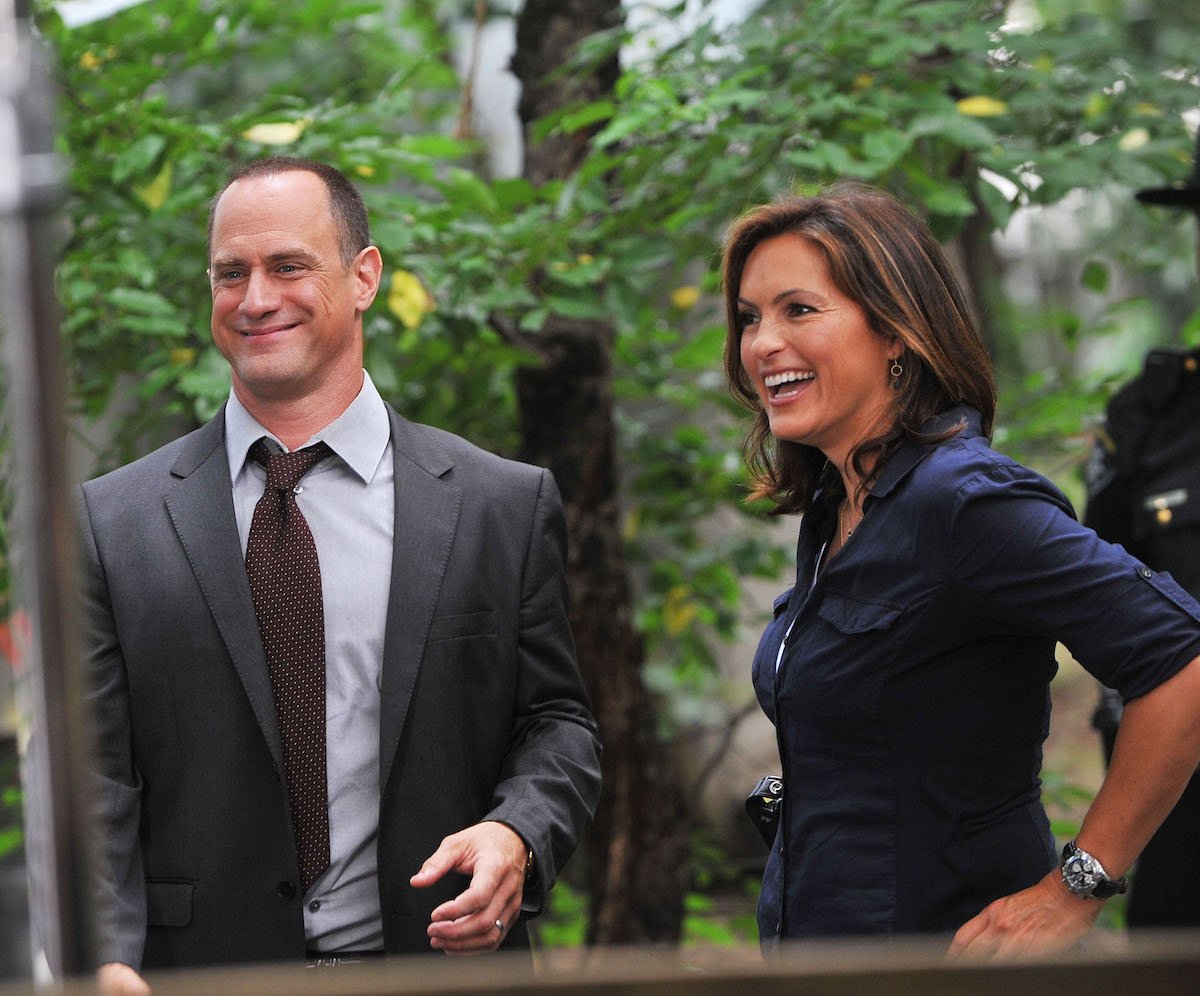 Season 12, Episode 19 of 'Law and Order: SVU' called 'Bombshell'
In the episode from Meloni's last season on the show, it starts with a man with a knife stuck in his crotch. He was also stabbed in his abdomen with another cut on his hand as well. The man also hurt his head, starting a bleed, which had to be operated on. The victim is in a coma when Benson and Stabler start working on the case. They track down his car, learning his name is Jerry Bullard (Tom Irwin).
A man named Aldo (Richard Petrocelli), who has Jerry's blood on him, saw the victim that ran into him after hearing noise in the ally. He then witnessed Jerry, who had blood on him, and he collided with Aldo. Aldo leads them to a place where he's seen other people dressed like Jerry coming and going.
They learn the place Aldo showed them is called The Swing Set, a swingers club. According to the website, new members have to be "invited by a current member" according to Detective Odafin "Fin" Tutuola (Ice-T), who gets the information from the website.
Olivia Benson and Elliot Stabler once went undercover at a swingers club
Next we see Benson and Stabler dressed up for a night out on the town. They enter The Swing Set, pretending to be a married couple invited by Jerry, the victim. Benson wears an animal print dress, and Stabler wears a suit. They hold hands looking rather comfortable about it. They tell a woman named Suzette their names, which they don't change, and that they were invited by Jerry.
"First time experiencing the lifestyle?" Suzette asks.
Benson laughs. "Is it that obvious?" Stabler asks.
They have some club sodas, and plan to watch. Stabler asks about Jerry, who he says said he was supposed to be there that evening, to which Suzette replies, "But you want to find Jerry, just look for Cassandra."
They are shown Casssandra (Rose McGowan), who has a few gentlemen surrounding her. Suzette goes over and talks to Cassandra about the two newbies, and Cassandra walks over to talk to them.
Stabler asks if she knows their "friend Jerry," to which Cassandra replies, "Yeah. Jerry and I played together just the other night. I hope he didn't give you all the details and spoil the fun."
"Jerry didn't say a word, except that we should come here and play too," Stabler replies.
Stabler talks with Cassandra
RELATED: 'Law & Order: SVU': The 1 Surprising Item Fans Noticed on Amanda Rollins' Desk
Another couple approaches Benson, and Cassandra beckons Stabler to follow her so she can "show" him something. She takes him to a back area where other people are hooking up.
Stabler asks her what Jerry is "into," to which Cassandra replies, "Everything." She reveals they "had a lot of fun Monday night." She says he had "too much to drink" and that "he went outside for some air" and she "lost track of him."
Stabler notices a scar on her neck, which she reveals is from her ex-boyfriend, Doug (Ryan Hurst).
Benson learns that Doug "won't leave" Cassandra alone, and that he recently made a "scene" there. He went into the play room, and Cassandra says he was "screaming about how I belong to him and any man who touches me is gonna get his a—kicked." Jerry apparently got hyped up, telling him Doug he was going to "kick his a–."
The detectives return to The Swing Set again, and Doug comes there, screaming for Cassandra. He tells Stabler to "get away" from his girlfriend. He even puts his hand on Stabler, who subdues him and Tutuola and Benson swoop in. Tutuola reveals they are NYPD, and Cassandra leaves the scene.
A fan recently posted some images of the 2 detectives at the 'club' together
On July 17, 2021, a fan shared images on Reddit of Benson and Stabler at the swingers club holding hands as well as Stabler introducing his wife as Olivia. "They're so cute in the club together," the post is titled.
"I look forward to anytime they go undercover as a couple," a fan added in the comments. "They make it look effortless and of course they look good together."
Another fan said, "They looked so hot 🥵."
There are some twists to this story
Jerry eventually wakes up from the coma, and admits he is in love with Cassandra. He pins his wife as the one who "attacked" him. Apparently, he was taking money from the accounts and giving it to Cassandra. Instead of going on a work trip he went to The Swing Set, where his wife, Jane, went to confront him. She is also a swinger, and she admits to stabbing him outside the club, saying she was "drunk" and "angry."
But there's more to the story. The cops are worried Doug, who is released, will go right after Cassandra, so Captain Cragen (Dann Florek) gets Benson and Stabler to follow him. They see the two kissing, and the cops arrest them "for ripping people off" according to Benson.
It turns out Cassandra and Doug are working together to get money out of men. Cassandra and Doug have a number of aliases, and they've been doing this for a long time as con artists. The victims don't press charges under the circumstances. The two are even persons of interest in the death of a man and swinger in Miami. Law enforcement found skin cells under the victim's fingernails, and the cops are convinced the two are involved.
Things get complicated when Jerry hires a lawyer for Cassandra. Facing multiple charges, Cassandra gets out on bail. When the results come in from Miami, it turns out the DNA is Doug's under the fingernails, and Doug and Cassandra are brother and sister. They are actually twins, and they've been intimate.
The cops break the news to Jerry about Cassandra and her brother's relations, and Jerry gets Doug out on bail and gets him to come over where he kills him. Cassandra is distraught and crying at the death of her brother when she shows up to Jerry's place just after the cops, and the episode ends with her crying over his body.