'Law & Order: SVU': Peter Scanavino Admits Carisi Doesn't Love Stabler and Benson's Relationship
Law & Order: SVU brought Elliot Stabler back into Olivia Benson's life. But not everyone in and around the SVU team is enthusiastic about his return. And according to Peter Scanavino, Dominick Carisi may be one of them.
Dominick Carisi doesn't know Elliot Stabler well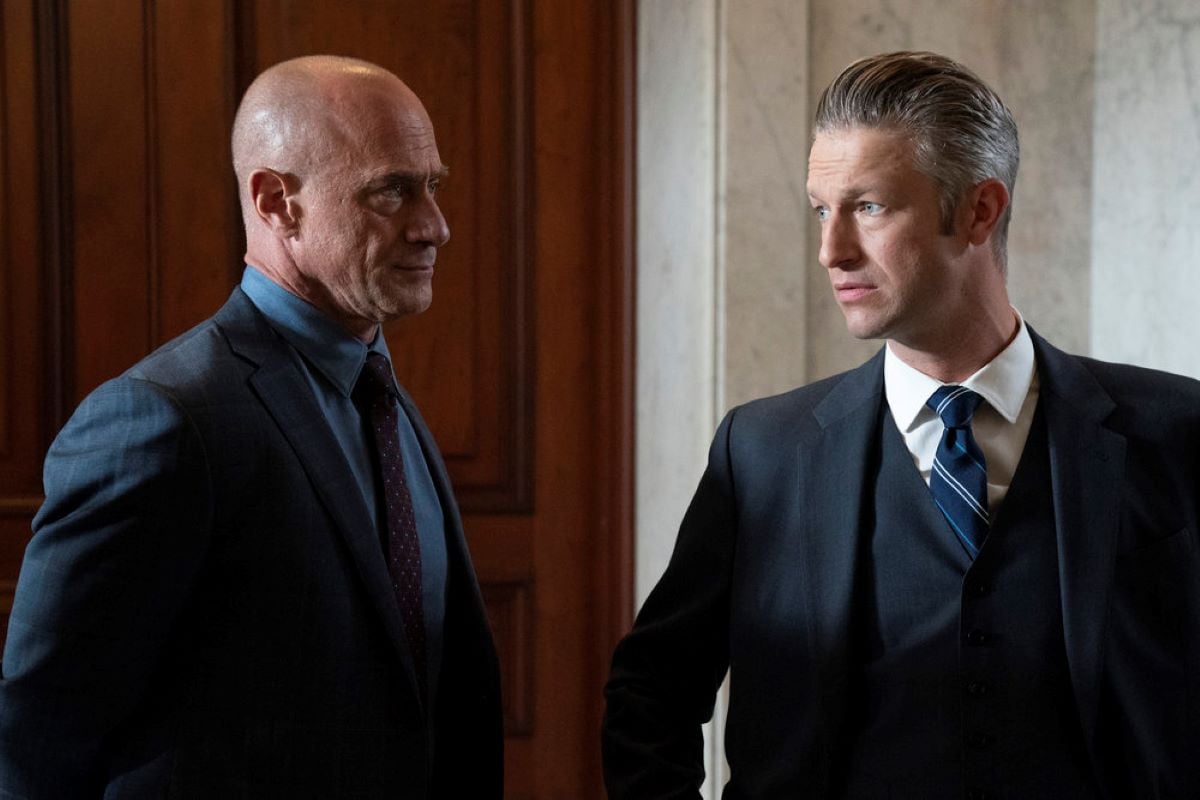 Stabler left Benson and the rest of the SVU team in season 12 of Law & Order: SVU. Up until then, he formed tight relationships with Finn (Ice-T), Munch (Richard Belzer), and Captain Cragen (Dann Florek). But being her partner for over 12 years, Stabler was closest to Benson. The two developed a deep connection and friendship, one that is still apparent today.
Carisi didn't join the SVU until four years after Stabler left. He may know of the former detective, but he doesn't know him personally.
But Carisi is close to Benson. And over seven years, the new ADA has earned Benson's respect and friendship.
'Law & Order: SVU' star Peter Scanavino admits Carisi isn't a fan of their Benson and Stabler's relationship
Now that Stabler is back in Benson's life, things are getting complicated. For starters, they both have feelings for each other that they won't give into. Their last goodbye was a total mess. And now that Benson is a Captain, she can't condone Stabler's unapproved tactics.
According to Scanavino, while Carisi may not know Stabler or how deep his connection is to Benson, he can still gauge that something is off.
"[Carisi] never knew them together," Scanavino told TV Line. "And I don't know how open she's been with me about her history — But I do think I see, and my character can see, how, in some ways, this might not be the healthiest relationship right now, given what my job is."
It's not that Carisi has anything against Stabler. But Scanavino suggested it's more about his love for Benson that makes him wary of their relationship.
"I think he knows and respects Stabler, obviously, but he's definitely more protective of Liv because she's closer to him. She's more formative in who he was," the actor suggested. "So, from somebody that's close with her saying, 'Who is this guy? Is this good for her? Is this not?' I think that's how he's viewing it."
Peter Scanavino also reveals how Carisi felt about Barba's return on this season of 'Law & Order: SVU'
RELATED: 'Law & Order: Organized Crime': Stabler's Return to Normal Life Will Be 'Fraught'
Former ADA Rafael Barba (Raúl Esparza) returned to Law & Order: SVU as a defense attorney for Stabler's new nemesis, Richard Wheatly (Dylan McDermott). Barba was a mentor to Carisi for years. And as they faced each other in court, Scanavino said Carisi felt like he had a lot to prove.
"It's a big deal — it's a lot of responsibility," he said in his chat with TV Line. "But then it's against Barba, as well, and that's always fun. [Carisi has] always got something to prove in front of his former mentor, but it really seems like one of those cases where there's a lot of moving parts, and is Carisi up to deal with all those moving parts?"
"It's a fast-moving case," Scanavino added. "Sometimes, things drop out, and then it's a challenge for him, for sure, and I don't think he's taking it lightly."