'Law & Order: SVU' Season 21, Episode 15: Fans React to That Jaw-Dropping Ending
Episode 15 of season 21 of Law & Order: SVU held a twist you'll never see coming. "Swimming With the Sharks" hit fans where it hurts. Read on to learn why no one can stop talking about that jaw-dropping ending. There are spoilers ahead for SVU.
Episode 15 starts with an assault at a women's empowerment convention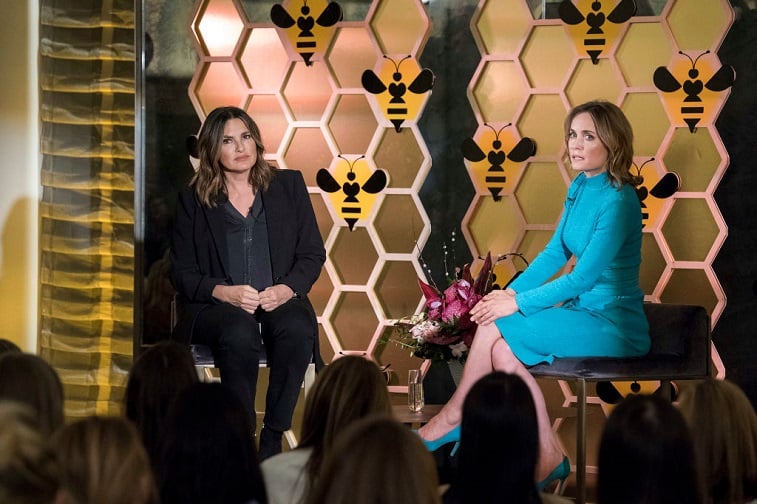 The women of SVU attend a women's empowerment convention that Captain Benson (Mariska Hargitay) speaks at along with the CEO of the company, Luna (Radha Mitchell). Suddenly Luna receives a visit from the CFO of her company by the name of Bobby. Luna is drinking and eating edibles at the time.
Luna's assistant suddenly reaches out to Benson who lands on the scene and learns that Luna has just been raped. She says she doesn't want to press charges because of her brand. The detectives visit Bobby who claims everything was consensual.
He goes so far as to say that Luna is sleeping with her assistant and she's probably just saying he raped her so things won't be ruined with the assistant. The assistant claims that Bobby couldn't make Luna happy.
New information comes to light
Olivia talks with Luna who has decided to press charges after all. The detectives go to arrest Bobby when he tells them that Luna has been robbing the company blind and that's why she's making claims against him.
Bobby claims he confronted Luna about her stealing and she seduced him. Her assistant came in and that's when Luna made the rape allegation.
The evidence starts to put Luna in a bad light. Some of her employees all but confirmed a money laundering scheme. After speaking with an employee who also received a check from Luna, she reveals it's because she was sexually assaulted by Luna at a work retreat.
The evidence seems stacked against Luna. She is taken into custody and she is fired from her own company. Luna has a breakdown in front of Benson and Carisi (Peter Scanavino) saying she must be losing her mind since she can't remember doing any of these things.
Benson gets a hunch and she rolls with it. It turns out the whole thing was an elaborate scheme involving a few people in the company. The detectives talk to Melanie again, who is a woman who works for the company and an old friend of Luna's. She decided to gaslight Luna to get back at her.
Fans react to episode 15 of 'SVU'
The twist definitely came out of nowhere and people were definitely surprised. "This episode hit all the feels. Those who have been gaslighted know the deal," a Twitter user wrote.
"Well done @SVUWritersRoom and @LisaCullen! I loved this episode! It was twisty and it touched on some critically important issues: gaslighting and the effects of trauma on the brain. #SVU21 #SwimmingWithTheSharks," another Twitter user expressed.
One fan seems to have figured it out when Melanie decided to go on TV. "Ha! I knew it.. The moment Melanie went on TV, saying she was the new CEO, I got a feeling she had just won something, like she had just managed to pave the way for her to sit on that chair," another Twitter user explained.
"Loved this episode. Liv was back to being tough. The case was more complex than in some of the past seasons. It showed a serious issue in gaslighting," a Reddit user said about the episode.
Fans couldn't believe how things turned out in the end. It wasn't at all what they thought was coming and many people were shocked by the turn of events. SVU still keeps us guessing after 21 seasons.