'Law & Order: SVU' Season 21: Why Fans Are Celebrating After Watching Episode 11
Season 21 of 'Law & Order: SVU' is embarking on even more groundbreaking work this season. Episode 11 had fans seriously cheering in their seats.
Season 21 of Law & Order: SVU is embarking on even more groundbreaking work this season. Episode 11 had fans seriously cheering in their seats at home. Read on to learn why and find out what they are saying about "She Paints for Vengeance." There are spoilers ahead.
Episode 11 was directed by Mariska Hargitay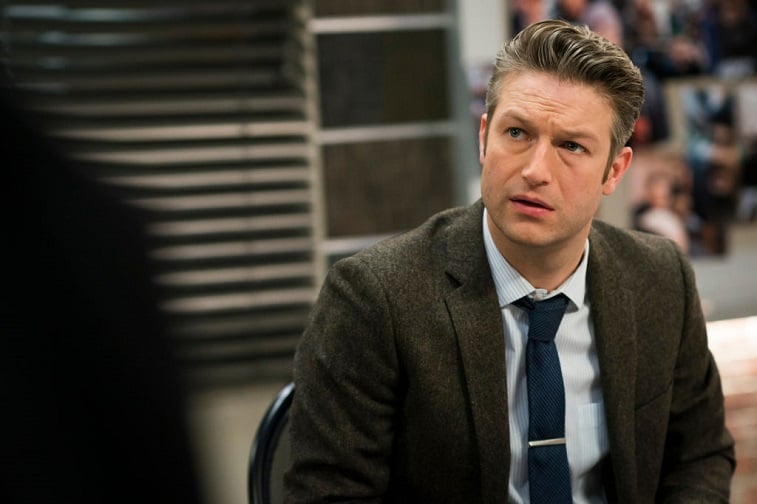 Mariska Hargitay, known to viewers as Captain Olivia Benson, actually directed the episode this week. It was a challenging case, especially for Carisi (Peter Scanavino), who experienced his first real court case as an ADA. This week's case was centered around Monica Russo (Tonya Glanz), an artist and also a stripper. She accuses Markeevious Ryan of rape in the strip club.
The victim doesn't feel like she's getting anywhere, so she starts using her artistic abilities to get the point across. Markeevious Ryan is a famous former athlete, so the situation gets heated. Monica even chooses to have a protest that's broadcast online. She gets arrested, which gets Counselor Dara Miglani (Mouzam Makkar) involved. Dara finds other women who have similar stories involving the suspect.
Carisi struggles with the trial and it's truly hard to watch at first. However, with Benson's help, Carisi is able to question Markeevius and he accidentally reveals that other women have actually sued him before for similar offenses. Carisi ends up winning the case after only three hours of deliberation by the jury.
Fans react to Carisi's win at trial
Fans were more than a little excited for Carisi's first win that he so clearly deserved. He was so ready to give up, but things worked out in the end. In a photo posted on the official Instagram for the show, Carisi is seen posing in the courtroom looking more than a little proud of himself.
Fans can't stop congratulating him on his hard work. "Go Carisi. You did it," an Instagram user wrote.
A lot of people consider the episode one for the record books. "Definitely one of the best episodes I've ever watched. A new fave. I loved that the victim used her art to get her voice heard. An inspiration. Also, congrats Carisi you did amazing ❤️😙🙌," another Instagram user explained.
Viewers are proud of Carisi
People are extremely proud of Carisi's work this week. "Beautiful work Carisi," another user said.
"I screamed with excitement which scared my family but that's okay @nbcsvu," a user chimed in.
Many people seem to have enjoyed the episode. "Loved tonight's episode 🔥🙌🏽," another wrote.
"Great show. One of the best. I was completely glued to the TV. Bravo @nbcsvu," someone else admitted.
"Love him. It was a good episode 🔥," an Instagram user also said.
It was his first court case
Some say they saw signs of Detective Carisi coming out this week. "Det. Carisi was coming out," someone hilariously speculated.
The come-back was everything. "I am coming in late on this show and it's become a favorite…I cried for his turn around in the courtroom 💙," another Instagram user said.
This week's episode was a huge hit with fans who can't stop talking about Carisi's success in the courtroom. Here's to many more victories for Carisi and the detectives of the SVU.