'Law & Order: SVU' Season 21: Why Olivia Benson Told Carisi to 'Make It Hurt' This Week
Episode 14 of season 21 of Law & Order: SVU took on the topic of immigration this week. Captain Olivia Benson (Mariska Hargitay) had an iconic moment when she told Carisi (Peter Scanavino) to "make it hurt" in court. Read on to learn more about what happened. There are spoilers ahead.
'I Deserve Some Loving Too'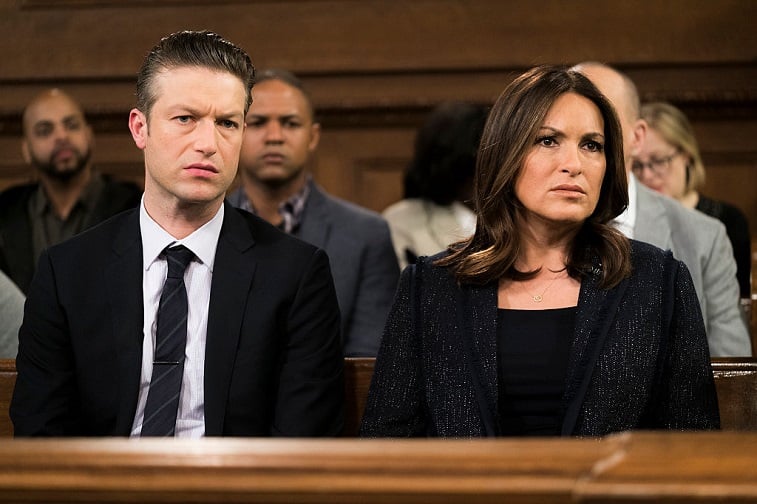 This week's episode started off with Kat (Jamie Gray Hyder) being harassed on the subway. The offender first assaults a woman and then goes into another car and does the same thing there as well. Kat tries to arrest the guy when he tries to assault her, and luckily Rollins (Kelli Giddish) and Fin (Ice-T) are there to assist.
It turns out the whole thing was an undercover operation. Things get messy, but the detectives eventually catch the guy, named Dwayne, but not before other people on the subway accuse them of police brutality and racism.
Captain Benson and ADA Carisi learn the man they arrested is actually a government worker. The detectives go and talk to his boss at Homeland Security. They tell his boss, Rory O'Toole (Jeremy Bobb) to search the man's computer and let them know if he finds anything suspicious to avoid having to get a subpoena.
The truth comes out
O'Toole tells them they "vet marriages and make sure they're not green card romances." It turns out he's abusing his power in the worst way.
Pornographic photos are then found on Dwayne's computer and he claims his boss O'Toole is manipulating woman applying for green cards to sleep with him. The detectives encounter numerous women who have been manipulated by O'Toole into having sex with him.
Rollins goes undercover to catch O'Toole in the act. Rollins and her "husband" have their interview with him and O'Toole asks Rollins to meet him somewhere later just the two of them. They end up meeting in his car and O'Toole asks Rollins some seriously personal questions about her sex life. He says he has a mattress in the back and he tries to manipulate her into having sex with him.
'Make it hurt'
The detectives arrest O'Toole, who claims he was actually trying to catch people scamming the system. When Carisi goes to trial, things don't go his way at first. Captain Benson tells him to, "make it hurt" in court because honestly, this guy seriously deserves the maximum. Eventually, O'Toole ends up taking a deal.
Fans love Benson's comment to Carisi
Viewers this week really enjoyed Benson's comment to Carisi about O'Toole. She wasn't playing around and she wanted the guy taken down.
"The Captain knows best!" a Twitter user expressed.
"She's so cool! Yeah make it hurt for those bad guys out there in the world!" another Twitter user wrote.
One user plans to write it down to remember the quote for later. "Writing it down in my Benson Quote Journal," they wrote.
Fans know that Captain Olivia Benson always gives the best advice.