'Law & Order: SVU' [SPOILERS]: What Happens In Season 22, Episode 5?
Law & Order: SVU's newest season has been explosive so far, and there have already been guest stars that have joined the detectives. With episode 5 of season 22 only days away, let's take a look at what's to come. Below we have a summary of the upcoming SVU episode that includes major spoilers.
[Spoiler alert: This article contains spoilers from 'Law & Order: SVU']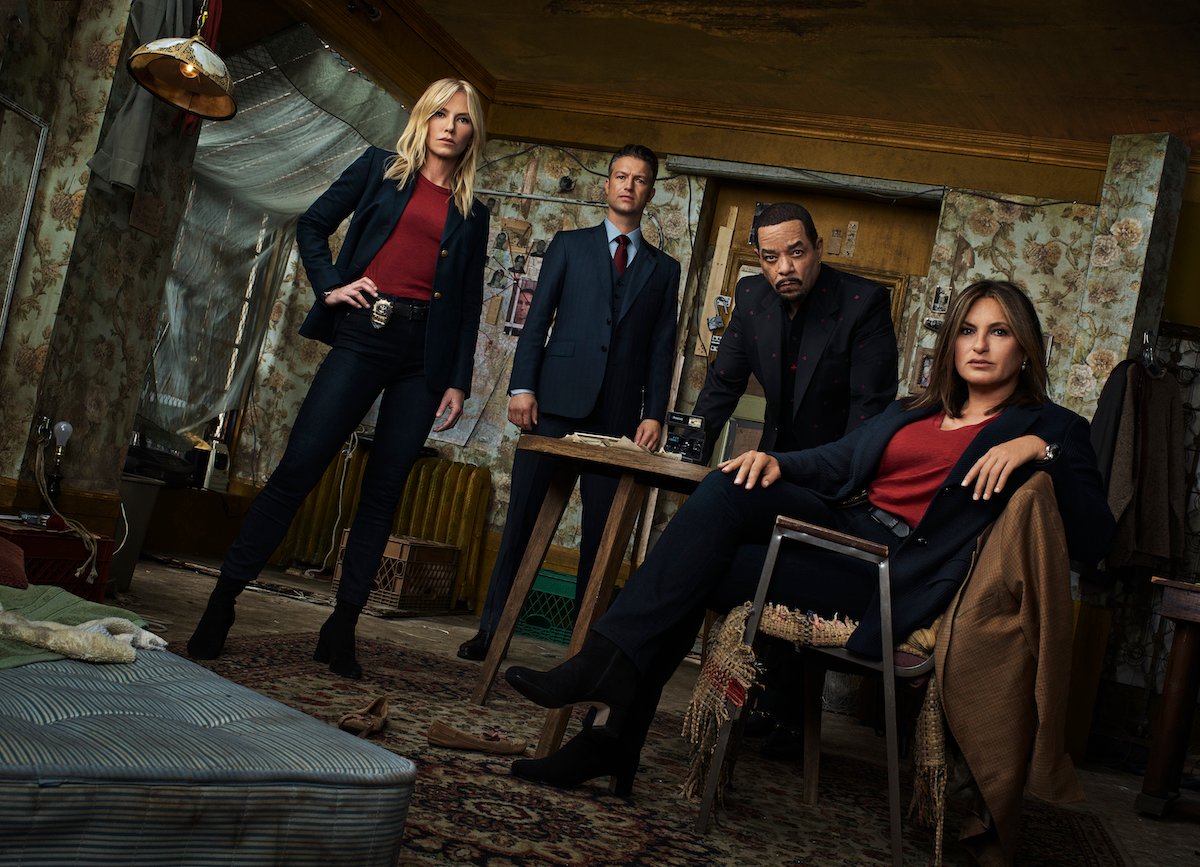 When does 'Law & Order: SVU' season 22, episode 5 premiere?
The fifth episode will air on January 14, 2021, at 9 p.m. EST. It's titled "Turn Me on Take Me Private." According to IMDb, the new episode's synopsis is: "The SVU investigates when a role-play session on a camming website turns violent after one user decides to meet his idol in person."
What happens in the episode?
**Spoilers**
The victim, who goes by Kendra Dream (Eva Noblezada), is being paid by online viewers, and does spins a wheel of options to act out for her viewers, and it lands on "Role Play." Later she dresses up in a different wig and lingerie and handcuffs herself to a chair pretending to be kidnapped. But as she's acting it out, a masked intruder enters through her window and sexually assaults her while she's on camera. One of the watchers takes a video recording of the assault to the Special Victims Unit and comes forward.
The victim's real name is Zoe Carrera, and the detectives track her down eventually, and she says she was assaulted. She says her father is in a nursing home, plus she has tuition to pay for her school and daily expenses. So she took up cam modeling, and was acting out a fantasy when she was attacked in her home.
It turns out a man named Gabe Miller (Alex Brightman) is the one who attacked her, and he brings it up while they talk the next day over video chat. He's arrested by detectives while speaking to Zoe, and he has a wall shrine of pictures of her showing that he's been stalking her. Gabe says it was just role playing and that Kendra wanted him to do it, which she clearly did not. 
The detectives and Carisi deal with their own prejudices that come to light during the episode. Gabe withdraws from a deal, and decides to fire his attorney and represent himself, since he's a paralegal. Gabe's obsession plays out during the investigation, and he is allowed to visit the crime scene again. He even shows up to visit Zoe's father who is in a nursing home facility, and he's arrested for violating the restraining order out on him to protect Zoe.
Gabe totally loses control
Gabe is able to cross-examine Zoe later in court, and he brings video recordings of her saying things like she loved him and wanted him to break in with a mask on. But Carisi gets some other viewers of Zoe's cam show to admit that Zoe loves them, and it angers Gabe, especially when one of them says that if he pays her, she'll say she loves him.
When Gabe speaks to Zoe on the stand again, he asks her to read a comment she wrote to him saying he was the only one of her "cam friends" that she loved. He loses control and even pulls down the plastic protective covering over the witness stand as he screams that he loves her and pleads with her to tell him that she loves him. He has to be forcibly removed from the courtroom. Gabe eventually changes his plea, and he goes to prison for attempted rape for seven years.
It's a hard case for the detectives, especially for Katriona "Kat" Tamin (Jamie Gray Hyder). Zoe says she's "going off the grid" according to her voicemail after the ordeal. It's a hard episode, and it clearly affected the detectives involved.