'Law & Order: SVU': Stabler and Benson's Relationship Is Getting the White Glove Treatment
Law & Order: SVU characters Olivia Benson (Mariska Hargitay) and Elliot Stabler (Christopher Meloni) have been in what's probably the longest will-they-won't-they situation in TV history. Some fans want them to get together, while others believe they're better off as friends. Knowing it could easily become a polarizing fan issue, showrunners are handling the future of Stabler and Benson's relationship with white gloves.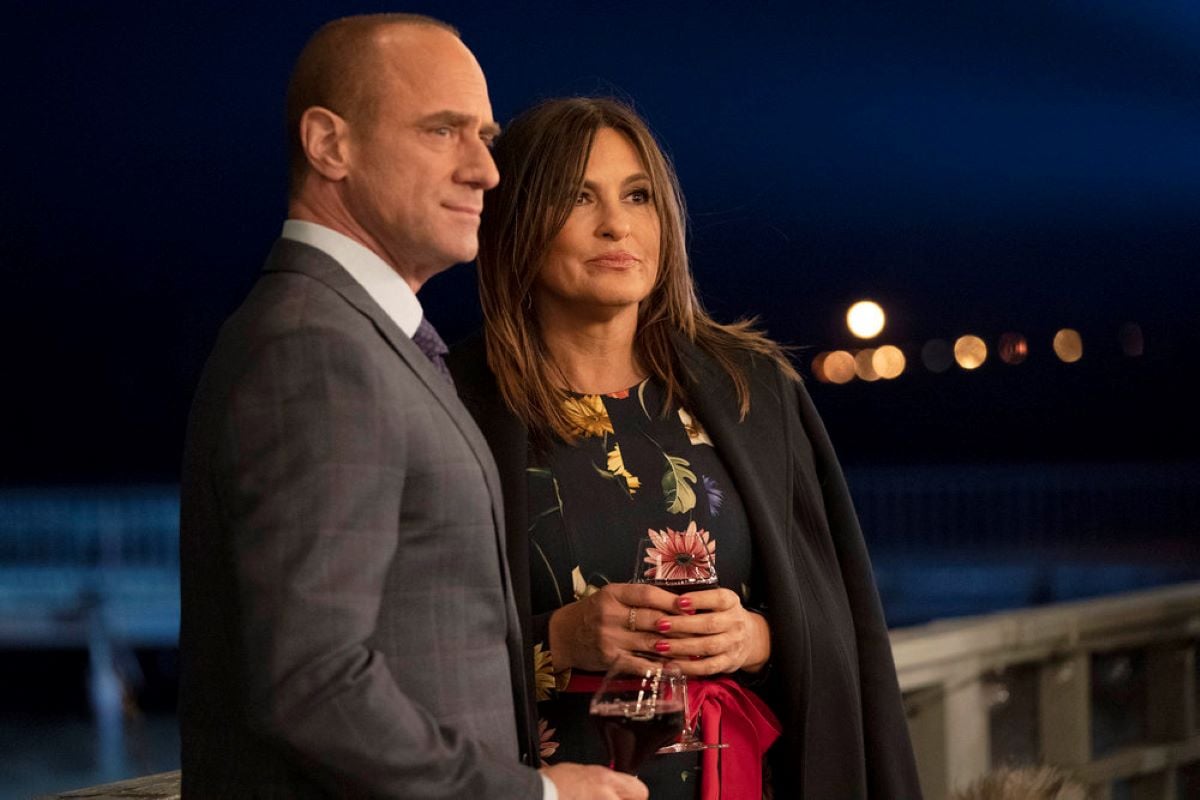 'Law & Order: SVU' has been teasing a romance between Elliot and Olivia for decades
Law & Order: SVU premiered in 1999. And for the first 13 seasons, the show teased a potential romance between Elliot and Olivia. When Christopher Meloni left the series in season 13, he took the prospect of a love story with him. But upon his return to the franchise in 2020, fans again started wondering if the two would finally give in to their feelings. 
But as seen in the last seasons of Law & Order: SVU and Meloni's spinoff Law & Order: Organized Crime, Elliot is still mourning the loss of his wife.  And Olivia, who felt betrayed by Elliot's departure, is still being cautious with her emotions. 
However, in a recent episode of Law & Order: Organized Crime, a drugged Elliot shows up at Olivia's apartment and confesses, "It'll always be you and I." The two almost kiss. But Olivia manages the situation, lets Elliot rest, and calls the incident into his sergeant.
The 'Law & Order: SVU' boss asks fans for input
Law & Order: SVU has been on the air for 22 years. And in that time, it's acquired a large loyal fan base. So, after discussing the future of Olivia and Elliot's relationship with Meloni, Mariska Hargitay, Law & Order: Organized Crime boss Ilene Chaiken, and a few people from Wolf Entertainment, SVU showrunner Warren Leight reached out to fans for their input. 
Back from a terrific dinner," Leight tweeted. "The discussion: where does/do EO go from here?  If, when, how fast, toward what end…  Any thoughts?  Tweet now, or forever hold your tweets."
As expected, fans responded with differing opinions. Some felt Olivia and Elliot should just be friends. And others insisted they act on their chemistry and finally become a couple. 
The 'Law & Order: Organized Crime' showrunner reveals how much thought and care is going into Olivia and Elliot's relationship storyline
Bringing Olivia and Elliot's romantic tension to some kind of resolution won't be easy. And it's something Law & Order showrunners are taking seriously.
"It was all of us talking and imagining these two people and just trying to dig deep and be real about it," Chaiken told TV Line when talking about the dinner with Leight, Hargitay, and Meloni. 
"It wasn't as if we had, you know, extremes of difference," she added. "I mean, we all agree in principle, and we all have different thoughts about how it might be treated as a story. And that's the fun of it and the fun of following out all of these ideas and seeing which ones feel the most worthy."