'Law & Order: SVU': What Prompts a Victim To Hug Detective Fin in a Touching Moment?
There have been many episodes that affect viewers in the hit series Law & Order: SVU. One such episode involves Detective Odafin "Fin" Tutuola (Ice-T) in the first few seasons of his arrival to the squad. The episode shows a softer side of Fin, who tries to help a victim.
Detective Fin has been in 'Law & Order: SVU' since season 2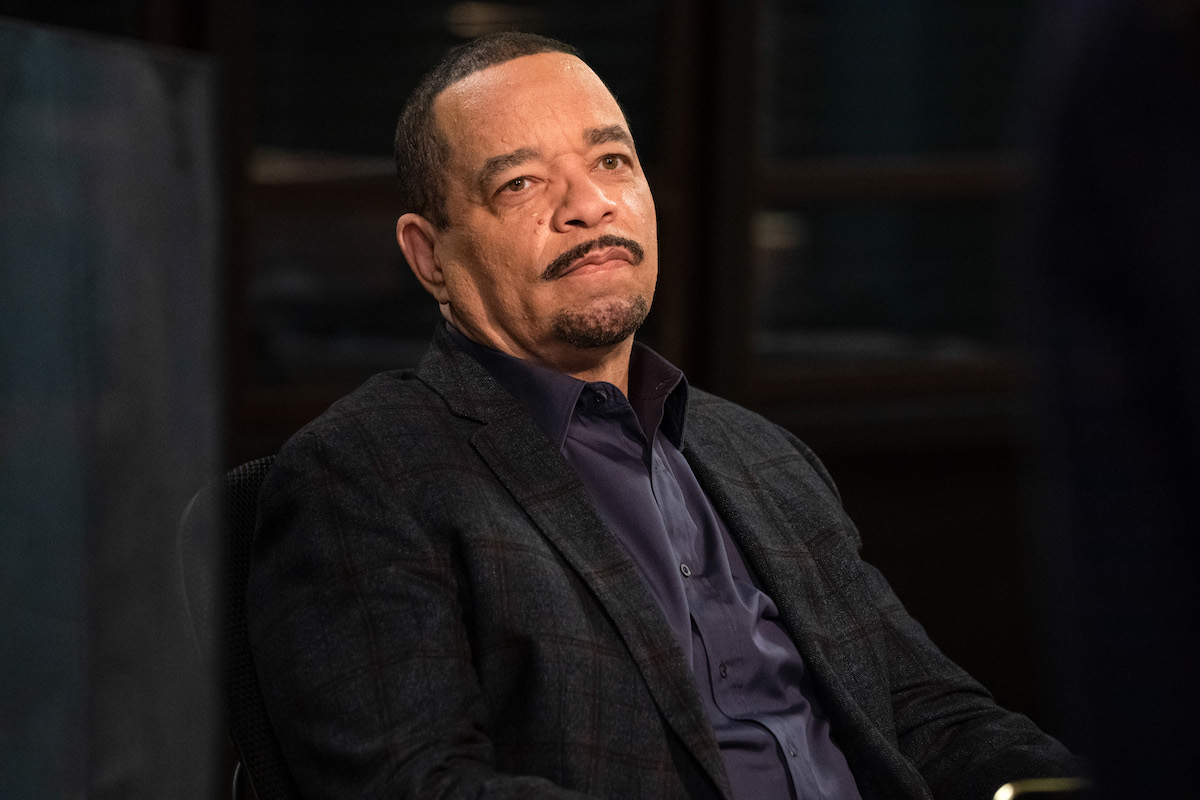 Fin arrived on the scene in season 2 of SVU, and he's been a main staple of the series ever since. His background involved the Narcotics Division, and he was known to go undercover during that time. Although he can be quiet at times, he's extremely intelligent and his years working in Narcotics have given him a good foundation when it comes to his skills. He's extremely street smart with multiple connections from his past. He's also knowledgeable in a variety of topics that aid the detectives on many occasions. A former U.S. Army Ranger, Fin isn't afraid to fight when necessary.
Season 3, Episode 21 'Denial'
There have been cases over the years that have clearly affected Fin, and one of those occurs in his earlier days on the squad. In season 3, episode 21 called "Denial," Fin decides to assist a victim who is addicted to heroin named Claire Rinato (Martha Plimpton). After she's sexually assaulted, things get more complicated when a finger, which is from a decomposed body, happens to be in her purse.
Fin is the first to interview Claire, and he immediately develops a rapport with her, especially after catching the man who assaulted her. But when it comes to the finger they found, Claire says her mother, Grace (Mary Steenburgen), killed her younger sister, Lisa, who was only 2 at the time of her untimely death. Detectives witness Grace trying to get rid of Lisa's body. the situation gets more complicated when it isn't immediately clear if it was Claire or Grace who killed Lisa.
Fin takes an interest in Claire, and he helps her with her addiction by encouraging her to get help. He offers to assist her almost immediately, and even takes her out for a meal. He's the one who finds her when she overdoses, and he puts her in a cold shower to keep her conscious.
Rose (Estelle Parsons), Grace's mother, gets involved in the case, and she reveals that Grace killed her previous child as well. It's pretty obvious that Grace is the one who killed both of her children, and Rose eventually admits to knowing about all of it. She's arrested along with her daughter, and it's a sad turn of events for Claire.
What prompts a victim to hug Fin?
Claire gets out of jail when her mother and grandmother are arrested. Fin is there waiting for her, and he gives her something. "What's that?" Claire asks.
"Your last excuse for not going to rehab," he tells her. Claire had told him she could only remember her sister when she was using drugs, but Fin had an image of what Lisa looked like framed for Claire that was created using computer software based on the bones they found of Lisa.
Clearly moved by the sweet gift, she gets emotional, and tells him, "I would hug you, but I can tell you don't like to be touched." She wants to hug him for what he's done for her and for the framed picture of Lisa, and she does.
Claire now can always remember what her little sister looked like, and she appreciates the touching gift. Fin even goes so far as to notify a friend who can help Claire get off heroin, and Claire definitely appreciates it. The detective really wants Claire to get help, and they develop a bond.
Fans have discussed the episode on social media
An episode like this is of course going to be discussed on social media. Fans weighed in on the situation a few years ago on Reddit. "S3 E21 is so heartwarming at the end I almost cried," a fan titled a post. "… Fin takes a personal investment in a victim's road to rehab. She gives him a hug at the end, and it melted my heart! Fin has been my favorite throughout all these years."
A fan admits that the episode made them "stick with the show." Fin is in his prime in the episode, and he does all he can to help Claire, and the episode ends on a truly positive note because of him.
"That is the episode that made me stick with the show," a fan said. "Fin is amazing in that episode and the end is just all happy tears. He's my favorite character and I hope that in the future he gets more episodes like this."
Another fan considers it "one of the best," and other fans would agree with that. Fin takes the case head-on and does what he can to get to the truth while also helping Claire get the help she needs.
"One of the best, in my opinion," they said. "Finn has always been my favorite!"
One fan mentions Fin was "great," and so were the other stars of the show who played Claire, Grace, and Rose. "He was great, as were guest stars Martha Plimpton, Mary Steenburgen, and Estelle Parsons. What a lineup of talent!" they said.
A fan says the ending really made them "cry." It was an especially wholesome end for an episode of SVU, that's for sure. Although Claire's family goes away to jail, she is going to get the help she needs, and things seem to be going in a positive direction for her.
"This is one of my all-time faves," they said. "That scene at the end made me cry real tears…"
Another fan thinks Fin was "the right person" for his job, and he proves it time and time again, especially in season 3, episode 21. He's clearly where he's supposed to be when it comes to all the good he does for Claire.
"For me, it cemented the fact that he (the character) is the right person in the right job for the right reasons," they said.
The episode called "Denial" put Fin centerstage with the victim, Claire, whom he tries to help.