'Law & Order SVU': Why Fans Are Frustrated With Carisi and Rollins
Fans of Law & Order: SVU have seen Sonny Carisi (Peter Scanavino) and Detective Amanda Rollins (Kelli Giddish) getting closer during the last few seasons. They share a pretty deep connection and support each other through the hardest of times. Fans have been rooting for a romance for years, but now they're just frustrated with Carisi and Rollins for not taking the plunge.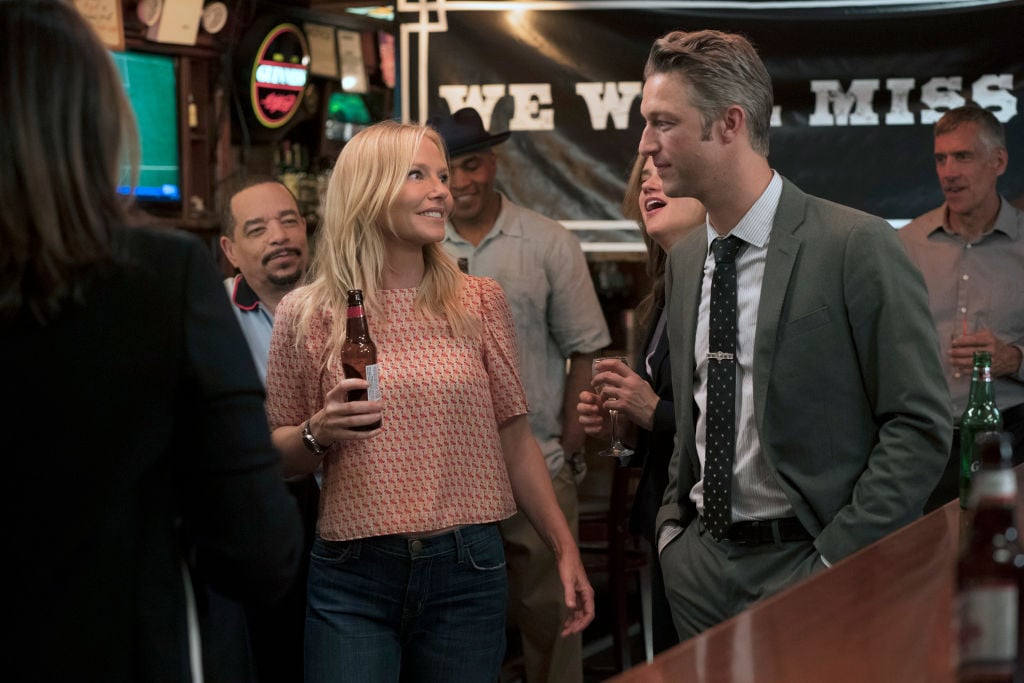 Carisi and Rollins history on 'Law & Order: SVU'
Law & Order: SVU has been teasing a Rollins and Carisi hook-up for a while, so you can't blame fans for wanting to see them together. When Carisi first joined the SVU team as Rollins' partner, the two ended up working really well together.
But over time, their relationship grew into something more meaningful and special. Carisi was supportive of Rollins all throughout her pregnancy, he now helps her with her kids, and he's the godfather of her younger daughter.
They haven't confirmed their feelings, but certain clues indicate there's more than just friendship at play. Last season, while working a case, Carisi almost kissed Rollins, which proves he's definitely attracted to her. And when Carisi announced he was leaving the NYPD to become an ADA, Rollins took it personally, proving he's more than just a coworker to her. 
In season 21 episode 10, after Rollins is kidnapped and released by a victim's father, she is distraught and falls into Carisi's arms. Then, in episode 14, Carisi seems somewhat jealous when he witnesses Rollins getting friendly with Sergeant Hasim.
Why aren't they dating?
Carisi and Rollins aren't working together anymore, so fans can't understand what's stopping them from admitting their love for each other. In an interview with TV Line, Kelli Giddish said that Carisi and Rollins may not be moving forward romantically because of how great their friendship is. 
"I think they rely on each other too much to make it go a different way," said Giddish. "I just know they're very special in each other's lives and they rely on each other heavily and there's real affection and respect and admiration from one to the other. It goes both ways."
Why fans are frustrated with Carisi, Rollins, and 'SVU' writers
Fans of Law & Order: SVU saw the series tease another major relationship, and that only ended in disappointment. For years, viewers hoped Olivia Benson (Mariska Hargitay) and Elliot Stabler (Christopher Meloni) would make a go of it, but they never did, and Stabler was written off the show in season 12.
Now, fans are getting frustrated with Rollins and Carisi in the same way they did with Benson and Stabler. "It took me a long time to accept the fact that Benson and Stabler were never going to end up together but I swear if we don't get Rollins and Carisi soon I will SCREAM!," wrote one Twitter fan.
Some viewers were especially upset to see Rollins getting into a relationship with Hasim. "It's not good when you've spent years shipping Rollins/Carisi in the slowest slow burn in tv history THEN new guy shows up; you actually LIKE him AND he & Rollins got chemistry," one SVU fan tweeted. "This is very upsetting, y'all".
Most SVU fans just want to see the two take the plunge already. "Carisi needs to propose now," one fan wrote in a tweet. "Carisi you & your vests better man up & tell Rollins how you feel damn it!!," tweeted another fan.
With Rollins getting closer to Hasim, it's getting harder to believe anything will ever pan out between her and Carisi. Fans will just have to keep their fingers crossed and hope that SVU writers don't give them another unrequited love story.