Was Lea Michele Part of the 'Glee' GLAAD Tribute to Naya Rivera?
Though the Fox musical TV show Glee was full of on-screen drama, there was no shortage of it off-screen, either. Co-stars Lea Michele and Naya Rivera reportedly feuded on set. Though they cleared up this rumor in recent years, they didn't exactly become friends. Did Michele participate in a cast tribute to Rivera in 2021?
Lea Michele and Naya Rivera starred in 'Glee'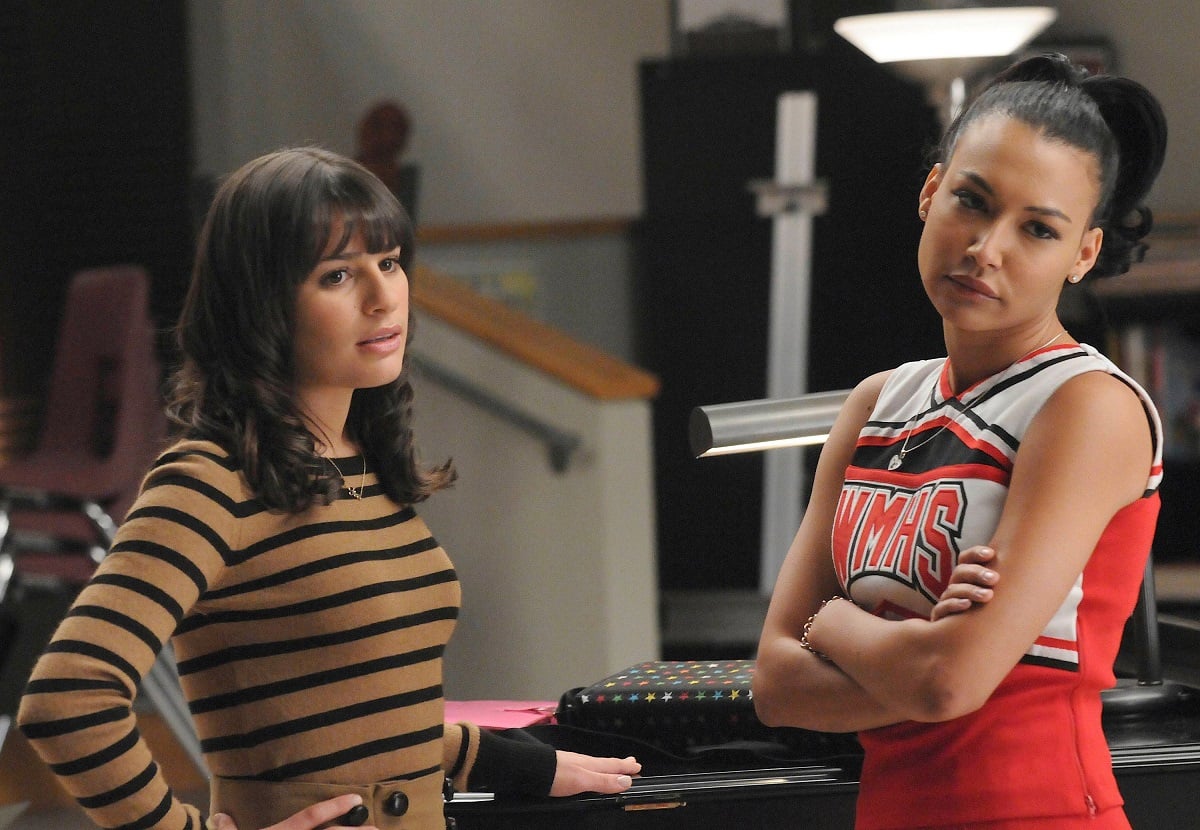 Michele and Rivera both rose to prominence in Glee. The former played Rachel Berry, a teenager who decides to resurrect her high school's glee club. Rachel wants to be the star at all times and often clashes with other members of the New Directions. She graduates and achieves her dreams of performing on Broadway.
Rivera began appearing in the first season of Glee, later upped to a main cast member with season 2. She portrayed Santana Lopez, a cheerleader who joins the New Directions to take it down but finds her place there. Santana's coming out storyline was among the show's most celebrated.
Rivera opened up about their disagreements on set
Santana and Rachel often clashed. During the series' six-season run, rumors spread that Rivera and Michele had this in common with their characters. While both denied an actual "feud," Rivera shared a little insight into their on-set interactions in her 2016 memoir Sorry Not Sorry.
"Santana moved from a background character to one with bigger plot lines and more screen time. I think Rachel— erm, I mean Lea — didn't like sharing the spotlight," the actor wrote of Michele. Rivera added that Michele "blamed me for anything and everything" and "didn't say a word to me for all of Season 6."
Michele shared a photo of Rivera after her death
In July 2020, Rivera died after drowning in a lake. Many of her former Glee co-stars, like Heather Morris, helped with the search before her body was found and were photographed at the lake during the press conference in which her death was announced. Others paid tribute to her on social media.
As for Michele, the incident came at a strange time. She'd recently faced her own controversy after Glee cast member Samantha Ware accused her of racist behavior on set. Though Michele took time off social media after her apology wasn't well-received, she shared photos of Rivera and her ex-boyfriend, fellow Glee star Cory Monteith in her Instagram Story, as Monteith died exactly seven years earlier.
Who else didn't take part in the 'Glee' tribute to Rivera?
Following Rivera's death, much of the Glee cast came together (virtually) to pay tribute to her at the 2021 GLAAD Media Awards. Many participated, but Michele wasn't among them. And she wasn't the only person who shared the screen with the late actor frequently to opt out.
Dianna Agron, who played one of Santana's closest friends, Quinn Fabray, didn't appear in the video (above). Neither did Chord Overstreet, who portrayed Sam Evans, with whom Santana was briefly in a relationship on the series. Rivera hinted in Sorry Not Sorry that she and Overstreet were more than friends at one point.