'Legally Blonde': The 'Bend and Snap' Scene Was Totally Spontaneous and Almost Didn't Make the Final Cut
Everyone knows about the sassy bend and snap move in 'Legally Blonde.' But fans might be surprised to learn it was not part of the script.
There are so many iconic moments in the 2001 comedy Legally Blonde. The movie was Robert Luketic's directorial debut and no one expected it to become such a smashing success. But now? The movie is a cult classic with huge appeal, even decades later. It's all thanks to a combination of moments that make it one of the most enduring comedies ever.  
The film is loosely based on the true story of a woman named Amanda Brown and her experiences in law school. But certain hilarious parts of the movie were ad-libbed along the way, including the infamous "bend and snap" scene.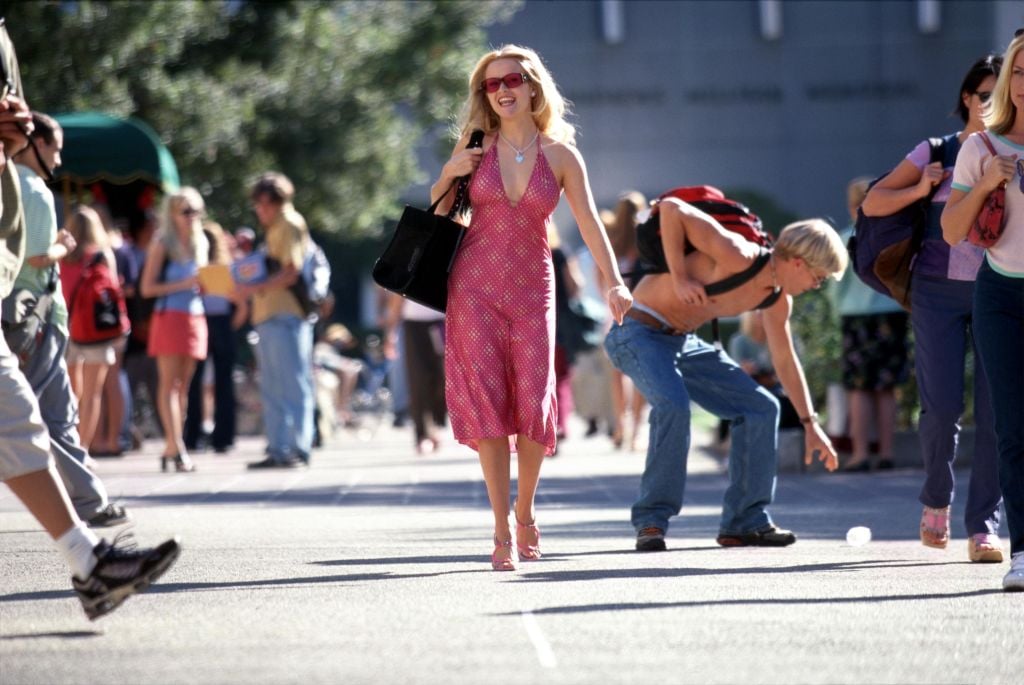 The 'Legally Blonde' bend and snap scene wasn't part of the original script
Any fan of the movie definitely remembers the scene. In it, Elle Woods helps her manicurist, Paulette (Jennifer Coolidge), catch the attention of the UPS delivery person she has a crush on. Elle explains that Paulette needs to harness her inner confidence, bend down, and snap back up sassily. Her girl-power instructions become a musical number involving everyone in the salon.
It's wild to think about how the entire bend and snap scene wasn't even a part of the original script.
Bend and snap came about by accident
The bend and snap scene was a happy accident. "[Producer] Marc [Platt] wanted a B plot for Paulette," Legally Blonde co-writer Karen McCullah explained to Entertainment Weekly.
"At first we were like, 'Should the store be robbed?'" Co-writer Kirsten Smith added, "I think we spent a week or two trying to figure out what the B plot and this big set piece should be. There were crime plots. We were pitching scene after scene and it all felt very tonally weird."
But then the magic happened. McCullah came up with bend and snap while brainstorming at a bar in LA. "What if Elle shows [Paulette] a move so she can get the UPS guy?" she wondered. Smith ran with the idea, trying out the bend and snap technique. "It was a spontaneous invention. It was a completely drunken moment in a bar," she said.
Witherspoon still gets asked to demonstrate the bend and snap
It's been close to two decades since the original Legally Blonde was released but the classic bend and snap move is still on everyone's minds. In a 2016 ET interview, Witherspoon recalled that she still gets requests to bend and snap for fans.
"I remember just reading it and thinking it was the most hysterical thing ever," she said of the move. "That is still the most asked request I get from people. Even this past year, when I have been giving speeches or talking about whatever, they always ask me, 'Will you do the bend and snap?' I have a feeling I will be doing the bend and snap until I am 95."
The actress shared a video of herself doing the bend and snap for fans in honor of the film's 15th anniversary. Will the bend and snap be part of Legally Blonde 3? We can only hope!