Lego 'Super Mario 64' Breaks New Bricks for 25th Anniversary Celebration
Lego teams up with Nintendo again, this time for a special project for Super Mario 64. Celebrating the ground brick-breaking game, Lego has unveiled a brand new set based on the classic game. The new Lego Super Mario 64 undoubtedly brings gamers and collectors back to an era of rough polygons and classic music.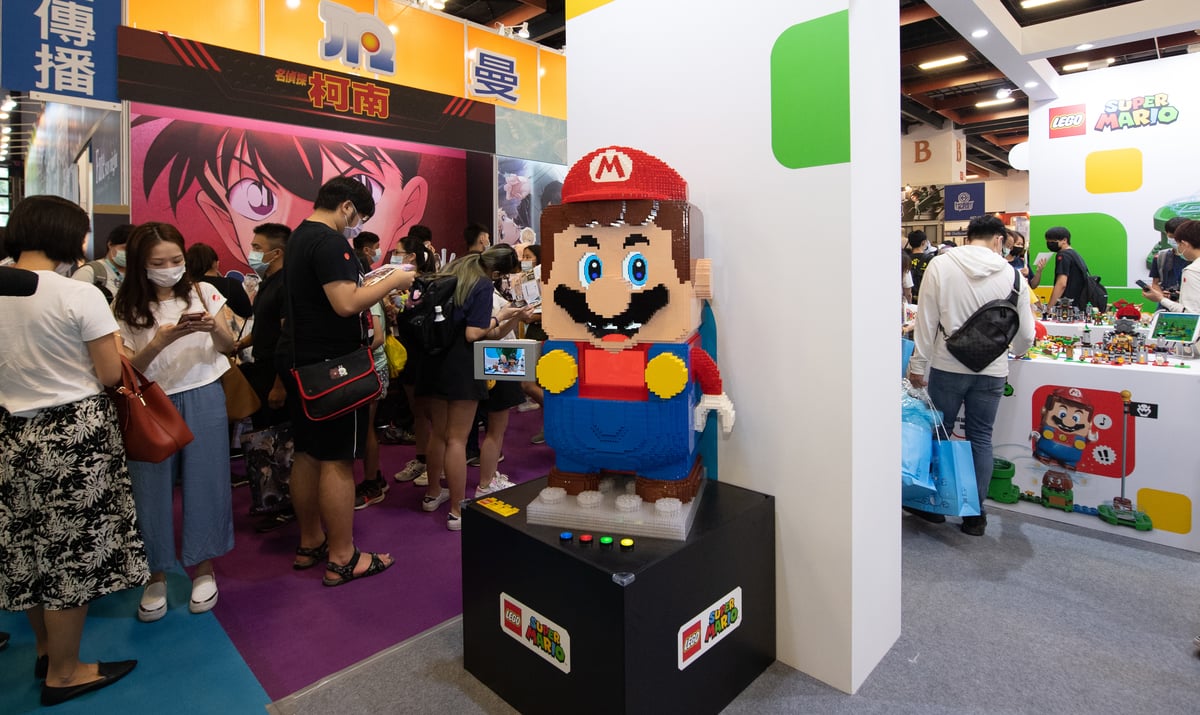 The Lego 'Super Mario 64' set is massive
Lego never shied away from going big. Walking down an aisle of the building block, finding a $200 set remains far from abnormal.
When it comes to working with Nintendo, Lego makes it a point to ramp up their sets.
Releasing in August 2020, the Lego NES and 1980-style television clocks in at 2,646 pieces. Such a huge, impressive build prices at around $230.
The Lego Super Mario 64 set looks to have around the same amount, with 2,064 pieces. However, a big draw is that the price is reported to be about $60 cheaper.
What is included in the Lego 'Super Mario 64' set?
Upon first inspection, the Nintendo and Lego Super Mario 64 set appear as the iconic ? block. A side note, the ? blocks never actually appeared in the original Super Mario 64.
With a quick flip, however, the set transforms. Folding out into sections, various stages from the game receive representation.
Princess Peach's Castle floats in the center above left and right sections modeled after Bob-Omb Battlefield and Cool, Cool Mountain. Down below sees a level found in the basement, Lethal Lava Land.
In addition to the locations, some iconic residents get micro-figures. Mario, Princess Peach, and Lakitu display prominently in front of Peach's Castle in the video displaying the build.
As the camera jumps over the other sections, it is easy to miss some of the other characters included. King Bob-Omb stands at the top of Bob-Omb Battlefield with Chain Chomp down below.
Cool, Cool Mountain features the separated mother and baby penguin at the base and peak of the mountain. Lethal Lava Land sees the Big Bully and Mr. I standing among the dangerous terrain.
GameSpot reported that Lego senior designer Pablo Gonzalez Gonzalez made a statement on the new set.
"We know how much Super Mario fans have loved the Lego Super Mario experience and wanted to tap into even more elements of the traditional gameplay capturing the immersive play experience of Super Mario 64," Gonzalez said.
2021 marks multiple anniversaries for Nintendo
The Nintendo name is synonymous with video games for a lot of people. With dozens of classic IPs, more than on anniversary. Super Mario 64's 25th anniversary coincides with The Legend of Zelda's 35th anniversary.
A re-release of the game Skyward Sword sends up another one of Nintendo's beloved series for its anniversary. However, it does not have its own Lego set (yet).
Gonzalez remains excited about bringing Nintendo and Lego together in the Lego Super Mario 64 build.
"With this amazing set, we're building on the exciting play experience of Lego Super Mario," he said via GameSpot. "Both to bring a bit of nostalgia for those who played the Super Mario 64 video game, but also to introduce these wonderful levels to a whole new audience of Super Mario fans."
The Lego Super Mario 64 set releases on October 1, 2021.