Lena Dunham Isn't 'Body Positive,' But Considers Herself 'Body Tolerant'
Lena Dunham doesn't consider herself 'body positive.' Instead, Dunham says she is 'tolerant' of a body that she is in an 'on-and-off toxic romance' with.
"I am 13 pounds overweight and it has been awful for me my whole life," Lena Dunham explained as Hannah Horvath in a scene of her HBO series Girls. Dunham's role was based heavily on her personal life and experiences, but the real-life Dunham may have been disappointed in her character's weight-shaming opinion.
As a writer, actor, and producer, Dunham identified herself as "body tolerant," and fretting about being "overweight" isn't part of her personal agenda.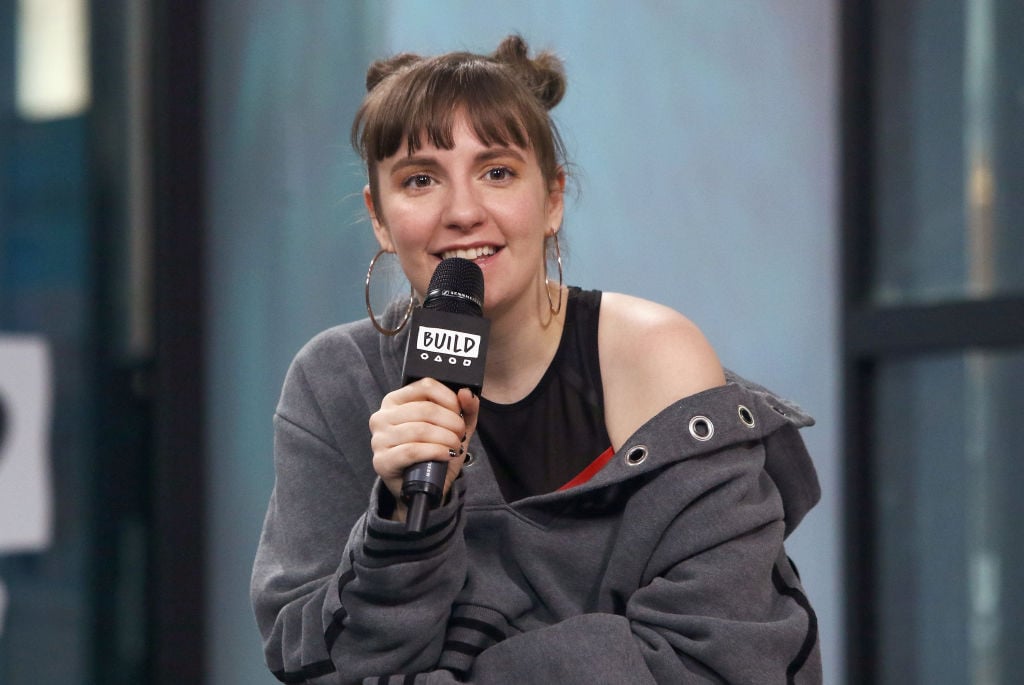 Lena Dunham thought she had to be body positive 
As a guest on Refinery29 co-founder Christene Barberich's podcast UnStyled, Dunham explained how her perspective and role as a female in the entertainment industry had shifted over the years.
"It used to be [that] I thought my job was to be an important voice for women in Hollywood," Dunham explained, continuing: "an important voice for body positivity, an important voice for this [and that] in the world … now I'm like, 'that's all great.' But really, I just want to be a solid, strong connected friend, a good daughter, a loving sibling, and a writer."
Lena Dunham no longer considers herself' body positive' 
As someone who has endometriosis, a disorder where the tissue that usually lines the uterus grows outside the uterus, Dunham said she often resents her body for how it makes her feel. She took to Instagram in black lingerie to explain her stance of being "body tolerant" instead of "body positive:"  
Ya know when you're home alone and you realize you'd be happier in a hot lil' onesie than your ketchup & cat food stained pajamas? And it's not about a boy or a photo shoot or a weight loss before-and-after, it's just for the feeling of glee you get from dressing your one and only corporeal form in pleasing fabrics, the unique pleasure of admiring the twists and turns of the body that loves the heck out of you even when you don't love it. I've never called myself "body positive" because my relationship with my curves and scars isn't overtly political— it's wildly personal. And it isn't always positive. I take enormous comfort in the body positivity movement, but I think of myself as something more like "body tolerant." With a chronic disease (or three), it's impossible not to resent your body sometimes. But we are no longer in an on-and-off toxic romance. We are also not monogamous. I drift toward her and away from her, trying hard to remember that, no matter how I fight it, she is me. I am her. We only have each other, so we gotta stick together. And sometimes that means a little lace to remind her I care. To other people living with #endometriosis, I've learned more from you than I can even explain. 

Lena Dunham, Instagram
Despite feeling like she had to be outwardly body positive for her fans and other women in the industry, Dunham is embracing her very personal relationship with her body and encouraging others to do the same.
Lena Dunham's addiction to anti-anxiety medication
Dunham has struggled with her health in the past, both physically and mentally. The actor turned to anti-anxiety medication early in life and quickly became reliant upon it. For three years, Dunham was addicted to Klonopin, using the anti-anxiety pills to help her cope with her past sexual traumas, fibromyalgia, and hysterectomy, which caused her to feel like she was in a life-long panic attack.
She recently celebrated two years of sobriety. 
Throughout her career, Dunham has remained an inspiration for many women to be gracious, kind, and tolerant of their bodies.
How to get help: In the U.S., contact the Substance Abuse and Mental Health Services Administration helpline at 1-800-662-4357.